Top Pick Portable Baby Beds
These are the best portable baby beds you can buy right now:
1. Mamibaby Lounger Sleeping Bed
Featuring a 360 degrees padding, this bed creates a separate sleeping space for your little one. The Mamibaby Lounger Sleeping Bed is made with breathable sleeping material that minimizes skin irritation and meets all the standard safety requirements. The baby lounger also has two patterned sides that can be switched over to adjust to the weather.
This portable baby bed holds just 1.6kg of weight. Its low-weight design coupled with its carrying handle makes it easy to move around. The shape of the bed serves as good spine support in infants. This ensures babies can sleep for long hours without turning over. Plus, it has a side zipper that allows users to disassemble and throw it into a washing machine.
This solves the problem for babies who only sleep when they're held. Parents said they had nothing to fear as the design of the bed kept the baby in the middle, preventing them from rolling over.
2. Maestron Baby Pillow Head Support
The Maestron Baby Pillow Head Support has a modern look thanks to its 3D design. It's u-shaped and made to mimic the warmth and comfort of the mother's womb. It has a headrest as well as leg support that prevents pain from bad sleeping posture. You will love its durable design, which can be adjusted to fit baby growth.
We liked that despite having a sturdy construction, each part is detachable and can be hand washed. The shape of the headrest also prevents flat head syndrome, common in most newborns. This doesn't have the largest sleeping space but embraces the baby's body to give a tight grip.
We liked that this went the extra mile to give babies mechanical support. This does not come cheap, and it remains the product to beat. One major pitfall is that it isn't machine washable, giving users extra headaches.
3. Munchkin Brica Fold'N' Go Sleeping Basket
Portable, lightweight, and compact enough to move on the go are the attributes of the Munchkin Brica Fold'N' Go Sleeping Basket. This Baby bassinet is easy to carry around and can be used outdoors at the beach, park, and visiting relatives. It can be folded in seconds and has a carrying handle that molds it into something similar to a carrying bag.
Its lightweight breathable fabric won't pose any problem to your little one. It's unlikely to get sweaty during the summer, but you can keep your baby cozy during the winter, thanks to the addition of a mattress pad. To crown it all, it features a T-lock security system that locks the four sides of the bassinet to the floor when it is ready to use. Not to worry, it quickly clinches back when you want to fold for storage.
Many users said it saved them from coming up with a sleeping arrangement when they travel over long distances. However, as soon as babies get used to it, it's difficult for them to do without it.
4. Baby Snuggle Portable Lounger from Heartbeat
This is another portable womb-mimic design that has found its way into our list. This portable baby bed is made from PP cotton with a breathable mesh that improves airflow to create a comfortable sleeping environment. This has a u-shaped design with head and leg support to improve body placement when sleeping.
The head and body support minimize spine problems or flatheads. At the same time, the lifted leg prevents rollover. All three features combined eases digestion, breathing, and colic. This portable baby bed is also adjustable to follow the baby's growth. This is made for easy travel and can be taken along to several locations.
This is one of the best portable beds for a newborn. The leg support is critical to babies within 0-3 months as it prevents them from rolling over and hurting themselves.
5. Regalo my Cot Baby Toddler
The Regalo cot bed is multifunctional and perfect for toddlers between the ages of 2 – 5 years old. This serves as a place to rest and sleep for babies during short travels, sleepovers, and hotel stays. The sturdy build of the cot can hold babies of up to 75 pounds and 48 inches long.
This cot bed has an all-metal frame and a fitted sheet at the top. The sheet comes in different color selections: pink, blue, and gray, among a host of others. The sheet is detachable and can be thrown into a washing machine. The design of the cot bed is flexible and folds down in less than 5 seconds.
Many parents got this because they didn't want their kids to get used to sleeping with them on their adult-sized beds. The cot needs a little work to make it comfortable for the baby. You need to add a form pad and a bed sheet to keep it cozy when babies lay on it.
6. Baby Delight Baby Nest Dream
What makes the Baby Delight Baby Nest Dream special is the durable mesh the snuggle is surrounded with. This makes room for ventilation and minimizes direct contact with pets while the baby is resting. The nest is 33.5 inches long and 8 inches tall. Its 360 degrees padded edge keeps your little one glued to the middle without rolling over.
This baby nest from baby delight provides an additional station for a diaper change. You can change the baby's diaper inside the nest without the baby rolling over or crawling away. The length of the bed also makes storage easy and can be moved around the house or outdoor when you go visiting.
The durable design of the bed was widely received among first-time moms. The 360 degrees protection pad prevents babies from rolling over or crawling away when the parents aren't looking.
7. Bestla infant Pillow for Baby Head
Made from 100% polyester and 95% cotton, you can tell Bestla infant Pillow is made from quality materials and billed to last for a long time. The ergonomic design of the bed provides head, body, and leg support. The raised pillow gives baby solid head support to minimize discomfort, while the leg cushion prevents babies from slipping over and eases digestion.
The padding underneath this baby bed is made from Sponge 100% Polyurethane. This affects the weight of the bed, making it easier to move around. According to the manufacturers, this mimic womb design minimizes Moro reflex, giving the baby a sense of safety.
At some point, babies feel uncomfortable in their bassinet. This is why a lot of moms got this for their babies. One common complaint from verified buyers is that not all of its parts can be washed with machines. The leg support is better hand-washed.
8. Comfyt Baby Lounger Portable Pillow
The Comfyt baby lounger is perfect for co-sleeping and mimics the shape of a woman's uterus to provide excellent comfort for long hours of sleep. The bed is soft and made from durable materials that ease startle reflex. Babies get settled in it quickly, and when they fall asleep, they stay so for hours.
This lounger is designed to adapt to the structure of the baby's fragile body. It has elevation at the head and leg to grant it support. This minimizes bad sleeping positions and also prevents colics. This is perfect for hotel stays or vacations at a relative's house. Additionally, the shape of the lounger can be adjusted to suit infant development.
Most parents said the adjustable feature of the lounger helped a lot. It's easy to adjust the head pillow and the leg roll as the baby increases in size.
9. Pamo Baby Deluxe Nursery Center
The Pamo Baby Deluxe Nursery Center is a complete nursery station that carries out a lot of functions. It has a travel cot, diaper station, bassinet bed, toys, and an activity center to activate the baby's creativity. You can change baby's diapers on the diaper station while baby kids are on their backs. The bassinet pad comes with a soft fabric that delivers a comfortable feel on the baby's body. Each of these parts can be detached and cleaned separately.
The Pamo Baby deluxe can also function as a playpen that allows babies to play and move within its walls. The activity wall comes with a board that allows babies to express their creativity. There are cute toys that also comes with this. Hence, this keeps babies busy.
Most buyers loved its collapsible design. On the outside, it feels like a chunky piece, but each part can be disassembled in just a few minutes. This is perfect for travel and outdoor usage.
10. Lotus Travel Crib from Guava Family
This is a lightweight travel pack designed to be carried around. It collapses into a hands-free backpack carrying case that can be used for plane travel. The Lotus Travel Crib comes with a side zipper that controls the entrance and exit from the crib. All these conditions make it perfect for overnight sleep.
This is easy to set up, and no assembling is needed. Even though it isn't spacious, it can comfortably meet the needs of babies within 0-3 years old. This is also GreenGuard Gold approved and can function as a mini playard when you need it to. This baby bed doesn't contain harsh chemicals; hence, there's no risk of skin irritation.
Several buyers loved its portability and how helpful it's during a hotel stay. The side zipper isn't noisy, and it won't interrupt the baby's sleep. Even though this weighs just 13 pounds, babies can't push them down.
Portable Baby Beds For Handy Naps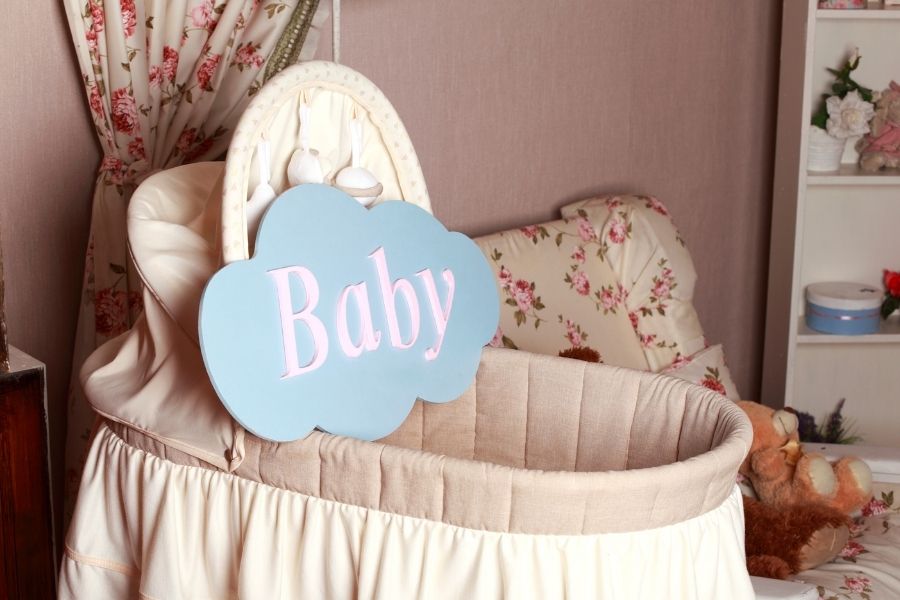 Portable baby beds are viable options to help you get your baby to nap wherever you go. Are you wondering whether it is a worthy investment? Read on to learn more about this supply ideal for your baby.
What are Portable Baby Beds?
Portable baby beds are essential supplies that will help whenever you feel that getting your baby to sleep is an issue. This is true particularly when you are on the move. As the name implies, these are small in size, thereby making them easy to carry. When you are carrying the baby to any place, you can carry this bed as well. In turn, you can make sure that your baby sleeps comfortably at any place when he has his bedding.
Why Should You Buy a Good Portable Baby Bed?
A good portable baby bed will stay with your baby for a long. Most importantly, you will be looking to ensure complete comfort to your baby when he sleeps. You can get this assurance with a portable baby bed. Above all, not just at home, you can use it wherever you go as well. The portability is one of the important reasons for the popularity of these beds. So, you should get a good one for your comfort and also for a comfortable nap time for your baby.
How to Choose the Best Portable Baby Bed?
When you wish to buy a portable baby bed, you should consider certain factors like those mentioned below:
How does it fold? You plan to buy a portable baby bed mainly for comfort, isn't it? So, you should look at how it is portable and how you will have to carry it. Some of them come with a backpack-like attachment. So, you can easily carry it on your back and even can take your baby in your hands.
Does it contain a layer in the base? Also, when you buy a portable baby bed, make sure that it has additional padding like stuff in the base. In addition to the base of the bed, there should be an additional layer that you can easily remove and wash. This will ensure that you can keep the bed clean at all times by washing it regularly.
What Features Should You Consider When Buying a Portable Baby Bed?
Check for the following features when you buy a portable baby bed:
Vented Walls: A portable baby bed with vented walls will ensure that your baby will stay in the bed. If your baby has started turning, there is every chance that he will get near the edge of the bed when sleeping. To avoid the possibility of the baby falling from the bed, it is better to check whether the bed has walls. Also, when the wall has vents, they will ensure that your baby does not sweat.
Soothing sounds: When the portable baby bed has the option to play music, it will help with easily getting your baby to sleep. You should be able to play lullaby songs in the bed for your baby to quickly get into sleep when in the portable bed.
Canopy: Some portable baby beds come with removable canopy attachment. This feature will ensure that you can use the bed even when you are outdoors. When the canopy is removable, it can help you get rid of it when not essential.
How Much Does a Top-Rated Portable Baby Bed Cost?
As you look for a high-end portable baby bed, you can get one at around $100. On the other hand, if you decide to go for an affordable portable baby bed, you can get one at around $50. If you choose a cheap portable baby bed, you should check whether it has been made using durable material. The average cost of the bed will be around $75.
Final Verdict
A portable baby bed will ensure comfortable sleep for your baby wherever you go. Make sure to consider the features before you buy one to ensure the best comfort for your baby.
---