Top Pick Kids Luggage
These are the best kids luggage you can buy right now:
1. American Tourister Kids' Hardside Upright Luggage
Minnie and Mickey, the protagonists of one of the Disney cartoons that children love the most, come to life in this suitcase. However, beyond its design, this model stands out for its great resistance, a detail that both children and their parents will appreciate.
It is made of robust ABS. In addition, it has robust wheels that support the weight of a small child, so that when the little ones are exhausted they can sit on it safely. In addition, it is very light, weighing 4.5 pounds and measuring 18 x 13 x 8 inches dimensions.
It's a case designed to open like a book. It has no straps that can allow it to be worn on the shoulder or pulled. However, there are internal cross straps that will hold your kids' items. It's the best gift for Disney princess fans and is highly recommended by those who have purchased it.
2. Yodo Zoo 3-Way Luggage
The Yodo Zoo children's suitcase with its funny and colorful design in the shape of animals will become an essential accessory for your child. Your girl or boy can choose his or her companion from the Zoo range for his daily outings or stays of several days.
This rolling luggage is easily moved thanks to its retractable handle. Your little one will be proud to be able to tow his or her suitcase at the airport or during his visits to grandma and grandpa. Its dimensions are perfect for travel luggage and allow it to accommodate both clothes, a blanket, books, and more. It is made up of a large pocket and a small pocket on the front which can be closed with zippers with neat and playful finishes. On the side, a mesh pocket can contain a gourd.
Light to transport, its multicolored polyester canvas is resistant and easy to maintain, a damp cloth and a mild detergent are sufficient. Practical, a name tag is affixed to the back. Users appreciate the bag for its lightness and great quality. It's well-made, super cute, and of the perfect size.
3. it Luggage Kids' World's Lightest Kid Luggage
This cool unicorn repeat option could not be missing in this comparison for the kids of the house. It stands out for the quality and brightness of its colors and design in general.
The fact that it has been built with fabric and mesh materials guarantees that it is a lightweight model. Measuring 2.4 lbs, it is a featherweight suitcase. According to the review of users, it is surprisingly durable too. This children's travel suitcase has the perfect measurements to enter the cabin of the plane without problems. It is the perfect size for kids. It has exterior dimensions of 17 x 10 x 6.7 inches and an interior dimension of 14 x 10 x 6. 7 inches.
Many parents, grandparents, and others who have purchased it say it's a small bag with a weight that is perfect for kids and they would buy it again. Its wheels and ergonomic roller handle provide comfort to the child.
4. Meetbelify Girls Unicorn Rolling Kids Backpack
The Meetbelify Girls backpacks are designed with unicorn wheels for girls. The school bags are with lunch boxes. The backpack measures 16.5 x 11 x 7.5 inches while the lunch bag measures 9 inches x 8.2 inches x 4.3 inches. Meanwhile, the pencil case measures 8.6 inches by 3.9 inches by 2.3 inches.
The rod and the bag may not be removable. However, the highest height of the trolley is 31.5 inches. In addition, the design of noiseless four rubber wheels with a high-strength aluminum alloy rod on the pencil case not only guarantees that you can roll smoothly but makes the wheel easy to roll and natural. They are made of nylon and EVA materials, which make them colorful under sunlight, waterproof, and easy to clean.
No matter if you are teenage girls, boys or women, and men, going to school, playing sports outdoors, or traveling, you can choose one to use anywhere. The set is ideal for school students who want to can take their laptops, books, etc. everywhere.
5. iPlay iLearn Kids Carry On Hardside Luggage Set
Straight out of the iPlay iLearn factory, this suitcase set is an ideal alternative for a long trip as well as a weekend getaway. It is a hard-side luggage set made with high-quality polycarbonate, nylon, and ABS materials, which makes it a suitcase resistant to shocks and falls.
However, it is very light in weight so that children can carry it easily. It is quite easy to use by children, thanks to its 360º Cardan rotating wheels. And so that the little ones do not have to leave anything they want behind, it has a lot of space and several compartments so that they can organize their belongings comfortably.
Travelers highly rate the luggage set for its lightweight, maneuverability, sturdiness, and durability. They say it's worth the price, well-made, super cute and each bag is of the perfect kid size.
6. JetKids by Stokke BedBox Green Aurora
This practical travel suitcase is designed for little ones to enjoy the trip and fly by. The BedBox suitcase allows your little one to rest comfortably or sleep peacefully during long and short-haul flights.
The suitcase will not only allow you to carry your child's clothes in the cabin, but it will also help them have fun with it and sleep comfortably. They can use the suitcase as a corridor runner and slide through the airport or ride it while you carry them. Once the seat belt light goes off, you can convert the suitcase into a bed in 5 simple steps so that your child can rest in the best possible way.
Many parents traveling with their kids choose this because it's approved by many airlines. It's a travel suitcase mattress. Inside it hides a large storage space, enough to store all your clothes. It also has extra space on the lid, ideal for the objects that you need to have more at hand. Thanks to the adjustable strap you can carry the suitcase on your shoulder or stretch it out.
7. Boppi Tiny Trekker Trolley Suitcase
If you are looking for a fun cabin suitcase for children, this is a good option. It is a small light but very resistant airplane-shaped suitcase, perfect to accompany the little ones on their adventures.
It has a lot of storage space and has a double compartment inside so that the little ones can store their toys and stuffed animals. It includes a support bracket to prevent the suitcase from falling when it is upright and incorporates a removable handle adjustable to two heights to make it easier to transport.
It's most appreciated for its lightness. Reviewers also mention that it's well made and adorable. It's a travel suitcase made for girls and boys.
8. Disney Frozen II Anna Elsa Luggage
The Anna Elsa Luggage is a hardside Disney-themed luggage for fans of The Frozen. It stands out for the quality and brightness of its colors and design in general.
The fact that it has been built with ABS guarantees that it is a durable but also lightweight model. This children's travel suitcase has the perfect measurements to enter the cabin of the plane without problems. Its wheels and a retractable handle provide comfort to the child. It features adorable characters from Disney's Frozen II and has Princess Anna Elsa printed on the surface. It comes with 360 degrees spinner wheels as well as a handle that ensures smooth movement.
Buyers say this is ideal for girls and is of good quality. Although we found a few buyers which complained of how it ripped. But a large percentage of verified users say it's durable.
9. American Tourister Star Wars Spinner Suitcase
This is another kids' travel suitcase themed after the Star Wars series. The ultimate spinner suitcase is designed to incorporate Samsonite technology.
Little lovers of the Star Wars saga will be delighted to take this suitcase with 3D printing of their favorite characters, including the Darth Vader's mask, as a travel companion. There are also the Storm Trooper and BB8 versions. It is made of high-quality material, which makes it a strong and durable option to withstand the onslaught of the Force.
Many parents and kids say this is one of the best hardcase suitcases ever. In addition, it is very comfortable to carry since it has four swivel wheels that facilitate movement.
10. Rockland Jr. Kids Carry-on Spinner Luggage
Resistant and light in equal measure, this children's suitcase with a turtle design is an excellent option to accompany children on their trips. It is made of a very strong rigid material. It is very easy to carry thanks to its telescopic handle that allows it to be dragged without great difficulty and it has interior compartments that allow children to better organize their belongings.
If you are planning a getaway with the little ones at home, this backpack will suit you perfectly. It is strong enough to withstand an adventure with children and light enough not to add extra weight to your luggage. It's also available in seven other designs, including the Dinosaur, Frog, Ladybug, Monkey, Owl, Puppy, and Shark designs.
Parents and other travelers say it is perfect for the daily or weekend getaway. Many also find the luggage tag useful and say it's obtainable in various cute designs.
What are the Best Kids Luggage?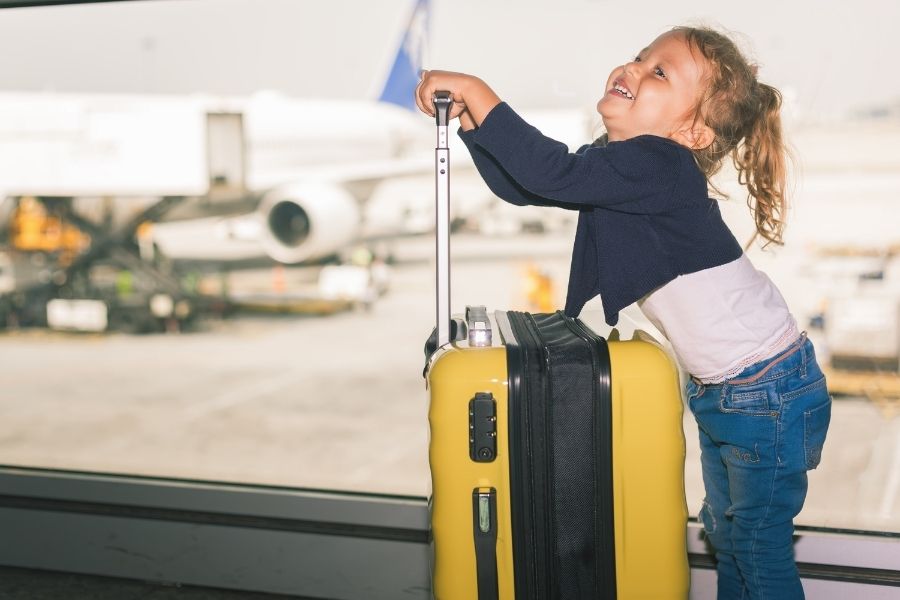 Traveling with kids means that you rarely ever travel light. Apart from their necessities like clothes and shoes, your kids will also insist on traveling with their favorite toys and animal crackers. One thing that can take the stress off this and make your load lighter, all pun intended, is to find the best kids luggage.
Finding luggage that the kid loves so much that they'll be glad to carry it themselves is an excellent hack. Luggage made for them are very functional and come in fun and cute styles that will intrigue your child.
Why Should You Buy a Good Kids Luggage?
There are several reasons why your kid should have their luggage. For one, it promotes organization. If you are traveling in a group, packing individually can save plenty of time.
Getting them their luggage also gets your children excited as the trip draws closer. Kids love to feel grown-up, and getting them their luggage will give them a sense of responsibility throughout the trip.
How to Choose the Best Kids Luggage?
Since there are several kids luggage on the market, it might be tricky finding the right one for them. Here are some of the important features to look out for:
Durability – If the luggage is for a short, local trip, then you can use lightweight and less durable luggage without any incident. However, for other types of trips, especially air travel; it is prudent to invest in durable luggage.
Weight – Since your kid will carry the luggage some of the ways, you should ensure that your child can manage the weight of the luggage.
Design – Choose a model with a design that would be comfortable for you to carry in addition to your luggage.
What Features Should You Consider When Buying A Kids Luggage?
Thinking of what should influence your buying choice? Here are some features:
Overall Functionality: Finding a cute kids luggage isn't difficult. However, there is nothing wrong if the luggage you buy carries some of the things your child needs. Some are cute as toys, while others are more functional and take into consideration how much stuff kids carry in their bags.
Number and Location of Pockets: It is rare to find pockets in kids' luggage. There aren't a lot of models that offer this feature. This might be a serious concern or not, depending on you, the parent.
Material: The material that the luggage is made of will play a big role in determining the durability. Therefore, it is recommended that you buy models made of high-quality materials.
Zippers: This is usually the first thing to break down, so look for models that come with strong zippers.
How Much Does a Top-Rated Kids Luggage Cost?
Kids luggage comes in a variety of prices. Some cheap kids' luggage comes for as little as $8. These cheap models often come with the bare features required in luggage. Other high-end kids' luggage might cost as much as $250 or more. As they are more expensive, they are often more durable and are made of the highest quality materials.
Final Verdict
Traveling with kids can be a stressful experience, but by getting them stuff like their own luggage, you can ease some of the stress. There are factors to keep in mind so that you can choose the best kids' luggage. Considering such factors as the weight, design, and durability will go a long way in helping you make the right buying decision.
---