Top Pick Kids Backpacks
These are the best kids backpacks you can buy right now:
1. Vaschy Pre-school Backpack
Available in different styles and colors, the Vaschy pre-school backpack allows little kids to take responsibility for their items by storing them in the bag. The bag has enough depth to hold items such as toys, color books, and blankets during trips.
The Vaschy pre-school backpack is made from durable material that's machine washable and safe for babies' skin. The bag also comes with elastic pockets for storing water bottles and a smaller compartment for keeping pencils. There's a puller attached to each zip, this makes it easier to run down the zip when items need to be quickly fetched. This comes in two sizes and you can choose the right one for your kid.
A lot of parents loved its large storage compartment as well as high-quality stitches. Some parents commended the padded shoulder straps which don't leave red marks on the kid's shoulders after wearing them for hours.
2. JanSport Super Break Galaxy
This is a spacious baby backpack made from polyester. The fabrics are better hand washed and spots a signature "galaxy" front cover. You can pick from 30 color lineups and there's enough space to store books and other school items.
The JanSport Super Break Galaxy Backpack has one main storage compartment in addition to pockets stuffed with organizers. The backpack has web haul handles for mobility and with just 0.3kg in weight, it won't tire your little one out.
One issue parents have complained about is the storage space which according to them is "slim" to hold three textbooks at a time. There also seems to be a lot of counterfeits sold online.
3. Fortnite Inspired Multiplier Backpack
A perfect choice if your little one fancies being one of the coolest kids in school. Aside from the Fortnite-inspired design, the bag is made from highly durable materials that makes it difficult for kids to rip off. It comes in different patterns and has vivid colors that will grab attention from distance.
This has one main storage compartment in addition to pockets for storing small school supplies. This is a typical book bag for kids in elementary. The Fortnite-inspired multiplier bag has sturdy zips made to last for years.
This bag is pricey but a lot of users were satisfied with the quality. For them, it's worth it and their kids fell in love with it at first sight. Its storage space is wide enough to store a laptop, this is a plus for adults as well
4. Disney's Lion King Bag
This comes in a shade of orange and yellow and features the face of Lion King's Simba in front. It has a fuzzy texture with 3D-plush ears in addition to Africa pattern striped background. At the top is a "Simba" logo with the words "The Lion King since '94" written around it. All these makes it easier to differentiate the original from the counterfeit.
Disney's Lion King Bag has. a playful theme that makes it perfect for kids within the age of 2 – 7. Shifting your focus from its look, you will find a bag with large storage space for storing diapers, books, a lunchbox, a toy, and few clothes in case your little one wants to change after school.
Great for your kid if he's a Lion King fan. A lot of reviews commended its plush design which gives it a smooth texture. The details on the stitches shows that it won't loosen up after a short usage time. The bag is large for 2 years olds but will become a perfect size when they grow older
5. Marvel Kawaii Avengers Girls and Boys 16 inches Backpack
The Marvel Kawaii Avengers Girls and Boys 16 inches backpack is perfect for school and camps. It has one main compartment, 2 extra mesh pockets by the side for storing water bottles, and a zipped front pocket for carrying small school supplies like pencils, and snacks. The main compartment makes room for storing textbooks, notebooks, and toys
The design of the bag is impressive. It can be hung on the shoulder for hours without leaving the wearer sore. The fabric is also easy to clean as stains can be wiped off with a damp cloth. For extra personalization, there are several avenger graphics glued to the front. Some of the characters featured on the front frame includes Dare Devil, Ant-man, Captain America, and other Marvel heroes.
The characters made several parents prefer this for their boys. However, a few buyers voiced their complaints about the thin nature of the fabric. To them, it didn't look like something that will last for ages.
6. Skip Hop Toddlers Backpack
This small-sized backpack from skip hop features animal face designs. The most popular faces includes Butterfly, Unicorn, Penguin, Beatle, and Zebra among a host of other options. You can complete the set with matching tableware, water bottle as well a lunch box if you don't mind spending extra dollars.
The Skip Hop toddlers backpack has a roomy compartment and a separate insulated front pouch for storing snacks. Your kid also gets a multipurpose front mesh pocket for storing colored pencils. As if that wasn't enough, there are two extra mesh side pockets for your water bottles.
Users especially liked the roomy interior. The front pouch can also hold items such as diapers during travels. This small-sized bag can't fit file folders so don't try to force one into it.
7. Disney Princess Girl's Backpack Bag
A perfect-size backpack that features your favorite Disney animated female characters. The perfect birthday gift for girls and allows them to showcase the face of characters like Snow White, Barbie, Cinderella, and the little mermaid. It features adjustable padded shoulder straps that allow you to lift to a comfortable height for your little one.
Disney Princess Girl's Backpack Bag is made from health material. It makes for a cheap option for parents on a budget. Aside from a roomy compartment, it also features a front zipper pouch for storing pencils and other small school supplies. The side pocket can hold the baby's water bottle.
Overall, this has been a happy purchase for first-time parents. It makes for a good pre-school bag. For its price tag, it's difficult to find something that's adjustable.
8. Stephen Joseph Classic Rolling Luggage
This is another pre-school backpack with exciting characters. This multifunctional backpack can serve as a book bag for schools or an infant traveling bag for storing a few clothes, diapers, and toys. This comes with organizers that make it easier for parents to manage their items on the go.
The Stephen Joseph classic bag has a polyester interior and external zipper pocket that makes it easier to access items. Its sturdy construction ensures it doesn't wear or tear after a short period. When traveling, the wheels can be pulled out to ease movement.
A lot of parents loved its multifunctional design. Although it's pricey, this saved them the cost of getting another traveling bag for their little one. The wheels can be folded in when you want to use them as a school bag.
9. Abshoo Little Kids Unicorn Bag
This is a unicorn-themed backpack made from polyester. It's water-resistant, hence your baby's books are protected when it rains. This serves as a cute storage option for babies in daycare as well as during activities like hiking, camping, or traveling.
It has a total width of 4 7 inches and a height of 11.8 inches. This makes it the perfect option for A4 books. In addition to the main compartment, there is a front storage pocket for keeping small items. There are two side pockets here, hence the water bottle doesn't have to go into the main compartment.
Reviews pointed to the adjustable shoulder straps as the main reason why they opted for the Abshoo Little Kids Unicorn bag. This makes it easier to stabilize the weight of the items on the baby's bag.
10. Wildkin 15 Inches Girl's Backpack
A multipurpose backpack that can be used for school and also serve as a traveling bag. It's 15 inches long and 11 inches in width. It's made from 600-dernier polyester combined with a water-resistant nylon interior. It can repel weather elements like rain, snowdrops and harsh sun ray that causes fabrics to degrade over time.
The Wildkin 15 Inches Girl's Backpack has 2 extra exterior compartments in addition to its main zippered compartment. All of these spaces makes it possible to store A4 exercise books, textbooks, and file folders at the same time. This is quite bulky but can be adjusted thanks to the presence of an adjustable shoulder strap. This is perfect for kids between the ages of 3-10.
Many parents said this is constructed to last for years and holds a lot of items. Its sturdy construction is not a problem with it come to cleaning since spot cleaning is allowed
What are Kids Backpacks?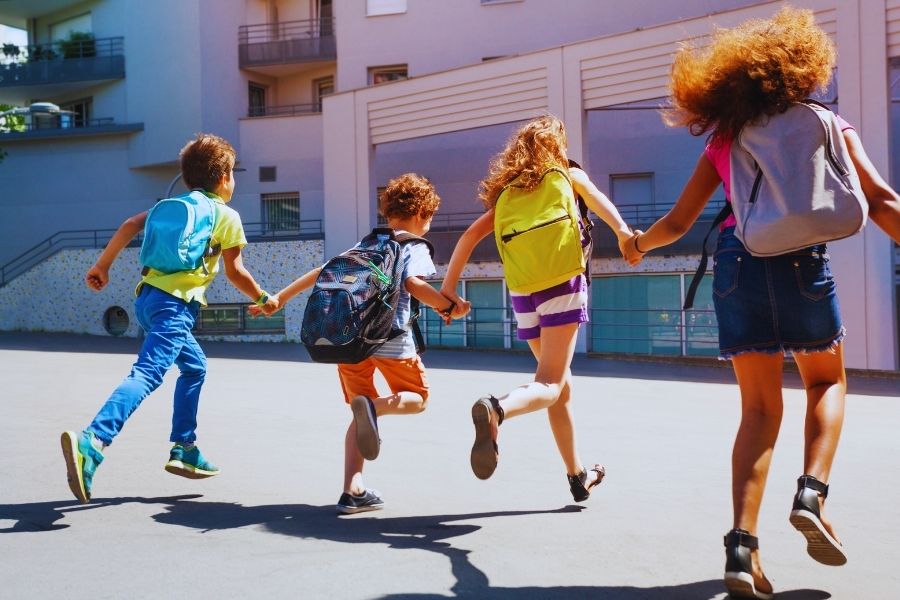 Kids backpacks are knapsacks designed for the little ones. On the move, to go to school, nursery, or just on an excursion, your child will need a backpack. As the word says, a backpack is a bag that helps carry by putting pressure on the back, instead of the hands. It will help your child to carry essentials such as toys or notebooks. Time flies, children grow older and their needs change rapidly. We have prepared this detailed and comprehensive guide for you to educate you on everything there is to know about these products.
Why Should You Buy Good Kids Backpacks?
Choosing a backpack for your child is not as easy as it may seem. The health of the child's back is obviously at stake, so this is not a decision to be taken lightly. There are many models on the market, with different materials and sizes. Of course, the tastes of the child must be taken into account, but it is necessary to choose a good model so it will not compromise his well-being.
How to Choose the Best Kids Backpacks?
There are different types of backpacks for children, depending on their carrying system. Here we will show you the three main categories of backpacks so that you can easily take your pick.
Traditional backpack: First of all, there are the traditional backpacks, that is to say, those which are attached to the back. They also have two shoulder straps that hang from the shoulders. Ideally, these are padded for more comfort.
Backpack with wheels: There are also wheeled backpacks. They have the same shape as the previous models, except that they are mobile. The advantage of these backpacks is that the weight does not affect the shoulders of the child.
Crossbody backpack: These are the shoulder bags. They are generally the favorite models of teenagers, although younger ones like them too. They are only recommended if you are not carrying a lot of things in them.
What Features Should You Consider When Buying Kids Backpacks?
Some of the criteria for buying a kid's backpack are as follows:
Design: We advise you to bet on a backpack with your child's favorite movie or cartoon character. There are for example models with Mickey Mouse, Cars, Donald Duck, and many more.
Size: The age and size of the child are the first things to consider. For children from 3 to 6 years old, the height of the bag shouldn't exceed 35 cm. In general, a backpack that is well suited for your child should measure approximately 2 inches above the child's waist.
Materials of construction: The material and lifespan largely determine the quality. Some most common manufacturing materials for kid's backpacks include polyester and polyamide. We advise you to check that its materials are hypoallergenic.
Casters: When children are of school age, a good option is to give them a wheeled backpack.
How Much Do Top-Rated Kids Backpacks Cost? Affordable kids backpacks are usually available for as low as $10 up to $20. However, a bit above the level of these cheap kids backpacks are high-end kids backpacks made by bigger brands such as Puma or themed after Nickelodeon or Disney.
Final Verdict
Infant luggage are sold in various dimensions, designs, and sizes. The best models are ideally those made with quality materials but that will not weigh the kid down. The presence of casters are some of the things to consider in an infant luggage.
---