Top Pick Infant Luggage
These are the best infant luggage you can buy right now:
1. Rockland Fashion Softside Luggage Set
This Rockland luggage for kids is a two-piece suitcase is made from a high quality patented Eva-molded fabric. This travel luggage is ideal for long-distance travel and comes with heavy-duty PVC material. It also uses polyester as its backing. This Rockland luggage also features a flight tote bag and three expandable uprights.
It also includes other features like an EZ-roll in-line skate wheel and an ergonomic handle design. The back pockets come with secure zips, locks, and keys to protect your luggage. It has other security functions like a push-button self-lock that can be found on the suitcase's handle. This upright luggage is durable and comes in a stylish design.
It is ergonomic handle makes it convenient for travel, and this Rockland luggage has enough space in its compartments to keep your kid's clothes. The luggage is expandable and comes with extra storage pockets to keep other essentials.
2. American Tourister Disney Luggage
This 6.8pounds travel luggage from American Tourister Disney comes in a stylish design for kids. On its surface, you will find pictures of Disney characters like Micky and Minnie mouse. This suitcase is great for kids of all ages and is ideal for long-distance travel. The luggage is made from a high-quality ABS material and is lightweight. The suitcase is not only sleek but also durable.
The inner compartment has enough storage space. The space is enough room to pack your kid's clothes and toys. It can fit in everything they will need during the trip. The suitcase comes with a zip-around divider, and you can create two separate compartments in the luggage. It also features crisscross tie-down straps where you can hold your kid's items in place. The case comes with four multidirectional spinner wheels that allow you conveniently move it around. It also comes with a locking system on the handle to secure the suitcase. The ergonomic handle can be adjusted for your convenience.
Parents will find this luggage convenient because of the adjustable handle height. The separate compartment makes it easy to sort out clean clothes away from the dirty ones.
3. Rockland Jr. Kids': My First Spinner Luggage
This luggage from Rockland is designed for your kids. It features interesting animal characters which will fascinate them. The suitcase is made from a hard-sided polycarbonate shell which is long-lasting. There are a variety of designs you can choose from, like the ladybug, owl, shark, monkey turtle, and puppy designs.
This suitcase comes in a perfect size for all kids and is designed with 360-degree spinning wheels for easy carriage. It has a telescopic handle that can be adjusted to the height of comfortable for your kids. The suitcase has enough storage spaces in its compartments. It also comes with adjustable straps to keep your kid's clothes firmly strapped.
This luggage is suitable for all kids, and the suitcase is lightweight. Your kids will find it easy moving their luggage with its telescopic handle and spinning wheels.
4. Stephen Joseph Classic Rolling Luggage
The Stephen Joseph luggage is one of the popular suitcases for kids sold today. It comes in a stylish, colorful, and playful design. This suitcase is ideal for your camping trips and holiday travel. Your kids can also use it for their sleepovers. The suitcase comes with interesting characters like a shark, Princess, a dinosaur, and a unicorn.
The suitcase is made from high-quality polyester material, and it is long-lasting. Your kids will use it for many vacations. The size is lightweight and fit for all kids. It comes with an adjustable handle for kids and extra storage pockets. You will find enough space in its compartments to keep your kid's clothes and essentials.
Parents will find this suitcase convenient during travel as it has enough space to fit your kid's clothes and toys. You can also utilize the extra pockets to keep other essentials for travel.
5. Goplus Kids Carry-On Luggage Set
The GoPlus luggage set comes with a hard-shelled case design. It also comes with spinning wheels making it easy to pull the luggage from behind. The two-piece set has ample space for all your kid's clothes. The lightweight suitcases can be carried conveniently using their extendable handle.
The set is ideal for little kids and makes it easy to organize their apparel and items. These suitcases come with separate compartments, which makes it easy to organize your kid's clothing. The design comes in different patterns, especially from cartoon characters like unicorns, owls, deers, and elephants.
Most parents will find it convenient to have two-piece luggage to keep useful clothing items. The suitcases are designed to make it easy for parents to get specific items out at the airport or in other public places.
6. Gloveleya Kids Bunny Backpack
The Gloveleya backpack is one of the best you can get today for your kids. This lightweight backpack is made from a 100 percent polyester material. Kids from the age of two years and older can carry this backpack. The design of the bag comes with a stuffed bunny toy and attractive pink, which makes it a great gift for little girls. The bunny doll is detachable, and your kid can always play with it.
The material of the Gloveleya backpack can easily be machine washed. It has a sturdy zipper that has been tested to close the compartments properly. The backpack has large storage spaces to keep your little one's diapers, water bottle, books, and snacks. It also comes with adjustable straps that for your kid to carry.
Parents will find it easy caring for this backpack. The material is long-lasting, and you can get it for kids in the nursery. The bunny toy will give your two-year-old something to play with.
7. OSVINO Luggage Cover Cartoon
Osvibo luggage cover comes with a comfortable design and durable material. The cover is made from a blend of polyester and spandex. It is scratch resistant and will keep dust away from your luggage. The luggage cover comes with two openings that will comfortably fit the telescopic handle and push-button handle of your kid's suitcase. The design is stylish and modern, making your luggage look appealing.
The Osvibo luggage cover comes with a zipper and buckle strap at the bottom, preventing your luggage from moving. It acts as a protective cover for your luggage during travel.
This luggage cover makes it easy for parents to identify their luggage at the baggage claim easily. The cover comes in different sizes, and you can always find one that fits your kid's suitcase.
8. Rockland Jungle Softside Luggage Set
The Rockland Jungle luggage set comes in a high-quality design for your kids. It comes with vibrant colors and forest-themed patterns. You will find it in leave patterns which makes it stand out in public. The 4-piece luggage set is ideal for family trips, and it comes in a sturdy design.
The luggage comes with 3 expandable uprights and one carry-on tote. The Eva-molded fabric is durable, and the design is stylish. It comes in polyester and PVC backing to keep your clothing protected from damage. The bars at the bottom of the suitcase are stable and prevent the luggage from falling off or tilting. The suitcase also comes with locks for security. The telescopic handle is easily adjustable, and you can easily move it comfortably.
This luggage is ideal for families and comes with enough storage spaces to keep all your travel essentials and that of your kids. It also has extra storage pockets where you can keep easy to reach essentials.
9. Rockland Vision Hardside Luggage
The Rockland Vision luggage comes in a hard-shell casing. It is perfect for travel, especially for a small-sized family. You can use this luggage to keep your kid's clothes and toys. The suitcase is made from reinforced ABS material and comes with a hard finish. The hard casing does not affect the weight of this luggage as it still feels very lightweight.
The suitcase comes with a telescopic handle and comfortable spinning wheels for movement. The high-quality eight spinning wheels are sturdy and can take the weight of your luggage. They provide enough support and are all in an upright position. The 3-piece luggage set comes in a stylish design with many interesting patterns. The grip can be retracted using the push button on the handle.
This Rockland luggage is ideal for family use, and its 360-degree wheels make it easy for parents to move their luggage. It also comes with extra pockets where you can keep your kid's essentials. The lightweight luggage not only has enough storage space but will protect all your travel items from damage.
10. Yodo Zoo 3-Way Toddler Backpack
This backpack for kids comes in a colorful and stylish design. It is a 3-in-1 backpack that your toddler can use while they grow. The backpack comes with interesting character patterns. It can be used for kids in the nursery, at school, and for playdates. Your little one will find it easy carrying this lightweight backpack.
The compartment is surprisingly spacious and can take your little one's clothes for a sleepover. The material is easy to clean and is durable. It also comes with a double zipper for added protection, and the zips can fire your toddler's hands. The backpack comes with a padded front pouch to keep some of their play items.
The mesh pockets by the side can be used to keep your infant's drinking cups. The compartment is spacious enough to keep other items like books, toys, blankets, clothes, etc. It is ideal for travel and parents won't find it difficult cleaning this backpack.
What are Infant Luggage?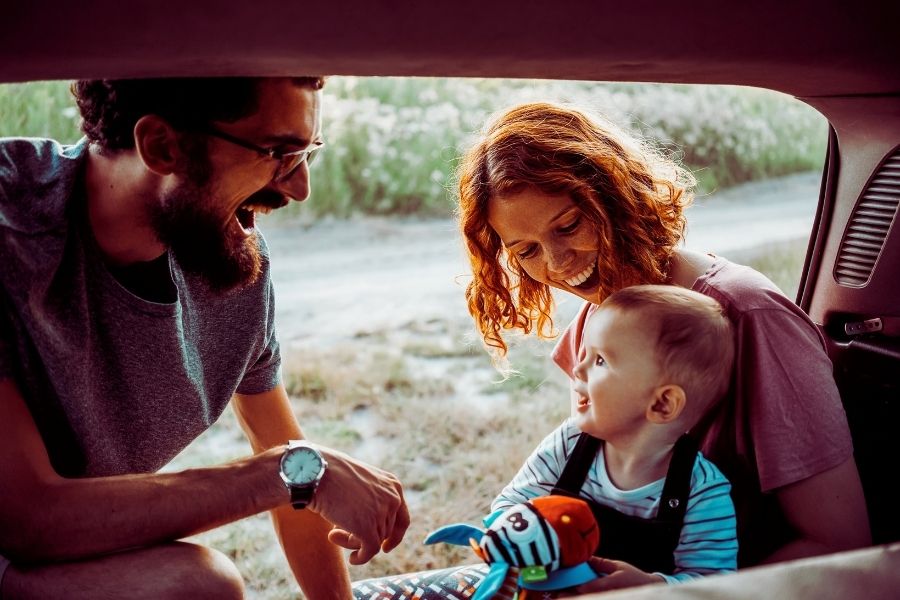 Infant luggage serves the same purpose as traveling suitcases for adults. But the infants' ones are adapted to the size and characteristics of the children. They are built to be carried and used by them. So they are usually stronger, smaller, and have attractive designs to make your little ones want to carry them around.
Why Should You Buy a Good Infant Luggage?
A trip with children requires a lot of planning. In addition to carrying clothes or shoes, children also need toys, food or cream, among other things. To avoid chaos, families must equip themselves properly and find good luggage. This guide explains everything you need to know about an infant's suitcase.
How to Choose the Best Infant Luggage?
To choose the best infant luggage, there are important things to consider across products of different types:
Infant luggage with casters: The majority of children's suitcases are on wheels: it is thanks to these rollers that the child can easily move his or her luggage and all that it contains! If you plan to have to walk a certain distance, like in an airport or a train station, it is better to opt for the luggage with wheels!
Infant luggage without wheels: Luggage without wheels are lighter, but intended to be carried by hand and therefore more suitable for travel. This type of luggage can be quickly stored in a trunk or hold.
What Features Should You Consider When Buying an Infant Luggage?
Below are some features to consider before buying an infant luggage:
Design: If the design is not appealing and the child does not like it, then he will not want to carry his luggage. And if your little one doesn't want to carry his suitcase, then you are going to have to carry it yourself. It would be a waste of money and would be a big inconvenience while traveling. There are suitcases with characters from movies like Spiderman, beautiful designs like on the Gorjuss suitcase, or, better yet, suitcases with shapes. This feature makes them very attractive and they can even be fun. They can, for example, look like a horse, a car, or a scooter. A good example is the "Trunki" suitcase.
The capacity of the luggage: Infants' suitcases have a capacity of about 18 to 35 liters depending on the model chosen. There's the possibility of taking things for 2 days of vacation for the smallest, to 2 weeks for the largest.
The size and weight of the luggage: The luggage dedicated to children are medium in size, they slip easily under a seat or in a trunk and are accepted as cabin baggage. They are also light to be as handy as possible.
The shape and material: Luggage for infants have a shape similar to those of adults, with a few fantasies! There are often some curves to make sure that the child does not get hurt with it. Some take the shape of the animal they love, which makes them all the more attractive! Regarding the material, the rigid suitcases are in ABS (acrylonitrile butadiene styrene), a shock-resistant material, or in polycarbonate, a material even more resistant and light. Be careful, a half-ABS half-polycarbonate suitcase is less resistant and light than a 100% polycarbonate suitcase! There are also soft suitcases in strong fabric such as polyester or nylon. They are less heavy than rigid suitcases but above all much less resistant to shocks and bad weather.
How Much Does a Top-Rated Infant Luggage Cost?
Fortunately, you can find affordable infant luggage within a price range of $30 to $60. These cheap infant luggage are the most popular on the market. However, there are also high-end models with casters, hard, resistant materials that cost more than $100 or even $200.
Final Verdict
Is your child now old enough to have their luggage? You, therefore, have to choose a piece of luggage adapted to his age, physical strength, the volume of things he is used to carrying, and also his tastes!
---