Top Pick Infant Car Seat Strap Covers
These are the best infant car seat strap covers of 2021 you can buy right now:
1. 2 Pieces Car Seat Strap Cover Teether Set By Travel Bug
This is an infant car seat strap cover with a universal design that makes it perfect for strollers and baby carriers. It comes in many outstanding colors that separate you from the crowd. If your baby is in the teething stage and loves to chew on everything when bored, this car seat cover provides a healthy chewy option.
Available in two sizes – one for newborns and another for babies up to 5 months. This travel bug infant strap cover is made from durable polyester material that's easy to wipe clean. It features patches of silicone that provide extra protection to the baby when chewing on it. The teether cover will be able to prevent the baby's neck from getting rubbed by harsh car seat straps. This goes a long way to scratches or annoying marks.
Many parents love this car seat strap cover because of its 2 piece design. This makes it possible to protect their baby at every stage of their childhood. The car strap cover has a firm hold but doesn't cause scratches to the fragile skin of babies
2. Accmor Soft Seat Belt Covers For Kids
This is a Unisex car strap cover with a super soft fluff that's durable and free from pilling or fading. It has a comfortable design that ensures a baby's face, neck, or shoulder doesn't rub on harsh seat belts. The super-soft fluff design also helps in reducing friction and hypoallergenic reaction in babies with sensitive skin.
Removable, washable, and easy to install, the Accmor seat belt cover has a universal design that fits all baby carriers, car seats, pushchairs, and bouncers. This is what you need if you want to prevent red marks on babies from excessive contact with car straps. The strap cover isn't lacking in design as well. There are several color choices for an elegant look.
We were impressed with the durable material of this infant car seat strap cover. According to users, it doesn't peel or fade. It's ideal for babies under 24 months and is washable. Overall, this is helpful if you're taking a long ride.
3. Accmor Soft Car Seat Shoulder Pad
Another durable design from Accmor but this time, with newborn babies in mind. This is a car seat strap cover made from a form-like material similar to those found in the Graco Extend2fit. It's 3-inches long and the foam ensures the baby won't get too hot after a long ride. Finally, no more sweaty necks.
The Accmor soft car seat shoulder pad is guaranteed to fit into different types of strollers and car seats. It has a medium thickness, is not too bulky, and holds tight.
According to users, this is one of few infant car seat strap covers that fits car seats from third-party brands. This works well for preemies especially and the mesh design prevents them from suffocating.
4. Accmor Car seat Strap Cover For All Infant Car Seats
This Accmor cover aims to correct the past deficiencies and shortcomings of the previous models. It can be conveniently attached to any car seat and is made from soft fabric that won't irritate baby skin. Aside from protecting babies from direct contact with harsh car seat straps, it also offers mechanical support to the neck, shoulder, and chest.
Featuring a universal design, the Accmor all infant car seats strap cover fits into all infant carriers, strollers, or pushchairs. It comes in two sizes – small and large. The small variant is for babies under 24 months while the large variant is for those above.
A lot of users had concerns that they might be too thick to guarantee safety but this didn't turn out to be a problem. Its soft fabric design doesn't make it stiff, rigid, or fussy. This is a perfect option for parents seeking a replacement for their baby's original car seat cover.
5. Tololo Stroller Belt Covers
This fits parents who want to prevent their baby's neck from getting chafed by rough car seats. They are soft and hand-stitched. This reduces the risk of allergenic reactions from direct contact. The stroller belt cover is colorful and personalized by animal characters such as giraffes and lions.
Honestly, this won't work for all car seats due to their length. It's more suitable for strollers. Few people know about the advantage of its double sides. What this feature offers is temperature regulation during winter or summer.
Many moms love that it's adjustable. It's easy to alter strap location as the baby grows older. It protects the neck, shoulder, and back. There's no chest buckle here. A few users had concerns over its safety.
6. Travel Bug 3-piece Head and Shoulder Strap Covers
What makes this unique is that it comes with custom-made head support that's adjustable to the baby's growth. The 3-piece design works in two ways. On one hand, the head supports serve as a pillow that prevents the baby's head from tilting. On the other hand,  the car seat strap cover prevents teething babies from chewing on a hook. This gives the baby a longer sleep in the car.
A lot of parents say it's the "cutest" and we agree. This infant car seat strap cover is elegant thanks to a bit of personalization with the koala bear. It comes in bold colors that are easy to spot in the crowd.
A lot of users praised this complete masterpiece. There are thousands of positive reviews praising the product. On our end, we feel the thick design will keep the baby cozy in the winter
7. Culclendy Baby Car Seat Neck Cover
It's made from soft cotton and Minky material to form a strong Velcro. The car seat strap cover has a Minky fabric on one side and a flower print on the other. This product is available in several color variants and features a reversible design that makes it ideal for all baby car seats and carriers.
 This infant car seat strap protector has a pram harness design that supports the baby's head as well as the shoulder. With lifetime support, customer support for this product is on another level.
Parents love that it's easy to maintain and comfortable to use on their little ones. The flower prints help elevate its design from "ordinary" to "classy".
8. Lebongner 2-Pack Car Seat Strap Cover
The Lebongner 2-Pack car seat is made to fit into car seats with a stroller -harness system. It's a perfect baby shower gift for new moms. The infant car seat strap cover is made from comfortable velvet plush fabrics that aren't too thick, or rigid. This way, they can help prevent skin irritation and excessive rubbing from car seat straps.
There's a reason why this is every new mom's pick. Maintenance isn't difficult since it's machine washable and can be tumble-dried as well. Their thin fabric won't make babies sweat.
A lot of new moms said this is the perfect size for their newborn. It's neither too small nor big. Over here, we think it's more comfortable to use on strollers than car seats due to its supported harness system.
9. JJ Cole Infant Reversible Strap Cover
The JJ cole strap cover is a chunky piece that's designed to wrap around infant car seats. Overall, it features a reversible design but you can choose between 5 style options and unique color variants.
It features dual-side padding with an elastic band. The reversible piece isn't permanent and can be removed to adjust to the baby's growth. Aside from preventing baby's from rubbing their face on harsh car seat straps, this also prevents babies from tilting their heads during long trips.
Lifelong customers of JJ Cole aren't ready to trade this for anything while first-time buyers loved the double advantage of protection and support. They're exactly as advertised.
10. Arden by Arden Cotton strap Cover
The Arden by Arden strap cover has a cotton outer with a polyester fill. Its tailored-fit style ensures it snaps securely around straps to give a tight hold that keeps babies cozy in the winter. With light fabric options, overheating is prevented.
Each strap cover features a snap closure that keeps the pad in position during long trips. The comfy pads eliminate friction between baby skin and the car straps. With a wide variety of colors to pick from, you can almost predict which one will suit your baby's taste.
A lot of parents say it's durable, has a tight hold, and takes a lot of stress off handwashing. It's easy to use with strollers and car seats from third-party brands like Chicco.
Infant Car Seat Strap Covers to Safeguard the Soft Skin of Your Baby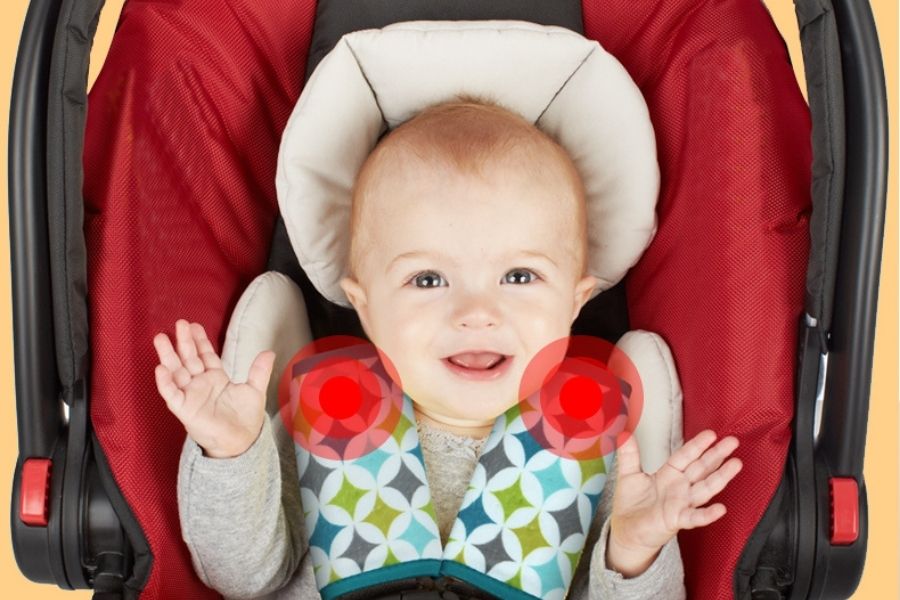 You know that straps are important to safeguard your baby in an infant car seat. But, do you know that infant car seat strap covers are equally important? Read on to learn more about these covers:
What Are Infant Car Seat Strap Covers?
Infant car seat strap covers provide an outer covering for the straps that are generally found in baby car seats. Mostly straps in the baby car seats go around your baby's body. So, to make sure that they do not hurt the soft skin of your baby, these strap covers come in handy.
Why Should You Buy a Good Infant Car Seat Strap Cover?
You should buy a good infant car seat strap cover to safeguard your baby's skin from getting hurt by the harness. To make sure that your baby remains safe when you drive, you might be thinking about buying a 5-point harness baby seat. In this case, there will be many straps around your baby. If you do not want them to hurt your baby, it is better to ensure that you buy a good infant car seat strap cover.
How to Choose the Best Infant Car Seat Strap Cover?
When it comes to selecting the best infant car seat strap cover, considering the following points will help:
Soft breathable fabric: You plan to buy the best infant car seat strap cover to safeguard your baby's skin. So, you can understand how important it is to choose a cover that uses soft and breathable fabric. Only then, your baby will stay comfortable.
Easy to attach and remove: A good infant car seat strap cover in addition to being easy to attach should also be easy to remove. Only then, you will feel like using it again and again.
What Features Should You Consider When Buying an Infant Car Seat Strap Cover?
An infant car seat strap cover with the following features will make your shopping the best for sure:
Handy snaps: Some infant car seat strap covers come with handy straps. In addition to helping with securing the cover to the seat strap, this feature will ensure that you can easily attach the strap cover to the strap.
Plush fabric: An infant car seat strap cover with plush fabric will impress your kid for sure. You know that little ones always love plush toys. In the same way, an infant strap cover with plush fabric will be impressive for your baby.
Fun animal characters: Even, you can consider buying an infant car seat strap cover with fun animal characters. Again, this will be an impressive feature for your little one to enjoy. This feature will make sure that your kid can have something to distract when he suddenly needs your pampering when you are driving.
How Much Does a Top-Rated Infant Car Seat Strap Cover Cost?
You can find cheap infant car seat strap covers around $9 as the cost. But, if you are not looking for an affordable infant car seat strap but need a high-end infant car seat strap cover you can find it. Even, the high-end models will cost you just around $20. Overall, the average cost of these covers will be around $15.
Final Verdict
An infant car seat strap cover in addition to safeguarding the soft skin of your baby can also keep him comfortable based on the model you choose. So, choose the right strap cover after considering some factors stated above and end up with the best product ever for your baby!
---