Top Pick Infant Car Seat Protectors
These are the best infant car seat protectors you can buy right now:
1. Gimars XL EPE Car Seat Protector
Gilmars XL seat protector guarantees an increased comfort to the baby because of its durable thick EPE cushion. The thick EPE cushion also prevents imprints, scratches, indents, and pet paws from getting to the leather of the car seat. It was also made with enhanced waterproof Oxford fabric which protects the leather from spills and sweats.
The baby's safety is ensured thanks to its anti-slip mesh designed at the back. By that way, movement is lessened. There are adjustable straps that are sturdy and uneasy to break. This product comes with easy installation and durability. With its size, it can fit into most cars.
Parents that have used this product have testified of its high protective abilities for the car seat and the baby. Their ability to adjust the straps up to 10 inches was also a great experience. Babies will love it when they notice the carriage pocket that their candies will fit into.
2. Lusso Gear Thickest Padding Car Seat Protector
The security headrest strap and flap present in this product will reduce the risk of driving or traveling with babies. It is also made with custom PVC leather and a custom back that will safeguard the car seat itself and make it look brand new each time you take off the car seat protector.
Adjustable straps make it safe for babies because they are designed to get the headrest tied to the cover. All there is to do is to fasten them till it fits perfectly. This product is made with eight layers of protection, thereby making it durable.
Moms who have tried out the product commented of the great customer service. They also said the car seat protector doesn't scratch or damage the leather of the car after long usage.
3. Munchkin Brica Elite Car Seat Protector
The Munchkin car seat protector works fine for a child's safety. The construction of a slide-proof on it enables it to stay intact once you place it in a position you want it to be. This will also ensure that the baby's safety seat will not move once installed.
There is also a dual-grip surface that helps prevent unnecessary movements during driving hours. The lesser the movement of the baby, the more comfortability. This product also has a color-safe construction. This invention will not let the cover bleed onto your car's fabric coverings. Moisture and dirt are also prevented from getting to the car seat.
Moms who bought this have stated the convenience they noticed during its usage and installation. They also commented on the ability of the product to hold up well to sunlight exposure.
4. Lyork XL Car Seat Protector
Your baby's comfortability is ensured with this product's multifunctional protector. The XL size seat cover has a large scope that will cover and protect the surface of the car seat. PVC leather and thick padding are of great benefit to the car seat because of their strong quality.
The presence of a kick protector for babies is also an advantage to this product. Fixing a back or front seat will not pose as a barrier because it always fits well. This product can serve as a cover for the pet seat or even as a dog car mat when dealing with pets. What a great way to plan a family vacation. Its handy mesh pockets are for toys, snacks, books, and lunch boxes.
Users of this product noted that this product is of good quality during their comments. It was also recorded that it is car-seat-compatible and easy to install.
5. Shynerk Child and Infant Protector
The ability of this car seat protector to stay firmly in a place will reduce the risk of keeping a baby in a vehicle while driving and also increase the comfort of the child. This product is made with waterproof material thereby affecting its maintenance by making it easy to clean.
It is made with grips on both ends and they work hand in hand to prevent the infant car seat from slipping while on the cover. While using this product, the car's upholstery is held in high esteem because of its numerous protective layers. It is compatible with all seats ranging from cars, trucks, SUVs, and even vans.
Parents have always given praises on how this product is made with a decent material that protects the car and makes its maintenance easy. The extra-tall backs have been said to be of great help because of today's larger car seats.
6. PIDO Child Car Seat Protector
This keeps the car seat pad in place and this is a good start-off plan for the baby. This product can be said to be unique because of its thick padding that protects the seats from any back scratch, making the car look brand new when the seat cover is off.
The child is also comfortable using protector because of the anti-slip fabric on the reverse side. It doesn't end there, this product created more designs to keep the car seat cover intact. The third design is made in a way that the tab at the back can be tucked into the seat crevice.
Those who have used the product have so far not specified any issue from it. A few parents said it protects the leather seats, installs with no stress and it's great for the price.
7. Smart eLf Seat Protector
Being a great deal for every child due to its secured and adjustable safety straps, this product is highly resilient and protects the leather and cloth fabrics from scratch, scuffs, spills, and any form of indentations. The side pocket can be suitable for storing junk for the child's needs.
The seat mat present in this car seat protector is for the comfort of the baby. This seat mat has a safety trap that can be set to achieve a perfect fit. It is also built with anti-dots for extra grip. When using this product, no form of fading or difficult maintenance will transpire.
Traveling parents have always specified how strong, fashionable, easy to install, and awesome the product has been.
8. Helteko Car Seat Protector
This product is made of high-quality materials that are extremely sturdy and durable, making babies feel safe and relaxed. It is also bagged with a lifetime warranty which grants every user a free repair and fixing of issues. This benefit will last as long as the product remains.
It is worth every penny because its durability prevents water and stain from having their way. The mess will be reduced because of the presence of the different-sized pockets that anything can fit into. There is also a space for an iPad holder.
Many moms have left multiple reviews on this product while stating that it is great for seat protection and also has long-lasting materials. A few regret not having purchased the product earlier.
9. Munchkin Seat Protector
The non-skid textured surface here will prevent hazardous slipping and provide a safe position for a baby. It is made of fabric and non-rigid material that will promote its cleanliness and prevent dents into the back seat.
This product is sturdy and will not stain car seats when placed on it. It will also cover any form of test thrown to it because of its easy wiping and cleaning nature. It is resistant to fluids.
In their review, a lot of parents have expressed satisfaction over the car seat protector stating that they were able to protect their car seats while using it and also does not move around when installed.
10. Funbliss Car Seat Protector for Baby Child Car Seats
Being made with high-quality material and also a latch installation, it provides the best safety possible for every child. It can fit into most cars because of its modern features that are present because of the modern cars that are being created recently.
Even as the child grows, the product will continuously serve its purpose knowing full well that this super mat is capable. While using this product, cleaning and maintaining it is a breeze because it has waterproof features which makes it easy to clean. Water and liquid will also not have their way into the car's interior. This product is also built with two mesh handy pockets for the child's mini bites while making a family trip.
Parents with verified purchases, in their reviews, have stated that they like the no-hassle money-back guarantee that comes with the product and also the overall good quality.
Infant Car Seat Protectors To Safeguard The Seats In Your Car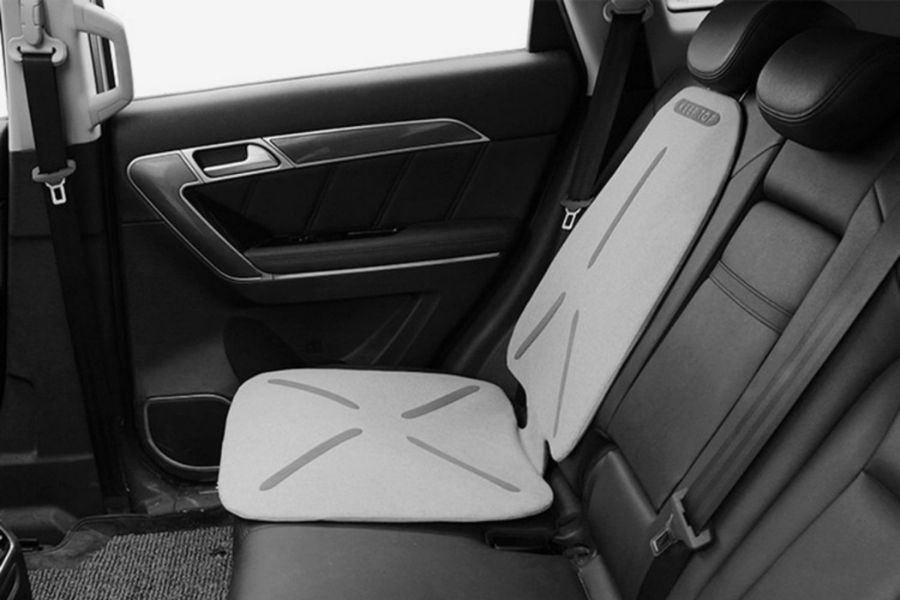 Infant car seat protectors will help with safeguarding your infant car seat from dust and other substances. What more do you wish to know about these protectors? Read on to learn more:
What Are Infant Car Seat Protectors?
Infant car seat protectors as the name implies are meant for protecting your infant car seat. You might have spent a lot on the infant car seat. So, to safeguard your investment, you should choose the right protector that will do the job for you undoubtedly. Even, it will help with improving the appearance of your car interiors.
Why Should You Buy a Good Infant Car Seat Protector?
When you choose a big infant car seat protector, it will also bring the expected privacy for you and your baby. Yes, many moms use these protectors not just for safeguarding the car seat but even to get the required privacy when nursing the baby. Further, you can get the expected protection from external elements with a good infant car seat protector.
How To Choose The Best Infant Car Seat Protector?
When you intend to buy the best infant car seat protector, you will have to consider the following things:
Consider the material: You want the infant car seat protector to provide the best protection to your infant car seat, isn't it? Then, the material used for making the protector is essential to consider.
Adjustable straps: When the infant car seat protector has adjustable straps, it will be easier for you to adjust the seat as per the requirement. Also, when the protector has adjustable straps, you can use it in any seat be it the front or back seat.
What Features Should You Consider When Buying An Infant Car Seat Protector?
An infant car seat protector with the features mentioned below will help you get better benefits:
Anti-skid surface: The infant car seat protector should have an anti-skin surface to make sure that it will be convenient for the baby to stay seated in the car seat. A good grip is important to make sure that your baby will stay seated safely in the car seat. Further, if the protector has thick padding, it will provide better protection to the baby.
Built-in pockets: When the infant car seat protector has built-in pockets, it will help with storing the essential stuff. You can even place some baby essentials like a baby bottle in these pockets for easy access.
Latch system: When the infant car seat protector has a latch mechanism, you can ensure that it will stay attached to the infant car seat without any hassle. This feature will also make sure that you can easily place the cover and remove it for easy washing.
How Much Does A Top-Rated Infant Car Seat Protector Cost?
As you are looking for a high-end infant car seat protector, it will cost you around $55. On the other hand, if you look for an affordable infant car seat protector, you can get one at around $10. A cheap infant car seat protector will help you save money. But, just for the cost do not go for a protector that will not last for long. The average cost of an infant car seat protector will be around $25.
Final Verdict
An infant car seat protector will safeguard the money you have spent on buying a car seat for your baby. Understanding the importance of the right seat protector, make sure to buy the right protector after considering the factors that you feel important.
---