Top Pick Infant Car Seat Head Supports
These are the best infant car seat head supports of 2021 you can buy right now:
1. Baby and toddler 2-in-1 Head Car support by Travel Bag
The 2-in-1 baby and toddler head car support by Travel bag is one of the best infant car seat head support you will find in the market. It prevents the baby's head from flopping down when asleep in the car. It has a dual-support design that cares for babies at an infant stage and while they're growing up into toddlers. As the baby grows older, you can remove the inner support to provide extra headroom.
This baby head support from travel bag is versatile and can fit into several car seats, bouncers, and strollers from various brands. When using an infant car seat, be assured that it can work with both a 3-point and a 5-point harness system. Thanks to its soft fabric design, your baby's head won't heat up when pressed against it for hours.
A lot of working mums loved the firm grip the pillow had on their baby's neck. They love how it prevents the baby's neck from flipping while he's asleep. This gives them complete peace of mind while driving as they don't have to check up on the baby from time to time.
2. JJ Cole Infant Car Head Support
The JJ Cole infant car seat head support has a multifunctional design. Even better, the design is adjustable to fit into an infant and a toddler. It's built to perfectly fit into the strap harness design in most infant car seats. With this, you can comfortably take your kid on a walk in a stroller or bouncer without worrying about a tilted head.
This isn't just made for baby neck support. It also has an aesthetic appeal to it. There are several color schemes and styles available. You can easily guess the right design for your baby car seat. It's also easy to fit into most baby-carrying systems and is machine washable to ease the stress of maintenance.
A lot of Moms complained about it being too small for newborn babies but perfect for their 6 months or older infants. Its soft nature also allows their baby to sleep for hours without tilting their head to one side.
3. Mickey Mouse Infant Car Head Support by Disney
The Mickey Mouse infant car seat support from Disney has a heavy-duty 2-in-1 system that includes hooks, belt slots, and loop closure to give a firm grip. The soft fabric it's made from gives the baby's head and neck a comfortable hold that doesn't get sweaty.
This car support system is designed to make more room for the baby's head as they grow. Hence, this is a long-term investment that can serve your other kids. The cushioned designs and Mickey Mouse character make babies feel at home when they ride in their strollers, joggers, or bouncers.
Previous users liked how the cushioned design makes their babies feel at home. Their babies took a quick liking to it because of the Mickey Mouse character.
4. 3-in-1 Baby Head and Neck Support by Coolbebe
The head and neck car support by Coolbebe does more than just help prevent your baby's head from tilting. It contains extra features that keep the baby cozy during the summer and warm in the winter. All this is possible thanks to its soft micro-fleece fabric and extra padding.
The 3-in-1 car head support is perfect for newborn babies and infants within 12 months and with a maximum weight of 10kg. It's durable and has a plush filter that hardly deforms after washing in a machine. It's made for car seats, strollers, and bouncers with a 5-point harness system.
A lot of reviews show that it fits into several Graco infant car seats. Most users loved how easy it's to adjust the inner frame to make more headroom for babies. The temperature regulation factor saves them the stress of adding an extra piece of clothing to keep the baby warm.
5. Reducer cushion baby head support by Janabebe
Many infant car seat head supports are made from soft fabric, but one unique advantage comes with using cotton – it minimizes skin irritation and hypoallergenic reaction. This is what the Janabebe reducer cushion baby head support offers. It protects sensitive babies in addition to providing support that holds the baby's head in place.
The significant advantage of this car head support is its universal design. This means you can tweak the design to fit into your carry cot, stroller, bouncer, and infant car seats. Overall, there are 16 different prints to choose from, and there's an option for accessories like hoody to give the baby a uniform look.
Many parents love that the kids can have direct contact with the head support without fear of irritation. The texture of the support cushion is similar to that of their living room cushion. Hence, it's only natural that their baby feels at home.
6. DorDor & GorGor Organic Cotton Head Support
The DorDor & GorGor Organic Cotton Head support has what's called a "child developmental design." This means it's designed to adjust to the baby's bone development. It also comes with a cuddle cushion that adjusts the baby's temperature during hot or cold weather. Furthermore, it's made from polyester fabric that is 100% comfortable and free from harsh chemicals that will irritate baby skin.
The best part about this cotton head support is that you can use it for both your toddler and infant if you have more than a child. It's designed to adjust to the baby's growth. Its puffy design means it can function as a pillow during a nap.
Most mums loved its adjustable design, which provides total support for tiny bodies. A couple of parents complained about its loose shoulders, while few said it wasn't a good fit for their Graco car seats but fits into most Chico key-fit. However, many parents had 100% confidence that when used with the right car seat, the baby's head won't drop.
7. Kakiblin Infant Head Support
This infant car seat prevents the baby's head from bending over while they're asleep in a car, stroller, or infant swings. It's perfect for both baby and toddler, thanks to its removable parts. The material composition is not only breathable but also helps with heat and cold. Whatever season presents itself, you have nothing to fear.
Using this will make life a lot easier when it comes to cleaning. It's both machine-washable and supports tumble drying. While there are a few reservations over its suitability with car seats, it seamlessly fits into strollers, pushchairs, pram, infant swings due to its harness system.
Previous buyers loved how they can use the support pillow for both their infant and toddler. The removable inserts make it easier for them to fit their older baby into it when they want to take a walk with just one of the kids.
8. Travel Bug Baby & Toddler 2-in-1 Head Support Duo Head Support
This features colorful patterns and stylish fabric that highlights the fashionable side of female kids. The head support design is centered on soft material. This way, it's possible for them to imagine being in the comfort of their favorite cartoon character.
This feminine infant car seat head support from Travel Bug has a 2-in-1 cushion design. Fortunately, the neck ring can be removed to provide extra headroom as the baby advance in age. It fits perfectly into several carriers to make for a versatile pick. This is the best infant car seat head support for families on tight budgets.
Most parents were happy with the price and how well it adjusts to the baby's body as they grow older. The girly design adds extra aesthetic to the head support. On the downside, a few parents questioned its quality and durability.
9. Baby Travel Pillow by Kakiblin
This baby travel pillow has a U-shaped design that helps babies suffering from Torticollis. The design makes it possible to prevent the baby's head from tilting or leaning forward. This is not suitable for children of all ages. It's purely designed to support kids within 0 – 12 months.
The travel pillow features a cotton design that's machine washable and comfortable to lay on. It provides a firm grip that holds the baby's body and neck in place as you ride down hills and across bumpy roads. This can also fit into an umbrella stroller or carrier in addition to infant car seats.
Many parents who enjoy traveling loved how it supported their baby's head during long trips. They also loved how it improves the baby's posture as it allows them to sit upright.
10. Coolbebe Newborn Baby Head Support
This Coolbebe newborn car seat infant head support is made to grow with the baby. It prevents head swings on baby carriers, bouncers, and pushchairs. The advantage of the 2-in-1 design is that one part can be removed as the baby's weight extends beyond 15 lbs.
Coolbebe recommends this head support be paired with car seats with a 5-point harness system. With a double head support system, you can alternate its design between cold and warm weather to keep the baby comfortable while pinned to it.
A lot of parents who got this for their preemie said it was a game-changer. It's perfect for the tiny body of newborn babies.
Infant Car Seat Head Supports For The Proper Brain Development Of Your Baby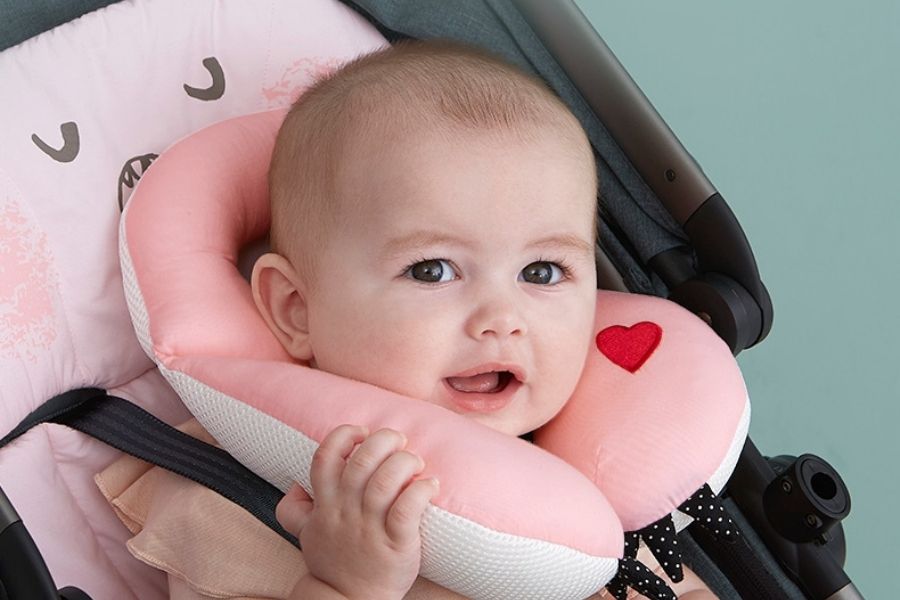 During the initial months, you know that your baby needs the right infant car seat head supports. Yes, the right head support during the initial few months of life will ensure the neck and brain damage are prevented. Read on to learn more about these supports available for babies:
What are Infant Car Seat Head Supports?
As the name implies, infant car seat head supports provide the right kind of support to the head of the baby that is yet to become stable. During the initial few months, babies have very little control over their movements. Particularly, when the car is in motion, the right infant car seat head support will safeguard your baby's head.
Why Should You Choose A Good Infant Car Seat Head Support?
A good infant car seat head support would have been designed to mold the head of your baby. In turn, it will help with preventing flat head syndrome. Also, it is common for babies and small kids to sleep during the car journey. When they sleep, they need the right head support to prevent neck strains and sprains.
How to Choose the Best Infant Car Seat Head Support?
When you buy an infant car seat head support, you will have to look into the following aspects:
Provides both head and neck support: Of course, you wish to buy the best infant car seat head support. But, in addition to supporting the head, it should support the neck as well. In turn, you can avoid using two separate supports for the head and neck.
Suitable for use in different places: Obviously, it is an infant car seat head support that you wish to buy. But, as against providing support to the head of the baby in the car alone, it should be a multipurpose accessory. Yes, you should be able to use it in strollers and even along with the baby bed that you use in your home.
What Features Should You Consider When Buying an Infant Car Seat Head Support?
When it comes to shopping for the best infant car seat head support, you will have to consider the following features:
Machine-washable cover: When the infant car seat head support comes with a cover that you can machine-wash, you can make sure that it will be safe for your kid. When it has a cover that you can wash, you can prevent dust and dirt from disturbing your baby.
Ultra-soft fabric: You know that the infant car seat head support is going to support the soft skin of your baby. So, the fabric used for making it should be ultra-soft. Even, you can check whether it is made using a hypoallergenic material. Infants are prone to infections and so this feature will help to prevent even infections to your baby.
Two-in-one reversible design: When the infant car seat head support has a reversible design you can use both sides. In turn, you can make sure that even one side gets dirty, you can use the reverse side before washing it.
How Much Does a Top-Rated Infant Car Seat Head Support Cost?
You can get cheap infant car seat head support at around $10. Even, you can get affordable infant car seat head supports that will secure the soft head and neck of your baby in the car seat. You can get high-end infant car seat head support at around $60. In short, the average cost of an infant car seat head support will be around $30.
Final Verdict
Undoubtedly, an infant car seat head support is an essential investment to support your baby's head and neck development. So, make sure to make the right choice!
---