Top Pick Infant Car Seat Buntings
These are the best infant car seat buntings of 2021 you can buy right now:
1. Liuliuby Waterproof Infant Car Seat Cover
This infant car seat bunting is made from an ultra-soft weather-resistant shell that will protect your baby from elements like rain, snow, and wind. Its thick shell makes it durable and wraps up your little one in warmth and comfort. This is particularly helpful if you stay in cold areas as heavy clothing won't be needed while they're buckled in this seat cover.
The car seat cover also features a zipper design. This means you can move the baby in and out with no stress. There's also a flap that keeps the baby's head in the open while seated in the car or taking a walk. This way, it's easier to keep a close watch on the baby's activity. With a stretchy elastic edge, this infant car seat bunting can fit into several car seats. Hence, the back material won't obstruct the seat release lever.
Most users loved this product because of the open flap, which allows their baby's head to sit comfortably in the middle. They also love that it keeps their baby warm without having to sneak them into a raincoat. They also appreciate the extra wheels and handle that supports long walks.
2. Skip Hop Winter Stroll & Go Car Seat Cover
This is one of the best infant car seat buntings for the winter months. It's made of smooth material on the outside. This keeps weather elements at bay, hence making it suitable for outdoor walks. The interior is made from fleece materials that keep the baby warm when the temperature outside is at 10 degrees F. Even better, the cover can be removed when it gets too warm for your baby.
The interior is spacious to accommodate babies of different sizes. While your baby might outgrow it in one winter, you can reuse it for incoming ones to save you money. This is possible thanks to its durable design and flexibility, making it compatible with many baby car seats from most brands.
Many parents applauded its zipper design which opens up a large hole that allows them to fit the baby in comfortably. The flaps also made it easier for them to feel their baby and assess its temperature from the outside. With this cover, they no longer had to stuff a blanket on their car seat to keep the baby warm.
3. JJ Cole 1.5 Pounds Original Bundle me Canopy Style Bunting Bag
The Bundle-me original canopy-style bag has a flexible design for better temperature control. The top is removable, but when it's on, it keeps the baby warm without needing to over-dress with more than one piece of clothes. It ticks every box in terms of safety while driving. It's also waterproof; hence it can consume a few raindrops without making the baby cold. This baby cover also features straps to enable you to install on your baby car seat in as little as 5 minutes.
Even better, the spacious interior means it can be used for up to 2 winters since it can practically accommodate babies of up to 16 months. The design of the bundle-me canopy is durable and can be reused for up to three kids. You will also love that it's machine-washable, which makes cleaning a breeze.
Several parents loved its simple design and ease of installation. This has helped them solved the problem of using a blanket in the car. Plus, they love how sturdy the cover is in windy situations as it doesn't hit the baby in the face.
4. JJ Cole Urban Canopy Style Bunting Bag
The JJ Cole urban shares a lot in common with the original canopy-style bunting bag. This means it's used in similar temperatures and weather. Like the Bundle-me original, this also comes with a faux interior that keeps your little one warm and cozy during the winter months. The outside of this is made with nylon that repels raindrops and wind. This can fit into several car seats when they're not in motion. In addition to the nylon external, the JJ Cole urban has a button panel that controls the baby's movement in and out.
You should get the JJ Cole urban original if you already have a JJ Cole car seat. With both products combined, you can have peace of mind when the car is in motion. This means less risk of your little one wobbling off their seats at every brake and turn.
Many moms preferred the JJ Cole urban to the original because of the head covering attached to the front panel. This serves as protection around the car seat when the vehicle is in motion. It also reduces the risk of your little one bumping their head onto a hard surface.
5. Stretchy Baby Car Seat Covers
This infant car seat bunting is double-sided. It has both a cold and warm cotton layer. The warm layer keeps your baby warm during the winter, while the cold layer helps with the temperature drop on hot days. Its cotton design also fits babies prone to an allergic reaction. The swaddle adopts a universal seat design; hence it can fit into all car seats. With a hooded design, you're sure to keep every part of your baby's body protected from cold.
While using this blanket, you only have to tuck your baby into light clothing. The wooden fabrics in the interior are made to hold a maximum weight of 10kg. Hence, there's a probability of serving your baby even after the infant stage. Its advanced technological design makes it suitable for several infant carriers – strollers, car seats, and joggers. The swaddling blanket encourages long-term usage. The zippers at the back allow you to adjust the blanket as the baby grows older.
A lot of moms love how easy it's to open the swaddling blanket and close it up without disturbing the sleeping baby. They also appreciate its lightweight, which is less than other brands in the market.
6. Britax B-Warm Insulated Machine Washable Infant Car Seat Cover
Like every car seat cover, the Britax B-warm keeps your little one warm during cold weather but with a twist. While other brands offer just one coverage, this Britax cover comes with triple coverage – half, full, and quarter. It's also possible to rip the entire cover off to access the baby. Plus, it comes with zippered closure flop to help with temperature regulation.
While the Britax B-warm works with a non-Britax car seat, it often leaves a little space between the car seat and this cover. However, with a complimentary car seat from the brand, it fits totally and provides a tight grip while the car is in motion. An extra hand won't be needed to install this. Not only that, but the B-warm is also weather-resistant. This means it repels moisture, wind, and snow. To top it all, it's machine-washable.
Most working moms loved that this Britax cover blocks the wind while moving the baby in the open. It keeps the baby so warm that the baby starts sweating when you throw in an extra blanket. This means they don't have to spend a lot of time dressing up the baby before leaving the house.
7. Clomay Newborn Baby Knitted Warm Swaddle Blanket
This is a multi-functional sleeping blanket that's designed to act as a sleeping bag in a baby carriage, strollers, and car seats. It's very light and made from thick knitted wools that offer little or no allergic reaction. It's much heavier than an everyday blanket; hence it's difficult for the baby to kick off.
The Clomay blanket is a low-cost option for keeping babies warm. Hence, premium accessories found in other infant car seat bunting are missing. However, you should prioritize this over your regular blanket as it quickly generates heat that keeps the baby cozy.
Many parents love that they don't have to go through installation trouble. It's also easy to clean despite being hand washable. This is because stains easily come off.
8. Carseat Canopy 5 Pcs Angelina Infant Car Cover
This Carseat canopy features a unique 5 PCs design that includes a car seat canopy, blanket, head support, umbrella, and a slipcover. This set has a colorful personalized variant that makes it suitable for your girl child. All elements combine to keep your little one cold and warm when they need to be. The canopy offers weather protection. Hence, your kid is protected from the sun's scorching rays during the summer or harsh wind during the winter months.
You won't run into a lot of headaches trying to fit this into a car seat carrier. This is perfect for infants who tend to bend over. It has a support system that prevents them from falling forward while taking a walk or short drive around the neighborhood. It's also aesthetically appealing and will give any car seat an elegant appearance.
A lot of mothers got this for their baby girl due to its catchy appearance. Many commented that the car seat slipcover was so soft that it keeps their little ones seated for hours.
9. JJ Cole Weather-resistant Blanket-Style Canopy Cover
The Weather-resistant canopy cover from JJ Cole is the best infant car seat bunting for the winter months. It takes a lot of stress off wrapping your baby in raincoats and blankets as a way of keeping them warm in the car. Its nylon design repels wind, snow, and light raindrops. In addition, it features a zipped top flap rather than buttoned. The zippered design allows temperature adjustment and quick access to the baby.
Like Sky hop, this JJ Cole cover also features a wide opening for the baby's face. It's said to be a universal car seat cover, but there are a few brands this might not be a perfect size for. Also, its lightweight makes it easy to be moved in and out of the car, stroller, and jogger.
A lot of parents said it offers more protection than ordinary blankets and saves them the stress of dressing up the baby in thick clothing. They also love the fact that it's soft on the inside. Hence, it's comfortable for their child.
10. JJ Cole Bundle-me Original Canopy-Style Bag
The JJ Cole bundle-me original acts like a raincoat for a baby's car seat but can also be used in a stroller. It's very roomy and long. Its thermaplush design provides warmth to the baby to keep them cozy. This bag comes in two variants – for newborn babies and a toddler within the age of 1 – 3. With a double zip on each side, you can easily remove your baby when it gets too warm inside.
The Original canopy is also versatile. Aside from pairing it with a JJ Cole car seat, you can use it with seats from other brands such as Cybex cloud q, Chico Bravo, and baby joggers from GT. The best part about the bag is that it allows the baby to rest their head comfortably on their car seat, thanks to the removable back panel that comes with the bag.
Many moms stated that this canopy-style bag complemented their JJ Cole infant car seats. They no longer have to worry about their baby throwing off the blanket from their legs while the car is in motion.
Infant Car Seat Bunting To Safeguard Your Baby From Extreme Cold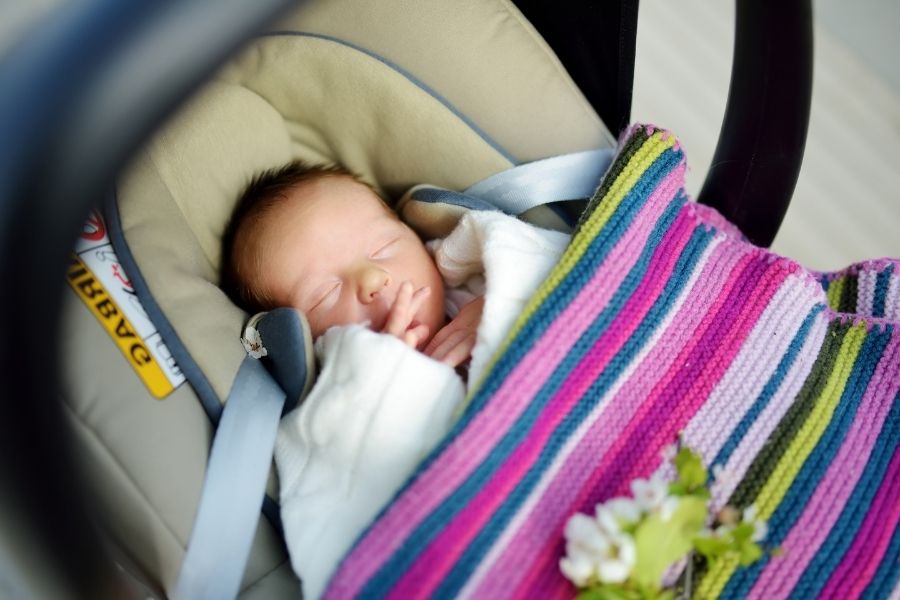 Are you wondering whether an infant car seat bunting is really essential? To find the answer to this question, you should first understand what bunting is all about. Not just this information, you can gather more about bunting here:
What Is An Infant Car Seat Bunting?
In simple terms, you can call an infant car seat bunting as the cover for your infant car seat. Are you wondering whether it is really essential to spend on this cover? If so, you should know that in addition to covering the car seat, a bunting will also safeguard your baby from extreme climatic conditions.
Why Should You Buy a Good Infant Car Seat Bunting?
One of the important reasons to buy a good infant car seat bunting is to safeguard your baby. Yes, a good bunting will safeguard your baby from extreme cold. You know that during the initial few months, the baby needs warmth. So, for this purpose, you should buy a good bunting.
How to Choose The Best Infant Car Seat Bunting?
When you buy an infant car seat bunting, you can consider the following factors to end up with the right shopping:
Consider the material: When buying an infant car seat bunting, you will have to consider the material of the cover. Only good material will last longer. Above all, the material should be machine washable as well.
Removable top: When the infant car seat bunting has a removal top, it will be easier for you to provide your baby with the right temperature control. When the temperature is hot outside, you can remove the top so that it will be airy for the baby. On the other hand, if it is cold outside, you can keep the top closed to provide warmth to the baby.
What Features Should You Consider When Buying An Infant Car Seat Bunting?
An infant car seat bunting with the following features will ensure comfort to your baby:
Outer band with elasticity: An infant car seat bunting with an elastic outer band will ensure that all standard-size strollers and infant carriers will fit into the bunting. Of course, you should consider the size of the bunting to ensure that it will fit your stroller.
Zipper in the center and shoulder: When the infant car seat bunting has a zipper in the center and the shoulder part, it will be easy to gain access to your baby with ease. In the same way, when there are zippers in the shoulder part, it will be possible to uncover the baby's head.
Water resistance: If it rains when you are carrying your baby with an infant car seat bunting on, the water should not get into the baby seat. It means that a bunting with water-resistant material will ensure double protection to your baby.
How Much Does A Top-Rated Infant Car Seat Bunting Cost?
The average cost of an infant car seat bunting will be around $40. If you are looking for an affordable infant car seat bunting, it will cost you around $30. When you go for a cheap infant car seat bunting, do not forget to check its features. In the case of high-end infant car seat bunting, you should be ready to spend around $85.
Final Verdict
An infant car seat bunting will provide the best protection to your baby from external factors. Make sure to make the right shopping to ensure double-protection for your kid.
---