Top Pick Diaper Bags
These are the best diaper bags you can buy right now:
1. RUVALINO Diaper Bag Backpack
Designed with high-quality material, this bag has a capacity of 30 liters. The bag has multiple pockets, making a total of 18 pockets for better organization when storing. A changing mat is integrated into it so that you can change the baby's diaper at any place. The interior of the bag includes a padded pocket for the quiet storage of a laptop and other compartments for the storage of sundries. A thermal pocket is used to keep the bottle warm. It has an ergonomic design that adds to its unisex character and makes this bag a practical tool that can be used by both women and men.
It is divided into 2 large zipped compartments and 16 pockets for the perfect organization in the storage of essential items for the baby. Thermal pockets are specially designed to keep baby bottles warm. This product is intended for all parents in general. It is also recommended for parents who like to walk with their babies.
Moms love the bag. It is light, very comfortable and you don't even feel its weight on your shoulders. It is an ultra-functional bag considering the multiple pockets with which it is equipped. It is quite convenient and easy to carry.
2. BabbleRoo Baby Changing Bag
The BabbleRoo changing backpack is a perfect diaper bag for moms who are always on the move. It lightens the load and makes your day easier. It has top-quality materials such as waterproof fabric, sturdy zip, and beautiful stitching that make the diaper bag super durable.
Then, it also has a large space with very practical pockets. Thanks to its padded shoulder straps which make it ultra-comfortable and very practical. This facilitates its cleaning which can be done with a damp cloth. In addition, the changing bag has a neutral design adaptable to all, it is suitable for both mom and dad. This bag is outright the best backpack for moms and dads who are caring for their newborn baby on their own. BabbleRoo Backpack Diaper also includes: 5 compartments for insulated bottles, this allows the bottles to stay hot or cold, 2 stroller fasteners very useful for all mothers, pockets at the ends for wipes or bottles, front pockets with key ring, laptop pocket essential for mom and dad and a pocket for changing mat.
Most parents who chose this say they like that it's giftable, stylish, good for traveling with, and easy to clean. Finally, the changing backpack is light and very water-resistant. This makes it the best high-quality changing backpack
3. Dikaslon Diaper Bag Backpack
This changing backpack is compact and offers plenty of space inside for everything that parents need for their baby. This includes, for example, diapers, toys, a change of clothes, bottles, snacks, and storage space for your utensils such as mobile phones, keys, and wallets.
The backpack is designed so that everything has its place. A separate pacifier pocket, a key loop, 18 pockets, two large compartments, and five insulated pockets are built-in. The changing mat is included with the Dikaslon multifunctional changing backpack. The opening of the backpack is made extra-large, which should enable parents to find everything with one hand. The smooth SBS zippers enable quick access. There is a separate anti-theft pocket inside so that important belongings are safely stowed away. So no thief can get to the valuables. The detachable pacifier holder, which can hold two pacifiers, is practical.
Moms and travelers like that it has a pacifier holder and highly recommend it because it is generally well-made. The backpack is made of a hard-wearing, waterproof, and, according to the product description, durable polyester material.
4. HappyLuoka Diaper Backpack with Changing Station
The HappyLuoka baby bed changing backpack is a combination of a changing backpack and a baby cot. If you travel a lot, you can simply open the backpack when the baby gets tired and a small travel cot appears. This makes traveling with a child easier and more enjoyable.
The changing backpack is equipped with several practical pockets inside. It offers space for diapers, toys, and other utensils that parents of babies and toddlers should always have with them. The material is high-quality polyester fabric, which should be tear-resistant, robust, easy to care for, and water-repellent. It can be cleaned by wiping it with a damp cloth.
The cloth compartment on the right is practical. There is space for a pack of baby wipes here and parents can pull them out one sheet at a time if necessary. According to parents, the HappyLuoka changing backpack is unique because of its combination of changing backpack and baby bed. If necessary, the backpack can be used as a small travel cot.
5. Mokaloo Large Baby Diaper Bag
The Mokaloo is a large diaper bag with a lot of storage capacity and a multitude of pockets. One of these is reserved for keeping the baby's thermos and another, waterproof Peva compartment is intended for wet things and the baby's diapers. The bag has a built-in USB charging port for on-the-go use. The oxford material gives it resistance and impermeability.
The material is a sturdy fabric with a Panama weave. The look is slightly shimmering. Oxford fabric can be made of cotton or polyester. It is light and water-repellent, tear-resistant, and very robust. Oxford material has dirt-repellent properties and is resistant to many types of damage.
According to parents who have used the product, the bag is roomy enough to store everything a baby will need for an entire day. The central part can be opened wide by means of its zip and allow an overview of its contents, making it easier to choose what one would need for the care of the baby.
6. BAMOMBY Baby Essentials Diaper Bag
Are you going on a trip or simply on a picnic with your baby? This changing backpack is perfect for bringing all the essentials you will need. Inside, you have a large, high-capacity compartment for storing a change of clothes. Then, it is surrounded by 16 pockets to put diapers, toys, or other things you would like to have close at hand.
Note that the kit also includes a changing mat measuring 55 by 38 cm to facilitate changing outside. Then, you have a large front pocket to carry your baby's clothes and towels.
Moms and caregivers liked that it comes with very useful accessories. You will have everything you need to easily carry your baby's belongings with a padded and expandable shoulder strap.
7. Hafmall Waterproof Multifunctional Diaper Backpack
The Diaper Backpack is made from high-quality and eco-friendly Oxford fabric and comes with a smooth and stable metal zipper. It is waterproof, easy to clean, difficult to tear, safe, and healthy.
The changing backpack has a large capacity of 23.8 liters and 13 compartments, among others, it includes a tissue pocket, a water bottle pocket, two insulated pouches for bottles, two pockets for knife and fork, and eight pockets for internal storage. So, it can help you better organize necessary baby items.
Hafmall backpack is one of the best choices for traveling moms thanks to its fashionable appearance and refined and unique design. It can be used as a backpack, purse, wallet, or hung on the stroller, suitable for walk, travel, picnic, shopping. It is a practical and classic bag.
8. Upsimples Baby Nappy Bags for Mom and Dad
The Upsimples changing backpack has a capacity of 25 liters and, in addition to the main compartment, has three thermal pockets and eleven compartments. The shoulder straps are ergonomically shaped, which should enable the backpack to be carried easily and comfortably.
The changing backpack is equipped with a practical USB charging port. For this, the user has to stow his power bank in the backpack. The material of the changing backpack is hard-wearing Oxford fabric in combination with nylon. The seams are reinforced and the zipper is strong and thick, according to the manufacturer. The inner lining is hard-wearing.
This changing backpack is stylish in design and impresses users, be they moms or dads, with its user-friendliness, plenty of storage space, and low weight.
9. Mancro Large Multifunction Waterproof Diaper Bag Backpack
The Mancro bag is a large multifunctional diaper bag that is waterproof and ideal for making nappy changes. Suitable for dads and moms, it has insulated pockets and straps which make it ideal for hanging on the baby stroller.
The changing backpack is robust and durable. The bag is made of polyester and the outside of the backpack is water-repellent so that the inside stays dry during a rain shower. The backpack is easy to wash off by hand. There is a waterproof and zippered pocket on the front and back to hold wet clothes or diapers. There are also zippered pockets on the front, one with enough space for a bottle. All pockets are closed off and operated by two-way metal zippers.
Moms and dads describe that they "absolutely love" the bag and like its robustness and waterproofing abilities. It's a good baby shower gift and a few users say it is ideal as a bag for parents of twins.
10. Miss Fong Leather Diaper Bag
Made from a 100% durable and soft faux leather material with a 100% waterproof nylon interior, the diaper bag is very elegant and unique. The widened shoulder strap reduces pressure on the shoulder, with the addition of a possibility of hanging on strollers.
It has seven outside pockets, and eight inner pockets for storing baby essentials, such as disposable bags and diapers. There is another zippered pocket for wipes, tissues, or snacks. The bag includes insulated pockets to keep your water bottle at a constant temperature and one large zippered compartment can hold mom's items separate from those.
Moms like the stylishness, elegance, and uniqueness of the bag. There are three methods of using it: as a shoulder strap, diaper bag, and shoulder bag. You can change the way you wear it. Its elegant design is suitable for all occasions: school, business, shopping, dating, tourism, or as a backpack.
What are Diaper Bags?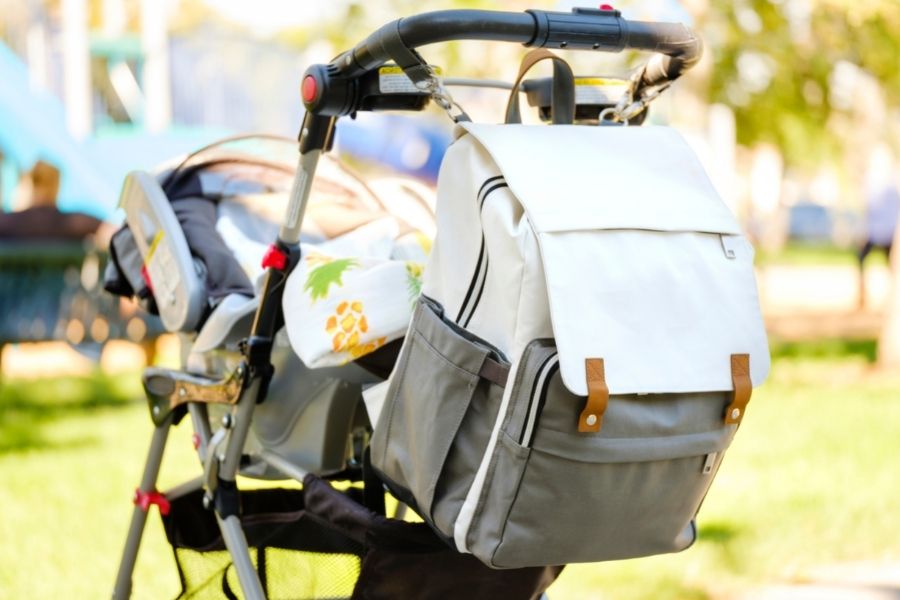 A diaper bag is a bag, which can take the form of a handbag or a backpack, in which you can store everything your baby needs when away from the house. For example, you can store bottles, diapers, pacifiers, extra clothes, wipes, or toys. Many families with babies have diaper bags and often use them as they provide a lot of benefits for parents.
Why Should You Buy Good Diaper Bags?
When you go for a walk with your baby, you must remember to take a lot of things with you to be able to take care of him. In this case, a diaper bag is a perfect solution to take everything you need.
How to Choose the Best Diaper Bags?
There are a lot of types of diaper bags to choose from. These bags have gone from very classic models to much more modern ones. Below we present the main types of diaper bags.
Traditional changing bag: This is the classic changing bag. These bags are generally smooth with a classic shape. They can also have small children's drawings. They have multiple compartments and are made of easy-to-clean plastic.
Modern changing bags: These are the new models of changing bags, with a nice and modern design. Some fashion brands such as Gucci, Carolina Herrera, or Burberry sell this type of very fashionable changing bag. They're perfect for fashionistas because they combine the practicality of a changing bag with the sophistication of a trendy bag.
What Features Should You Consider When Buying Diaper Bags?
Here are the main product features to consider:
Size: You must have sufficient storage space in the bag, but you must be careful not to overload it.
Weight: The weight of the changing bag will affect the comfort of the bag. You are going to fill your bag with a lot of things that you will find essential before your departure. To avoid overloading yourself, the best thing to do is to choose a changing bag that is light when empty. During infancy, the average baby wears 12 diapers per day.
Storage space/compartments: The main purpose of a diaper bag is to have enough storage space to store all the products your baby will need outside of the house. The most important thing is not the size of the storage space, but the quality of the storage space. The storage space will be of quality if it has compartments to organize your things. The ideal is therefore to find a bag with separate compartments to easily find your belongings.
Materials: The stronger your bag, the better. Also, a bottle might leak unexpectedly or you might stain the bag with the baby's dirty clothes. Ideally, the bag should be made with materials that are easy to clean. Some bags can be machine washed or can be cleaned with a damp cloth.
How Much Do Top-Rated Diaper Bags Cost?
The bestselling cheap diaper bags can be bought for as low as $10 to 20. These affordable diaper bags are backpacks built with good-quality and weather-resistant materials. The high-end diaper bags however are the diaper stations that feature a backpack and a convertible crib. These are still available for under $70 price range.
Final Verdict
A diaper bag can store our baby's belongings. However, it is a bag that will be used primarily by parents. Therefore, you must take into account certain factors such as size, storage compartments, weight, and materials.
---