Top Pick Diaper Bag Accessories
These are the best diaper bag accessories you can buy right now:
1. Baby Uma 2913 Stroller Hooks
Every parent needs an extra pair of hands because there is never enough space in the basket under the stroller. These hooks can carry everything. They hold the changing bag, children's backpacks, lunch bags, coats, toys, and even bags with dirty diapers!
Each hook is made of sturdy aluminum, not plastic, and can hold up to 5kg. Enough for the shopping bag and other heavy things to carry that look like bricks. The carabiner is 8 cm long and is similar to those used for climbing! The stroller hooks have been tested with all major brands and on the 10 best strollers, prams, and rollators. If your stroller has a handle, these hooks are suitable.
Moms and dads who have purchased these say they don't know how they've done so far without these hooks. However, they saved our lives! You no longer have to break your back carrying all the bags.
2. Bumkins WB-10 Waterproof Wet Bag
Bumkins Dry/Wet Pouches are a versatile solution for storing anything! It has two compartments, one for wet items, one for dry items. The main internal compartment is in non-absorbent PUL fabric with heat-sealed seams for unbeatable waterproofing! The outer compartment is made of Bumkins special lightweight, durable, machine washable, and waterproof fabric.
Perfect for those who use washable nappies but also for dirty clothes, shoes, swimwear, and much more. It holds up to 8 washable nappies and is free of BPA, PVC, phthalates, and lead. This practical wet and dry bag has 2 compartments: one for wet items, one for dry items. The exterior is in Bumkins easy-to-clean waterproof fabric
Baby mothers express that they liked that it's machine washable and that it's perfect for carrying washable nappies, dirty clothes, swimwear, and more. Also, it's heat-sealed seams for unbeatable waterproof protection.
3. ALVABABY 2pcs Wet Dry Reusable Bags
This is a good bag for carrying wet and dry items in the same bag. Each bag contains a "wet" section that is sewn and sealed to keep it from spilling and a dry section with a zipper for storing dry diapers or inserts. You can store all your wet or dirty items separately. It's really an all-in-one bag!
Alvababy 2pcs comes with a wet and dry diaper bag. One is large and the other is medium. The bags come with two zippers each to ensure nothing falls out of the bag and clean and dirty diapers are separated. It can be used as a travel bag to put clothes in your suitcase, as well as a laundry bag.
Parents like the multipurpose use the bags offer. They are large and medium bags for diapers, swimwear, dresses, sportswear, and more. There are also small pockets for toiletries, small items and underwear, cosmetics, socks, and other items
4. Putska Baby Diaper Caddy Organizer
The baby diaper cart is suitable for all baby things: baby clothes, baby wipes, diapers, baby toys, medicines, changing tables, and other baby essentials. The organizer is large enough to hold dozens of diapers and most wipe dispensers. Sturdy outer pockets provide extra space to store style tips.
The portable diaper basket is made of soft felt and has spacious and wide side pockets, which allows you to easily store baby products. In addition, you can easily fold it for compact storage in a suitcase or backpack.
According to moms who have this organizer, it's a nursery organizer that is designed to look wonderful in any room. It fits nicely on your changing table, over a dresser, or next to your nappy bucket and is essential for your changing table. The baby diaper holder is a practical gift and should be present in every baby nursery. It is a great gift for children.
5. KeaBabies 14 Organic Washable Pads
This is a set of 14 pads with a wash bag. To wash them, simply put them in the provided wash bag. With a total of four layers, three layers are of super absorbent bamboo backed by a waterproof layer to prevent leakage.
They are 100% safe for babies to stick to after use. Organic Bamboo is the softest and super absorbent fabric you can find, giving the best comfort to your sore nipples all day long. It's perfectly shaped for your nipples without uncomfortable pad protrusions. They fit from size B to D perfectly!
We read comments from reviewers saying it's ideal for moms and those looking for a baby shower gift as it's the best gift for mothers. In addition, it is supplied with a beautiful gift bag to organize items.
6. PBnJ baby Clip n Go Stroller Organizer Hooks
Designed for mothers, Clip'n Go comes with a special patented soft foam handle. There's also an extra-large opening that protects expensive gear bags and handbags, as well as the stroller frame from any scratches or damage due to the bare metal of the other hooks.
They're designed to fit famous stroller brands such as Graco, Britax, Bugaboo, BOB, UPPAbaby, Mamas & Papas Perego, Chicco, Peg, Baby Jogger, and many more. Clip'n Go has a second life as it can be used in a thousand other uses. You can use it to organize your home, garage, and workshop.
However, according to moms and travelers, it's ideal for carrying shopping bags, attaching bags to luggage or various dog leashes, hiking, camping, traveling, and much more. It's also useful with walkers and wheelchairs
7. Preparakit Mini First Aid Kit and Bag
Small and compact, this is an easy-to-carry baby diaper kit. It looks like a small purse. Containing all the essentials you need for taking care of your baby when they suddenly hurt themselves, the first aid kit is made by a mom who also doubles as a nurse.
The kit contains 50 items that can be used for treating burns, minor cuts, or bruises. They can also come in handy for pesky splinters as well as hangnails. It includes bandages, sterile gauze, anti-itch cream, ointment, and more.
Many parents consider this as a diaper bag necessity. A few say it is practically perfect and is a must-have for all parents of young kids.
8. Bumkins TSA Approved Toiletry Bag
These toiletry and travel bags come from waterproof, easy to clean, odor and stain-resistant fabric. The bags are compliant with TSA which means they can go through everyday use and security. Not only for air travel, but these bags are also great organizers for toys, cosmetics, electronics, accessories, and more. It's also available as characters from Disney, DC Comics, and Nintendo!
The set of 3 travel bags is available in several sizes. Not just for air travel, they make great organizers for toys, accessories, cosmetics, electronics, and more.
According to moms and other users, it's ideal for diaper bags. There's no need to search the bottom of your changing bag. You can keep all your baby items handy and organized in this bag. It has a transparent side so you can see what's in the bag. There's also a secure zip closure. It's made of waterproof fabric that's easy to clean, stain, and odor resistant.
9. Ethan & Emma Organizer
This stroller organizer is ideal for storing all your valuables and you can easily take them with you. Your phone fits in the front mesh pocket. Plus, you can easily keep in touch or listen to music while you walk.
It features an additional expandable storage net. The bag folds up to get plenty of extra room for toys and snacks. To ensure a safe ride, do not place heavy objects in the stroller organizer. Excessive weight could cause the stroller to tip over.
The organizer is compatible with most strollers. It's made of a premium material, durable, and easy to clean. It features 2 cm, well-insulated, cup holders to prevent spills. The Zipped pocket allowing you to easily and quickly take your items anywhere. Also, it comes in beautiful packaging which many users like. It's a great baby shower gift idea. Many users like the zipped pocket. They say it's very practical.
10. Ubbi On the Go Bag Dispenser for Baby Travel
Inexpensive and functional, the Ubbi product is an on-the-go dispenser for moms traveling with their babies. They are of good size for dirty diapers. Not only for going out, they are comfortable but also very practical for changing the baby.
If you don't have the basket close or if you want it not to smell bad, the can is perfect for you to toss them there while making zero odors in the boat. Many moms expressed online that they purchased this for travel. The bags are always close at hand, easy to spot and remove, instead of being in your purse or backpack while you're looking for where it was left.
Traveling moms comment that it's very practical, and the price is good enough for the quality. The stand is positioned quite well but in some cases, it wasn't as secure at all. But it's a highly recommended baby diaper bag accessory product.
Diaper Bag Accessories To Make Your Diaper Bag Even More Baby-Friendly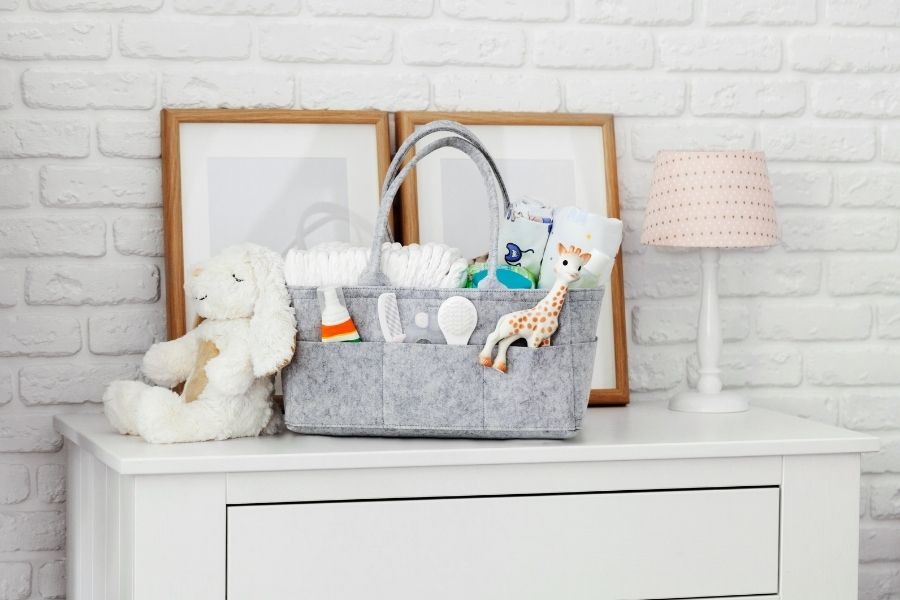 You know about diaper bags and even you might have used one. But, are you wondering what diaper bag accessories are and what are the options available? Read on to learn more:
What are Diaper Bag Accessories?
Yes, you have guessed it right. Diaper bag accessories are similar to car accessories. You know how car accessories improve the usefulness of a car. In the same way, accessories for a diaper bag will enhance the usefulness of the already useful diaper bag. You can find many different options when it comes to accessories for diaper bags.
Why Should You Buy a Good Diaper Bag Accessory?
Of course, you might find your diaper bag useful. But, a good diaper bag accessory will take the convenience and usefulness of your diaper bag to the next level. For instance, when you take the case of an accessory like a hand sanitizer charm, it will help you get instant hand sanitization at any time on the go. In the same way, a double pacifier holder that you can hang in your diaper bag will help you have extra pacifiers handy just in case, your kid leaves a pacifier on the sand.
How to Choose the Best Diaper Bag Accessory?
Choosing the best diaper bag accessory is all about your choice and convenience. The reason is that plenty of accessories are available and you can select one after considering the following factors:
Do you need a safe place to dispense the used wipes? As you look for the most useful diaper bag accessory, you can think over whether you need something to safely dispense the used wipes. You know that when you have a baby, you will be using a lot of wipes. You cannot find places to dispense the diapers wherever you go. This is where an accessory like a wipe-dispenser can be useful for you to safely dispense used wipes.
Do you look for easy bottle cooling? One of the diaper bag accessories that can be useful for you is a bottle cooler. You cannot feed hot milk to your baby and it should be warm enough for the baby to handle. So, you will be looking for ways to quickly cool the feeding bottle with hot milk. At these times, when you have an easy bottle cooler as a diaper bag accessory, it will help you a lot.
What Features Should You Consider When Buying a diaper bag accessory?
When buying a diaper bag accessory, you will have to consider the features mentioned below:
Easy attachment: The best diaper bag accessory should provide you the easy option to attach to the diaper bag. Only then, you can quickly grab it and attach it to the diaper bag. Otherwise, you will not feel like using it. For instance, there should be something like a keychain type attachment such that you can easily attach the accessory to your diaper bag.
Easy to use: The best diaper bag accessory should be something easy to use. For instance, when you choose a diaper dispenser, you should easily open it and place the used diaper in it. Otherwise, there is no purpose in buying this accessory.
Should be made using a soft material: When you attach a diaper bag accessory to the diaper bag, there is every chance that your baby can grab it. When the baby grabs, the material should not be harsh to harm his soft skin. So, irrespective of the accessory you buy make sure that it is made using a soft material.
How Much Does a Top-Rated Diaper Bag Accessory Cost?
Are you planning to buy a high-end diaper bag accessory? Then, you should be ready to pay somewhere around $200. Even, you can find cheap diaper bag accessory. The cost will differ based on the type of diaper bag accessory you buy. When it comes to affordable diaper bag accessories, you can find many of them at around $8. The average cost of a diaper bag accessory will be around $100.
Final Verdict
Diaper bag accessories can undoubtedly enhance the use of your diaper bag. Make sure to grab a useful and cost-effective accessory to reap the benefits.
---