Top Pick Diaper Backpacks
These are the best diaper backpacks you can buy right now:
1. Ruvalino Diaper Backpack
A state-of-the-art design with numerous pockets and storage compartments for keeping all of your baby's essentials. It's made from tear and water-resistant material that makes it possible to use for years. Overall, you will find 2 main compartments and 16 pockets for storing as many items as necessary.
The Ruvalino diaper backpack comes with front and backside insulated pockets and 2 extra bottle pockets for storing milkshakes and juice. You will also find changing pads and a carrying handle in addition to shoulder straps.
According to buyers, there's nothing you can't fit into this bag. This includes toys, spoons, water bottles, books, and diapers. The bag also has organizers that allow you separate items from each other.
2. Tethys Diaper Backpack
This has a similar look to the Ruvalino bag but comes with more pockets than the former. In total, you will find 20 pockets scattered around it. These spaces can hold anything from wipes, toys, and small-sized blankets. The small pocket located at the base of the bag makes it "travel-friendly" as you can store your passport and little cash here.
Tethys Diaper Backpack is made from polyester and comes with non-adjustable shoulder straps for comfort and sturdiness. The shoulder straps are padded to relieve pain and aches. The pockets also makes it possible for parents to store items like phone, keys and credit cards.
Parents loved that the pockets were not just made with baby items in mind. The spaces are large enough to hold some essential adult items.
3. Hafmall Waterproof Diaper Backpack
The Hafmall waterproof diaper backpack is a mini treasure chest with several hidden pockets. It has a top-grab buttoned handle for securing items and two large pockets on each side for storing umbrellas, water bottles, and tissue. There's a grabber attached to the zips to make it easier to pull.
This bag offers several carrying positions. You can move with the handle or carry it in form of a backpack. The bag has up to 13 separated storage pockets. This ensure items don't get mixed up. Overall, it has a total storage depth of 16.1 inches. The shoulder straps are adjustable to facilitate equal weight distribution
According to users, the bag has a vibrant look and can be attached to most baby strollers for hands-free movement. It's also made from waterproof fabrics, hence they have no problem moving in the rain.
4. Mancro Diaper Bag Backpack
This backpack doesn't have many pockets but one area it excels in is – organization. The bag has a sturdy design and offers plenty of space for storing bulky items such as blankets, bedsheets, and diapers. This can hold every item the baby will need during sleepovers.
The Mancro Diaper Backpack has a total of 10 pockets. The most impressive feature about the bag is the double insulated bottle pocket on both sides. This helps regulate the temperature of drinks. The fabric this is made out of is tear-resistant and there is a strap that allows attachment to a stroller.
According to users, at first sight, the backpack appears heavy but is lightweight when held. Having a large storage space allows them to hold items they never thought would go in.
5. Miss Fong Diaper Leather Bag
Made from a leather exterior and a nylon interior, this bag is durable and has an all-round thermal insulation property. The bag allows numerous carrying positions, using either the carrying handle or the shoulder straps. With an extra 9-inches handle, you can wrap it around a baby stroller.
The Miss fong diaper leather bag has 8 storage pockets in total. There are 4 open interior pockets for holding diapers, toys as well as socks. The main compartment is where clothing items and devices such as laptops and Ipad go in. The shoulder strap can be adjusted to up to 52 inches.
Parents loved the fact that the bag has a long adjustability range and provides separate space for storing iPad or tabs. The 2 insulated pockets on the outside keep drinks at the right temperature.
6. Halova Multi-function Diaper Bag
The Halova Multi-function Diaper bag is made from Oxford fabric and holds a total of 1.4 lbs in weight. It offers 30% more storage space than regular bags and can store items of up to 40 lbs. Going by this calculation, it can hold baby shoes, clothes, diapers, drinking bottles, iPad, and wipes at once.
The bag has a 2-in-1 design that allows users to carry in form of a tote bag or as a backpack. Its oxford fabric is waterproof, hence it can be used under harsh weather conditions. It doesn't have many pockets on the outside as most of the items are fitted in its interior.
One reason people love this is that it holds the items stored in place. You won't find items being thrown around in the bag. It also has a large storage room but the durability of the bag has been questioned by few users.
7. Upsimples Diaper Backpack
This is a small-sized maternity bag with a trendy design that matches many dressings. The bag is perfect for individuals who don't want something bulky yet can store a lot of items. The bag holds just a total weight of 1.76 pounds, but provides 25 L storage capacity. It also comes with a stroller strap that allows seamless integration with several baby carriers.
The Upsimples diaper backpack provides a friendly way of keeping baby items in order on the go. It has an external storage compartment that allows quick access to items. The bag is made from oxford fabric, hence, they're durable and waterproof as well
Most parents especially dads loved the way the bag hold items securely in place. Items won't move out of their place when the bag is tossed or dragged.
8. Mancro Travel Nappy Bag
A second entry from Mancro, but this time something to help parents store items during travel. It's perfect for moms and dads as well as babysitters managing baby items. In total, it provides a 21L storage room and is made from a waterproof fabric. It has a sturdy zip that won't snap off suddenly.
The Mancro Travel Nappy Bag has external pockets that makes it easy for airport gate checks. There are dedicated pockets for wipes, snacks, foods, cold drinks, and the baby's clothing. There are organizers that separate these items to prevent mixing up. The front top pocket provides a seperate space for storing wallets, glasses, purses, phones and keys.
When dads move around with this, it's easy for them to fix in their stroller. The shoulder straps are durable and won't snap off when the bag is overfilled. The straps are also padded to prevent strain and ache. Its unisex design makes it perfect for either moms or dads to carry around.
9. Bag Nation 3-in-1 Diaper Bag
The bag nation 3-in-1 diaper bag is made for hands-free convenience. Made from polyester fabric that's billed to last for a long time, the bag features 14 pockets and it's easy to know where each item will go. The bag has a carrying handle and shoulder straps for convenience when storing bulky items.
Overall, the bag has a simple design that makes it perfect for both moms and dads. There's a stroller strap provided out of the box and external wipes pocket for emergencies on the go. As many as 14 pockets are provided here. You will have no problem finding where your baby items should go and you will also have extra space to put yours.
What parents loved about the bag is the quality of the zip and the stitches. The fabrics are tightly stitched together to minimize tear. The pockets outside makes it easy to store wipes and gain quick access during emergencies.
10. Ticent Multifunction Travel Backpack
This is an all-purpose bag for storing baby essentials. It has a main storage compartment serenaded by small pockets for holding toys, diapers, and socks. The main compartment can hold all the clothing needs of a child for up to 3 days.
What makes the Ticent multifunction travel backpack special is the addition of one extra insulated pocket for storing breast milk, juice, and water at the same time. The bag has D-rings that allow it to fit into baby strollers, car seats, and other carriers. It's easy to clean milk and juice spill with damp clothes rather than throwing into a washing machine.
Several buyers said this holds all the essentials of a newborn. The addition of an anti-theft pocket allow them to store their phones, wallet and credit card when moving a stroller.
What are Diaper Backpacks?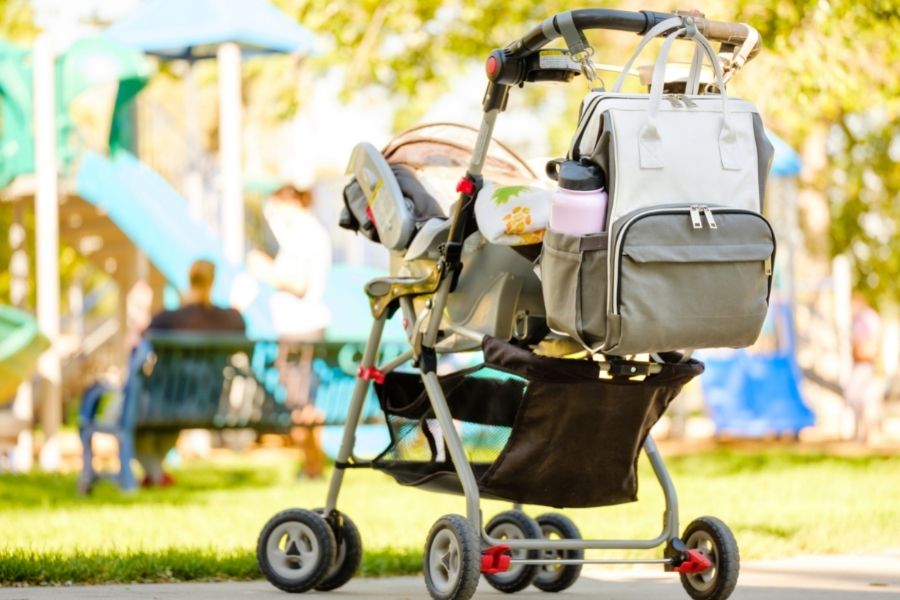 Diaper backpacks or changing backpacks have been designed to allow parents to carry a maximum of accessories necessary for the toilet and hygiene of their child. It has become an essential tool because of its practicality and efficiency. In cotton or leather, spacious or not, a changing backpack will bring you real relief when you are on the move, provided of course you choose the suitable model. Considering the plethora of products available on the market, it can be difficult to decide. We will help you with a buying guide presenting the criteria to be taken into account to buy one.
Why Should You Buy Good Diaper Backpacks?
Taking your baby with you on the road can be fun and will allow him to start his integration into society early. But this also implies bringing with you a certain number of essential accessories and above all a means of transporting them. A good diaper backpack is therefore an essential item, for convenience's sake.
How to Choose the Best Diaper Backpacks?
In general, there are various types of diaper backpacks on the market.
The classic changing backpack: It is suitable for walking sessions with your baby in that it allows you to have your hands free. If you have a long-distance to cover, what could be better than a backpack?
The changing handbag: Configured as a large handbag, this type of bag has the particularity of being versatile and multifunctional. It can be used to store your child's belongings as well as yours thanks to its many adapted compartments.
What Features Should You Consider When Buying Diaper Backpacks?
Some features to consider before buying a diaper backpack are:
Size: To be sure that you can keep all the essentials your child needs with you, it would be better to opt for a large bag of approximately 20 x 20 x 30 cm. These bags generally consist of several compartments, several pockets, and integrated pockets to store the essentials. Either way, you'll want to make sure your bag can hold the baby's everyday items. These include diapers, wipes, bottles, meals, and a change of clothes.
The material: Your bag may be constantly exposed to dirt. Between dirty diapers, meal crumbs, it quickly happened. For this, it is in your interest to opt for models that can be easily cleaned without deteriorating. Some materials are generally easier to clean than others. For this purpose, you may prefer leather bags which are renowned not only for their strength but also for their luxurious character. It is also one of the most popular materials for women. On the other hand, if you have an ecological inclination, an organic cotton bag may interest you. They are easier to maintain.
Storage options and accessories: The most basic bags have basic compartments that will allow you to store the essentials, including diapers and bottles. In contrast, the more sophisticated models have more complex options. For example, if you are traveling away from home with your baby, a bag with an integrated travel cot will be ideal. On the other hand, if you want to simplify the task, you can opt for a bag with pockets that will allow you to keep your belongings and those of your baby.
How Much Do Top-Rated Diaper Backpacks Cost?
Thankfully, the majority of the items on the market are affordable diaper backpacks. They sell for as low as $20 to $30. Asides from these cheap diaper backpacks are high-end diaper backpacks that are in 3-in-1 offers or have extras like a pacifier case and other accessories.
Final Verdict
With diaper backpacks, you will be able to better organize your outings or walks with your baby. It is a useful material that will allow you to anticipate the needs of your child. Washable, large enough to carry a lot of stuff, these baby bags are generally unisex. Also, they are accessible to almost all budgets. Easy to transport, they have a variety of utility functions and can serve you for at least 36 months for the strongest models.
---