Top Pick Baby Wrap Carriers
These are the best baby wrap carriers you can buy right now:
1. Boba Baby Wrap Carrier
Ideal both for mums and dads, the Boba Wrap is a carrier mostly made from cotton. It consists of 95% of cotton for durability, easy care, breathability, and airflow. It also includes 5% of spandex for that stretchiness needed for wrapping your baby securely to your body.
To use this one, you have to start learning the knots, since it is a classic cotton wrap. But don't panic, Boba's YouTube channel is full of a multitude of tips and tricks to help you do this! Thanks to its stretch fabric and one size, it is suitable for everyone. Ideal for newborns, it allows an ergonomic and super cozy carry, for babies with a minimum weight of 7 pounds.
Not only do moms like the wrap, but many reviewers also say their babies love it when they're wrapped with the product. Others also say it is easy to use and ensures hands-free use.
2. Baby K'tan Baby Wrap Carrier
Offering the best quality / low price ratio, this flexible model is a sling carrier. Pre-tied, it is very easy to use and allows you to alternate between 5 carrying positions for children from birth up to 35 lbs.
The Baby K'Tan Wrap comes in the form of a double fabric loop (figure eight), reinforced with a support belt, for easy and safe positioning for your baby. In the classic prone position, the baby, tight against its carrier, is held comfortably in the physiological position. Space-saving, it can be taken anywhere and can thus be used at any time according to your child's needs. You will like it if you want a "wrap" baby carrier but also want ease of use. Similar to the previous model, it is 100% cotton and therefore soft.
With no need for learning how to tie the wrap, many parents liked that the carrier is pre-wrapped and is easy to use around the house.
3. Nalakai Ring Sling Baby Carrier
Are you looking for a baby carrier that is easy to install when you are alone? The Nalakai ring sling is the solution. This scarf is made from luxury bamboo and linen. This fabric, soft and breathable, respects the fragile skin of infants. Comfortable, the sling only stretches in width to avoid the rebound effect.
This ring sling is used for babies that weigh at least 8 lbs. This knotless baby carrier can be installed in a minute. Coiled up against you, the baby is reassured and calmed. You will appease his tears and his anxieties.
According to moms, the knotless carrying sling can be used within the home and can be used to take the baby for a walk.
4. KeaBabies Baby Wrap Carrier
The KeaBabies Baby Wrap can be used on the front or the side. With its soft, stretchy, and breathable fabric, it lets your body heat and that of your baby escape. It can be used by children aged 0 to 3 years (up to 35 lbs). It is available in 12 different colors.
The KeaBabies knotless baby wrap is easy to use. It's not a ring sling but you can add rings to it. It adjusts easily and quickly. You can use it to wrap the baby on the front or the side. It's a one-size-fits-all wrap carrier that can be used hands-free. The item is easy to maintain as you can wash it in the machine.
Many moms who have tried this sling say it's a lifesaver. Soft, light, breathable, this scarf is comfortable to wear and can be used all year round.
5. Kids N' Such 4-in-1 Baby Wrap Carrier
The Kids N' Such knotless baby wrap is a 5.5-yard material made from 100% cotton that will not warp over time. Cotton is a soft and breathable material. Your baby will be comfortably carried with the carrier… even in summer. You can position your baby sling in different ways: in a sing carry and basic carry positions facing yourself, in the belly band style on the back, and on the hip in the daddy carry position.
The sling is intended for children from 0 to 3 years old. You will in any case be able to use it until your child reaches 32 lbs or even more. It is available in two different colors: grey white and charcoal.
A lot of nursing moms comment that the sling is easy to use around the house while hands-free. The kids love it and it makes them fall asleep fast.
6. Acrabros Baby Wrap Carrier
This sling is practical to position because it does not use a sling ring. Practical and aesthetic, this baby wrap has been entirely knitted from a blend of high-quality polyester and rayon.
Soft, stretchy, breathable, and flexible, this baby carrier offers you the possibility of developing a close relationship with your child. If your baby sometimes has difficulty sleeping properly, with unwanted awakenings, with this baby sling, you can improve your rest times, while having your hands free.
It is also perfect for walking around easily. Quick to position and adjust, it is just as easy to remove. Take it everywhere with you: once folded, it takes up no space! This accessory is used from birth to the 4 years of the child, or from the weight of 8 lbs to 35 lbs. Moms and caring dads express that it is soft and stretchy and they highly recommend it.
7. Jeroray Baby Wrap Carrier
Carrying sling and baby carrier at the same time, this product from Jeroray is very practical for parents and very comfortable for children. It's a mixture of the two products. This product is comfortable on the back and better supports your baby's back, but also distributes his or her weight evenly across your shoulders, back, and lumbar area. It is therefore ideal for prolonged use.
You longer have to choose between a sling and a baby carrier. This product is a sling with a soft and flexible material but in the shape and technicality of a baby carrier. It's made of 85 percent of polyester and 15 percent of rayon.
The product is highly recommended by a lot of moms because it's easy to use, is soft and stretchy, and is ideal for use in several carrying positions. You can use this carrying device from birth in the cradle position. This is the ideal position to rock your little one or to breastfeed him. Then you can use it as a classic baby carrier, baby against you.
8. Sleepy Wrap Baby Carrier
The Sleepy Wrap is a piece of babywearing equipment very popular with parents who love to be close to their babies. This baby carrier ensures you can carry your baby in a natural and enveloping way. The product is in a very soft, stretchy, and warm cotton (95%) and spandex (5%) blend of fabric to offer your baby a cocoon worthy of the mother's belly. It strengthens the bond with your baby while keeping your hands free to go about your business.
Once your baby is wrapped, you must cross the fabric in the back of the child and make one or two knots to hold it well and you're done.
Many users liked that this is a natural carrying system. The mother and baby alike will appreciate the proximity and warmth shared with this very enveloping fabric baby carrier. A lot of moms have also said this baby carrier is very quick to put on and you will be able to get the hang of it quicker.
9. Ergobaby Embrace Baby Wrap Carrier
Do you want a baby carrier that allows you to breastfeed your baby? Then, you should invest in the Ergobaby Embrace Carrier, a premium product with a blend of polyester, rayon, and spandex.
It has been designed to offer a lot of positions. Thus, breastfeeding by mom is facilitated. It also seemed important to us to underline the long lifespan of the product, since it is indicated for babies weighing between 7 and 25 lbs. In other words, it will be suitable for your one-year-old to 3-year-old child. To support such a weight, you need a structure that is a little more robust, and therefore a little heavier, and this is felt a little but without becoming unbearable. Finally, note that a detachable pocket is not present for storing some useful items, as other Ergobaby products have.
However, when you are looking for quality for your child, this is of high quality, according to buyers. It's a bit pricey, but if you want a strong, durable, and comfortable product, this is it. The solidity and the attention paid to the manufacture are also reasons for satisfaction. It's a rather soft cotton design that allows the baby carrier to go through the washing machine without any problem.
10. Infantino Flip Advanced 4-in-1 Carrier
Do you want to have a baby carrier, but you have a rather limited budget? If you're willing to make some concessions on your personal comfort, you may want to look at the Infantino Flip Advanced 4-in-1, a model that keeps things simple to keep the price low.
The Infantino Flip Advanced is very versatile than most high-end baby carriers since it is reserved for toddlers weighing 3.6 to 14.5 kg or 8 to 32 lbs, which generally corresponds to children up to 2-3 year olds. It has a padded head pillow, an adjustable seat, and openings wide enough for its little legs. You have two carry positions. There's nothing to complain about in terms of solidity or safety: the essential remains assured.
Baby mothers comment that the baby carrier is sold for a great price and is stable. If you use the baby carrier every day, this is not the ideal product, but for a few occasional trips, you are fine with this.
Baby Wrap Carriers – Everything You Should Know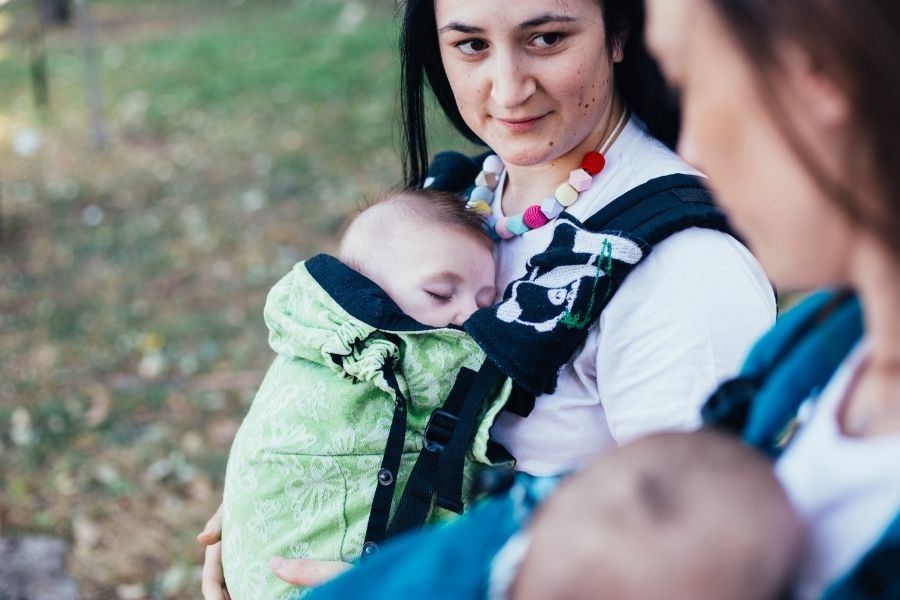 Are you thinking about buying a baby wrap carrier? The thing to remember here is that each babywearing option has its own purpose. Even, each variant has an ideal time frame. However, most moms feel that wrap carriers have a special place in their hearts. As against ring sling or soft-structured carrier, a carrier in wrapping style does not contain any ring adjustments or buckles. Learn more about these carriers here:
What Are Baby Wrap Carriers?
Baby wrap carriers are essentially a piece of long fabric that you knot or tie around yourself for creating a pouch. You can create the pouch either on your back, hip or chest in which your baby can sit. The fabric generally wraps across your torso or over your shoulders. It will help with distributing the weight of your baby across the hips and shoulders.
Why Should You Buy a Good Baby Wrap Carrier?
A good baby wrap carrier will wrap you and your baby together. In turn, you can get the ultimate skin-to-skin contact with your baby. This is highly important during the first three months as at this age, babies tend to cling more to the moms. Also, this type of baby carrier will not have any buckles, rings or clasps. It means that it will not dig into your or the baby's body.
How to Choose the Best Baby Wrap Carrier?
When you wish to buy the best baby wrap carrier, you will have to consider the following things:
Forms to any body shape: The best baby wrap carrier will suit any body shape. As you are a woman, your body shape will be different from that of your spouse. When the wrap carrier adjusts itself to any shape, it will help so that either you or your spouse can carry the baby.
Right size: When you intend to buy a baby wrap carrier, make sure that it is not a long piece of cloth. When it has a piece that touches the ground, it can get dirty when you go outside. So, do ensure that the wrap does not have a long fabric.
What Features Should You Consider When Buying a Baby Wrap Carrier?
The best baby wrap carrier will have the following features:
Thicker Fabric: The best baby wrap carrier should have a thicker fabric particularly when you live in an area with a cold climate. Even, the thicker fabric will ensure safety for you and your baby. However, the fabric should be breathable as well. Only then, your baby will stay comfortable when you use the wrap during the summer.
Pouch attachment: You will not use the baby wrap carrier at all times, isn't it? When not in use, it should be stored safely. This is where a carrier that easily folds into an attached pouch will help. When this type of pouch is available, you can easily carry the carrier, wherever you go. Also, when the carrier is in use, you can use the pouch for placing your baby's feeding bottle or some other stuff.
Anti-bacterial and hypoallergenic: You will doubly feel happy when the baby wrap carrier assures you that it is hypoallergenic and anti-bacterial, isn't it? Yes, some carriers are made using organic bamboo and cotton materials. The bamboo material is popular as a hypoallergenic and antibacterial material.
How Much Does a Top-Rated Baby Wrap Carrier Cost?
Are you particular about buying a high-end baby wrap carrier? Then, you should be ready to pay around $160. On the other hand, if you are looking for an affordable baby wrap carrier, you can find one at around $50. Even, when you opt for a cheap baby wrap carrier, you can ensure the best use. The average cost will be around $100.
Final Verdict
Baby Wrap Carrier will help with closely carrying your baby. You can get the best after considering the features and can end up with the best carrier!
---