Top Pick Baby Tavel Accessories
These are the best baby travel accessories you can buy right now:
1. Johnson's Traveler Baby Gift Set
This Johnson's baby travel gift set is ideal for babies with sensitive skin. It comes with everything your little one needs when traveling. The gift set comes with a small clutch that can keep some little extra items for your baby. It also included four baby baths and other essential body care products for babies. Some of the baby skincare products you will find in the set includes shampoo, body lotion, diaper rash relief and body wash.
The travel clutch included in this set is easy to clean and does not absorb stains. The skincare bottles come in a compact size and all the products are safe for babies. None of them contains any toxic chemicals and the clutch is easy to carry.
This travel set will help parents care for their little one during a trip and has everything they need. The travel clutch is lightweight and can conveniently hold all the baby care products.
2. Hiccapop Omniboost Travel Booster Seat
If you are making a list of travel essentials for your baby, you shouldn't leave out this booster seat. A comfy travel chair is a very important item you need to get for your baby. The Hiccapop travel chair also comes with a food test for toddlers. Your little one will be happy to seat on it. It comes with wide stable feet that keep the chair balanced. After your baby is done eating, you can easily detach the tray from this chair.
The chair also comes with a three-point adjustable harness to protect your little one as they eat. The chair is foldable and can easily be stored in its carry bag after use. Also cleaning is easy and the cover of the chair can be washed in a machine and you can clean the tray in your dishwasher. The Hiccapop travel chair is made from BPA free material which makes it safe for your toddler.
If you plan on taking your little one camping, this travel chair can serve as a camping chair. It is comfortable and you can feed your baby on it.
3. Accmor Baby Milk Powder Formula Dispenser
This Accmor milk powder dispenser for babies is ideal for family travel. The dispenser comes with five compartments to hold your baby's formula. It can hold up to 8.oz of liquid and has a sit-in liner that separates each of the compartments. The dispenser holds the formula properly so that it does not leak from one bowl to the other. It also has s screw lid that allows you to attach the compartments when you need them
The Accmor milk dispenser comes in an easy to pour design. It is easy to clean and the manufacturer recommends parents hand-wash the dispenser. Although, it can also be washed on a dispenser.
The Accmor is one of the best selling dispensers and most parents prefer this model because it is easy to pour out milk from it. The dispenser is leakproof and very easy to care for.
4. J.L. Childress Gate Check Bag
The J.L Childress travel bag is one of the most affordable check bags you can get today. It is made from a durable and waterproof material. The check bag is lightweight and has enough storage space to hold a lot of items. The sack-like travel bag can easily be folded to look like a stretchable pouch. It is durable and you can trust that any product from J.L Childress can handle heavy-duty luggage.
This check bag comes with drawstrings that make it easy to close and open the bag. This J.L Childress check bag comes with a comfortable carry handle.
It is not only useful for carrying your baby's car seats but can also be used for carrying your baby's toys, diapers and strollers.
5. MyBaby Soundspa On-The-Go
This sound machine is also one item you will need when traveling with your baby. It comes in four options, white noise, ocean, lullaby and ocean and heartbeat. MyBaby sound machine comes with an automatic timer that shuts off after 15, 30 or 30 minutes.
This sleep machine uses AAA batteries and the machine is made from BPA free plastic material. It is compact and has a stylish design. You can comfortably place the sound machine on your furniture or hang it using its clip on your baby's stroller.
The MyBaby Soundspa machine is one of the most affordable model sold today and the sound is appealing for your baby.
6. M-Jump 6 set Storage Travel Set
The M-Jump travel set makes an excellent luggage bag for your family trip. It can be used to hold your little one's clothes, toiletries, and skincare products. The travel set is capable of holding luggage for a 10-day trip. You can pack up everything you need for the trip conveniently. There is enough storage space so you can separate all your kid's travel essentials in different compartments.
The M-Jump travel set comes in a breathable mesh fabric and will protect your kid's clothes. The waterproof nylon cloth comes with a zipper for easy access.
You can buy this travel set for your long-distance trips. The six set bags can hold all your travel items and they will be easy to reach when you need to get anything out.
7. Baby Shusher The Sleep Miracle Sound Machine
This is another sound machine we recommend for parents when traveling with their toddlers. The Baby Shusher is an award-winning product and a one time winner of the best baby product of the year. The Baby Shusher comes in an orange-colored design and a round rocket shape. It has a soothing sound like a human voice.
The Baby Shusher will calm your little one and give a natural soothing shush. The Shusher is gender-focused and you can get individual models that work for boys or girls. It uses non-rechargeable AA batteries.
Parents can easily keep their little ones calm using this sound machine. It works effectively for babies because of its human-sounding voice.
8. The Original Easy Seat Portable High Chair
This portable chair is ideal for babies from the age of 6 months and older. It can comfortably sit your toddler weighing up to 35 pounds. The Portable easy seat is a perfect companion for family travel. It is compact and can easily fit into your bag although, it also comes with its matching carry bag.
The Original Easy Seat can be slid over the top of your dining chair and strapped securely, so your little one can have dinner with the rest of the family. The straps come with a 5-point harness that keeps the seat steady on the adult dining chair. The chair is made from a 100% polyester fabric that can be cleaned in your washing machine.
Parents like to buy this seat because of its affordable price and its brightly colored design. The Original Easy Seat stands out and the chair is durable.
9. Munchkin Brica Fold N' Go Bassinet
This Munchkin Brica bassinet is another travel essential for your baby. The bassinets come with a washable sheet made from high-quality material. It can easily be folded away when not in use. The bassinet is lightweight and very affordable. It stands out from other models sold today.
The bassinet is easy to use and you can simply unpack it. It comes with a carry handle at the top and you can conveniently remove the sheet from the mattress. There are mesh walls on the side that protects your baby from feeling hot. It allows enough air to pass through to keep them comfortable. The mattress is firm and they can relax or sleep on it.
The Munchkin Brica bassinet is ideal for babies up to 3 months and can hold babies that weigh up to 15 pounds. Parents won't need to worry about the safety and comfort of their little one in this bassinet. The mesh and comfortable mattress are what your baby needs to get good sleep.
10. Amazon Basics Baby Portable Travel Curtain
The Amazon Basics portable travel curtain is an amazing product for babies. It comes with comfortable window blackout shades and suction cups. The curtain shades are easily adjustable and keep your baby safe from the UV rays of the sun. It is ideal for road travel and when you are taking your little one out in your car. They can comfortably sleep in the comfort of the dark shade provided by the curtain shades.
The suction cups can be evenly distributed on the four sides of the shades and it has velcro patches that makes it easy to get the right fit. These curtain shades can be used for all car window sizes. The curtain material is thick and blocks out the sunlight. It can provide a dark sleeping area for your baby especially if they are sensitive to light.
Parents will find it easy setting it up and also unpacking. The compact size shades can easily fit in your travel bag or be stored away when not in use. The polyester material curtain can easily be cleaned and the dark shades easily block out the light for your baby. It can also be used by adults that are sensitive to light.
What are Baby Tavel Accessories?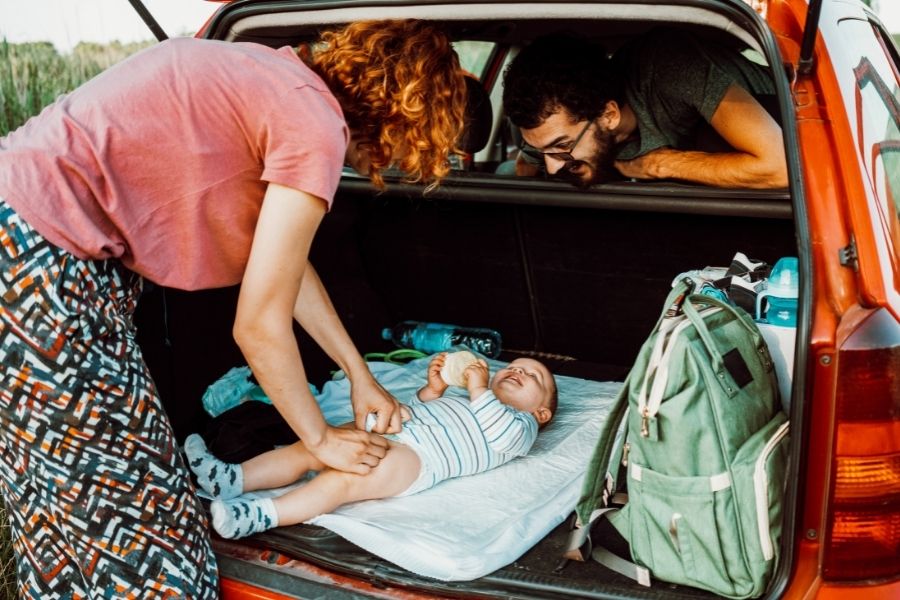 Baby travel accessories are designed to soften some of the more stressful scenarios that vacation with young children inevitably brings. These accessories accompany you on all your trips on foot or by car. The carrycot part is very practical, right out of the maternity ward. It allows the baby to be transported in optimal comfort and can also be used as an extra bed during days with friends. Often, these travel accessories are equipped with items that are intended to promote the comfort of your baby: UV protection, rain protection, changing bag, etc.
Why Should You Buy Good Baby Tavel Accessories?
The first advantage of good baby travel accessories is above all their practicality. It saves space by combining many accessories for your little one. Also, expenses are limited for young parents. As for the hammock stroller, it allows your child to take full advantage of walks from the age of 6 months, under the supervision of parents.
How to Choose the Best Baby Travel Accessories?
To choose baby travel accessories, each gear comes with different components. However, some are more complete than others. Some may be gear for traveling by car, air, or for hiking or camping:
Baby seat: For parents traveling with the kids by roads, this is compulsory in terms of safety and state traveling requirements.
The stroller: The 4-wheel trio stroller is the most common model on the market for hiking or trekking. It has the advantage of being compact since it can be folded after use. Also, it is a very stable mode of transport for your baby.
Diaper station: These are an all-in-one station for changing your kids' diapers. These can include a convertible baby bed, essential baby accessory stuffs, among others.
What Features Should You Consider When Buying Baby Tavel Accessories?
Our criteria for purchasing a travel gear for your baby are as such:
Comfort of use and maneuverability: The ease of use and maneuverability are important buying criteria. The stroller, diaper station, or baby seat accessories must be able to accompany you on all your journeys, whether it is your daily trips or your vacation walks.
The weight of the stroller: They must be able to be transported easily in a car but also be able to be stored away taking up a minimum of space.
Adjustability: The accessories supplied with the kit are useful to improve the use and make the experience more comfortable for your baby. The canopy of the stroller or car seat protects the child from the elements. It must be adjustable according to the weather conditions and the comfort of the child. Thus, it can be removed so that your little one can observe the landscape or put it in place during naps.
Safety: It is essential to ensure the safety of the gear. Among the main safety elements are the 3 or 5 point harness and the support bar. Some models of strollers have a hand brake system that allows the wheels to be locked when stationary.
How Much Does a Top-Rated Baby Tavel Accessories Cost?
Simple kits for car travels are the cheap baby travel accessories. These affordable baby accessories are often sold for $20 to $30. Strollers with travel gears and diaper changing stations are the more high-end baby travel accessories. But they are still relatively inexpensive, costing around $50 to 100, depending on how complete and how they're designed.
Final Verdict
The best baby travel accessories are those suited to your needs and personal preferences. Our guide highlighted the main criteria for purchasing one. These include the comfort of use and maneuverability, weight, types of accessories, and safety.
---