Top Pick Baby Sling Carriers
These are the best baby sling carriers you can buy right now:
1. Nalakai ring Sling Carrier
This ring sling is more than just a baby carrier. It's a means of bringing parents closer to their little one to create a sense of security and trust. The ring sling is a blend of bamboo fabric that's comfortable for your baby's sensitive skin. The ring is adjustable and can be moved to any height for easy movement.
This is helpful during cold days. Contact with the mother's skin help with warmth. The ring is tight and you have no fear of it snapping off. Additionally, this is stylish and can be worn both indoor and outdoor. Its trendy design makes it perfect to wear at the office.
Hand-free moments can keep babies distant from their moms. This sling brings them in close contact and this fosters the bond between the two. A lot of parents liked the fabric texture, the majority of buyers said it doesn't get sweaty on hot days.
2. Baby Wrap Carrier from Boba
This is one of the best baby sling carriers around. It's made from cotton fabric, hence, expect it to facilitate airflow. This has a unique design that wraps babies around the mother's chest. There's room for babies to stretch their legs while wrapped in there to minimize fatigue.
The cotton design of this sling adds extra durability but it has a pinch of spandex as well. Spandex allows the sling to stretch to give the baby a stronghold on the mother's chest. This is also easy to tie and a second hand might not be necessary.
This can be used by moms from all walks of life. A few plus-sized women got this for their baby. The stretchy nature of the fabric means it can expand to fit babies of all sizes. One mom said she sneaked her twin babies into it at once.
3. Acrabos Baby Carrier
This is made from knitted polyester that's durable and supports the baby's weight. The carrier offers double-sided stitching to support the baby's weight and also for posture correction. This ensures the baby isn't placed awkwardly.
The polyester fabric supports airflow. It's breathable and won't choke the baby out. Unlike other designs, it doesn't trap the whole of the child's body. Most of the lower body is free so the baby doesn't feel stuck and uncomfortable. There's also a storage bag that comes with this.
Most buyers of this product are first-time moms tired of holding their baby all the time. This offers hands-free moments while still being in contact with their baby. In their opinion, this can hold heavy babies of up to 40 lbs. The only issue with the product is that it can't take the weight off the mother's back.
4. All-in-One Stretchy Baby Sling from KeaBabies
A perfect choice for wrapping crying babies around your chest. It's made from a durable fabric and adopts a one-size fit all approach. It can be used for babies of all weights and sizes provided they aren't heavier than 35 lbs. Its color collection makes it perfect for any of the parents to wear in public.
This sling is adjustable. The baby can be moved down or slightly up during breastfeeding. Wearing this won't be tiring for the mother as well. A lot of effort went into taking the weight off the mother's shoulder.
One tipping point for users of this product is its versatility. Not only does this serve as a baby carrier, but it can also serve as pregnancy support for your next baby. Hence, you better hide this somewhere in your wardrobe so you can put it into use once again.
5. Natural Cotton Baby Carrier by Cuby
An innovative design that mimics baby positioning in the womb. It comes with thick shoulder pads that restrict the baby's movement and it can be adjusted to tweak the position of the baby's body.
Unlike in other slings where an adjustment has to be done by tying the fabric, here, there's an adjustable steel ring that allow you to loosen or tighten your hold on the baby. This comes with a side pocket for storing little items such as napkins, handkerchief, and little toys when on the move.
A lot of mothers loved the "pouch shape" of this slinger. For some reason, their baby sleeps for longer hours in this position. To top it off, the baby carrier is also machine washable
6. Kids N' Such 4-in-1 Baby Sling Carrier
Perhaps you're caught between picking a ring slinger or a traditional carrier. No need to pick one when you can enjoy both. This is what the Kids N' Such carrier offers. This allow you to move around with your baby in a plethora of positions. You can switch from traditional design to a ring slinger if you want extra hold on heavy babies.
This will hold your baby in a womb-like position they're already used to. Out of the pack, this comes with double rings, cotton wrap, and a carrying pouch. This gives babies enough freedom to move their lower bodies.
A lot of moms called this a "shape shifter". This is because it can assume different shapes. You can hold the baby in a "pouch shape", wrapped around the mother's chest or as a traditional carrier.
7. Infantino Advanced Baby Carrier
The most popular baby carrier in the market. It offers a versatile design that provides 4 ways to carry your little one. You can choose to carry them face in or out or on the back. You have the freedom of testing several positions to see which one your baby likes.
The product is made from a combination of cotton and polyester. This choice of material is why the carrier is lightweight. In a bid to make the baby comfortable, Infantino added extras such as adjustable 2-position seats and padded shoulder straps to support the weight of the baby.
This is perfect for parents with a clingy baby. It allows them to eat, work on their computer and clean the house while the baby is still wrapped around their chest. One issue past buyers have complained about is its tight grip which might leave marks on the baby's thigh.
8. Acrabos Baby Wrap Carrier
Designed for babies between 8 lbs to 35 lbs. It measures 210 inches, making it perfect for adult wearers of all sizes. It supports just one carrying position which is the face in. This way, the child has his chest against that of his parent.
You will love the extra stitches made on both sides of the carrier. This is done for posture stability and added strength in carrying the baby. The polyester material makes it stretchy and makes room for bigger babies. The best part is, it returns to its original shape after the baby is removed
A lot of mothers said this would have been the perfect design from Acrabos if it allowed different carrying position. Buyers seem to be impressed with the fabric's durability and can be used as a postpartum belt.
9. Ergo Baby 360 All Position 
This is a multi-functional carrier with many carrying positions. Its shape can be adjusted as your baby grows from 0 – 48 months. It's made to support babies of up to 45 lbs and it has an adjustable seat that allows you to adjust the lower body according to how the baby is seated.
The carrier originally holds the baby in an "M" position. This provides head and spine support when the baby is asleep. Even better, there's a removable pouch that stores all of your baby's needs on the go. You should know that this carrier has a padded shoulder strap for a snug fit.
The detachable pouch added to it impressed a lot of parents. With this, they don't need to bring an extra bag to store baby items when going for a walk.
10. Ergo Omni 360 for Newborn
Just like the previous model, this Ergo Omni 360 has crossable shoulder straps to support the baby weight. It holds babies in an "M" shaped position. This positioning offers lumber support to your baby which allows longer sleep hours.
The baby carrier has adjustable hooks that allow parents alter their carrying position. With this, babies can lie face in, face out, on the back or hip side. Additionally, this is made from a durable mesh fabric that supports airflow.
First-time moms loved its versatility. Being able to carry their baby in several positions gives them some freehand time.
Baby Sling Carriers For Wrapping Your Baby With You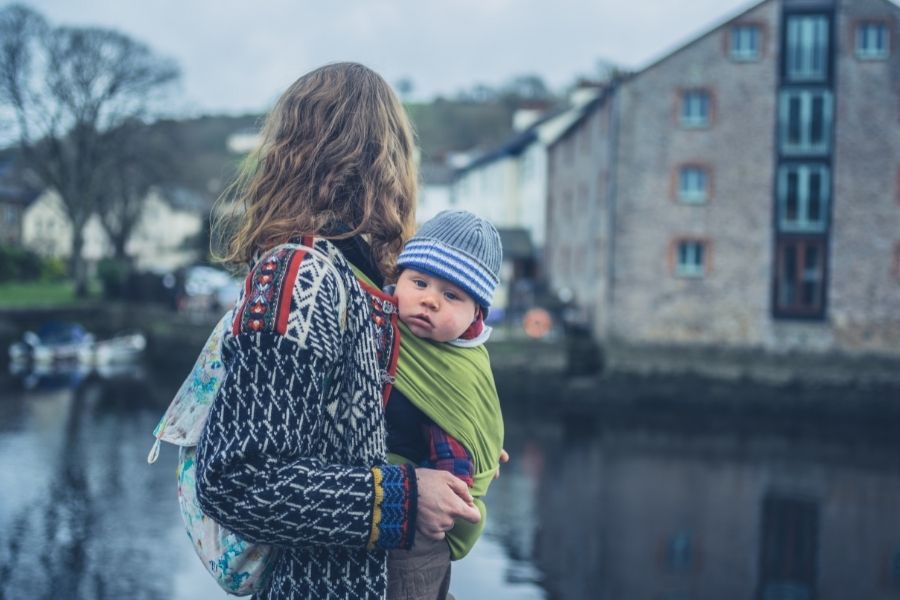 Are you planning to buy baby sling carriers? A sling carrier can come in handy when you wish to hold your baby close, but do not want to wrap. Read on to learn more about the things to remember when you decide to buy this carrier.
What is A Baby Sling Carrier?
A baby sling carrier is a piece of cloth that helps the mom or any other person to carry the baby close to them. Slings are made using a single piece of fabric. In the case of a ring carrier, the person carrying the baby will have to wear the cloth across his/her torso. The cloth loops through two rings on the shoulder of the person. It will create a pouch-like surface for the baby to sit in.
Why Should You Buy a Good Baby Sling Carrier?
A good baby sling carrier will help your baby hear your heartbeat. So, he will feel comfortable and fearless as he feels that the mom is there to safeguard him. Further, this carrier will also help with the prevention of flat-head syndrome and SIDS. Also, with a good carrier, you can breastfeed your baby on the go discreetly.
How to Choose the Best Baby Sling Carrier?
When you intend to buy the best baby sling carrier, you will have to consider the following things:
Material: A baby sling carrier is basically a piece of cloth. So, you should check the quality of the cloth and its durability when shopping for it. The material should be soft enough not to hurt the soft skin of the baby. But, it should be sturdy as well to withstand your baby's weight.
Sturdy rings: When you decide to buy a ring-type baby sling carrier, you should check whether the ring has been made using durable material. The rings are going to carry the weight of the baby similar to cloth. So, they should be durable as well. But, they should have the appropriate coverage to make sure that they will not hurt your shoulder.
What Features Should You Consider When Buying a Baby Sling Carrier?
You intend to buy the best baby sling carrier, isn't it? You can get your intention met only when the carrier has the following features:
Breathable material: The baby sling carrier should have been made using a breathable material. Only then, your baby can comfortably breathe. As he will be sitting close to your body, there will hardly be any gap between you and your baby in this carrier. So, it is important to check whether the carrier is made using breathable material particularly when you plan to use it during hot summer days.
Height adjustment: A baby sling carrier that provides the possibility to adjust the height will help. This feature will help particularly when two different people carry the baby. Here, a ring sling carrier will provide this facility. It can be adjusted as per the height of the user and based on the position they feel convenient for the baby to stay.
Organic material: The best baby sling carrier made using organic material will be safe not just for you but also for your baby. Of course, a carrier made using this material will be costly. But, the benefits are plenty.
How Much Does a Top-Rated Baby Sling Carrier Cost?
The average cost of a baby sling carrier will be around $49. If you wish to go for a high-end baby sling carrier, it will cost you around $60. If you are looking for an affordable baby sling carrier, you will generally find most of them around $49. Cheap baby sling carriers lower than this price range, will be hard to find.
Final Verdict
Without any doubt, investing in a baby sling carrier will make carrying your baby easier. It will also provide the warmth that your baby needs in the initial stages of her life.
---