Top Pick Baby Playards
These are the best baby playards you can buy right now:
1. Dripex Baby Playpen
With ample space, the Dripex baby playpen has enough room for toys, twin babies, and pets but won't take up the entire room's space. The Playpen comes with 8 panels that can be assembled into a squared shape for your kids to play in. This serves as a barrier that prevents babies from hazards around the house or accidentally getting scratched by their pets.
This play space has a double-zipper design that allows babies contact with those outside. Furthermore, the double zipper design provides extra security that prevents babies from climbing over the fence in a bid to get in contact with their mom. With this, their mom can keep an eye on them when playing in their pen to give them a sense of security.
A lot of parents loved this because of the large playing space it provides. They also love that it's easy to move around and can be folded into a small bag. It can be set up manually by just one person.
2. Baby Delight Go With Me Eclipse
This is a portable baby playard that can be used indoor and outdoor. Apart from serving as a good playing ground, this playard is foldable and can fit into a carrying bag when disassembled. It also offers protection against harsh weather conditions. Additionally, the floor is made with 300D Oxford fabric that makes it easy to wipe messes off.
You will love how easy it's to set up. The floor is made of durable fabric that prevents babies from slipping when playing with their toys. Its sturdy design prevents babies from hitting their heads on hard surfaces when they stumble or bounce off their feet.
Many new parents saw this as a game-changer for their crawling babies. It prevents injuries and provides a safe zone for them to move around. With this, they can go camping without checking up on their baby every minute.
3. BABYSEATER Portable Playard
This portable playard is enough for babies within 6 months to 6 years old to crawl, stand and play in. Aside from security, it also serves as a baby's wide activity place. It is safe and comfortable for babies.
This gives mothers free-hand time when camping or during a picnic at amusement parks. It features external zippers that facilitate entry and exit. With a total playing space, there's enough room for their toys, friends, and pets.
The mesh sides were the tipping point for most users. This makes it easy to keep an eye on the baby when playing inside. While we loved its sturdy design, we thought a playmat would have been a good idea.
4. Yobest Playpen for Toddlers and Infants
This giant playard serves as the baby's amusement park. It's 28 inches long and made to suit children's behavioral patterns within 6 months to 6 years old. It has ample space that can house a baby and one adult, including their toys. It has a mesh design that allows parents to monitor from a distance.
The unique feature this portable playard offers is corner protection. The side of the bar is wrapped in thick clothing that masks impacts that might result in injury. Also, you don't need to jump over the fence to access the baby. There's an external zipper that grants access to the inside. Additionally, babies will have a 360-degree view in this playard. They feel safer when they can sight their parent.
A lot of mothers went for this because of the non-slip nature of the floor. They feel safe knowing that their child won't tumble and hurt themselves. Also, the construction of this play space is so sturdy that it won't fall off when two heavy adults lean on it.
5. Baby Playcard from Todale
This doesn't feel like a cage for the baby. Parents can see through the mesh bars, and they can have all their play items in there, thanks to its spacious interior. It's built for balance, and despite being lightweight, it's difficult for babies to push down and force their way out.
This is considered a safe haven for babies learning to walk. This 27 inches baby playard is tall enough to keep babies from climbing over and also keep pets at a safe distance. This doesn't include a play mat, but the 150D oxford fabric gives the floor a smooth look to minimize slips or bumps that might cause injury.
Some parents said it fits like a Queen size bed while others complained about its size, which might be too small for some spaces. Overall, it's heavy and isn't foldable.
6. Costzon 3 in 1 Play Bassinet
This is a complete nursery center that includes a bassinet, changing station, carrying bag, and diaper holder, among a list of other things. It's easy to assemble into a play center for kids when indoor but can also be folded into a crib that can be taken outdoor for a walk.
This is designed to transition from a crib or bassinet to a playard. When reversed to a playard, you have a zipper design for the baby's movement in and out of the crib. The poles of the playard are surrounded by a mesh that keeps babies in sight. The changing table that comes with this isn't stiff and can be used to change baby diapers.
This saves parents from spending extra on accessories. Out of the box, you will find items such as toys and a music box for their entertainment. It's reversible and can be disassembled easily to store in a carrying bag.
7. Costzon 14-Panel Foldable Portable Design
Another entry from Costzon but with a more streamlined design. This is made specifically to act as a playing space for infants. It's made from plastic and acts as a fence to keep babies away from the stairs and pets. It has enough space to accommodate little children but won't take excess space in the room. Additionally, it's foldable and adjustable.
Despite not having the most rigid design parents will love, it's impossible for little kids to push them down. Every panel is tightly fitted to leave no space for kids to fit their hands into. Costzon also used ASTM certified rubber suction cups in the flooring to minimize slips. Rather than a zipper design, what you get here is a gate that can only be opened from the outside.
Many mothers who bought this were working-class women who had to leave the baby with a caregiver. This gave the caregivers less trouble and can watch over the baby from a particular spot.
8. Toddleroo 8 Panel Baby Playard by North States
One of the best baby playard to move on the go. It's made from lightweight plastic with a multicolored finish that can be installed in seconds. It can be assembled into a box for kids to play in or arranged to form a barrier to limit movement around the house.
This proves that you don't have to break the bank to keep your baby safe. Though you won't find suction cups here, you have a skid-resistant pad that holds it in place and also minimize scratch. When made into a box, this provided an approximate 35.5 sq. ft play area. This is enough for your baby and their toys.
This is a budget-friendly option for parents. With this, you get what you want. Many new moms said it didn't give their babies the support they need when learning to walk. However, what they like is its versatility and how easy it can be set up.
9. Fortella Portable Foldable Cloud Castle
The Fortella portable cloud castle keeps your baby busy while in their playground. This comes with a whiteboard for writing and an activity board to flex their creative juice. Arm trapping is reduced thanks to the spacing between each panel.
This baby playard from Fortella is made with a plastic fence coupled together with hinge connectors. The walls are held in place by 14 anti-skid pads for stamina and to minimize slips. Also, this can fit into any room in your house due to its small size.
Reviews from recent buyers pinpointed it as medicine from boredom. Keeping the babies busy with the activity wall means they have less supervision and can finally concentrate on other house chores.
10. Evenflo Infant Play Space
This is the most popular Baby playard you will find. It provides babies with approximately 18.5 sq. ft space to play in. It can be used indoor in most living rooms and outdoor on the lawn thanks to its anti-movement floor pads.
A unique feature this playard has to offer is the design of the fence. Each end of the fence has a rounded edge and sharp edges that can injure kids. Each panel can be joined together with a simple push-button hinge connector. With this, no extra hand is needed when assembling.
This is the most talked-about baby playard for a reason. 50% of parents who got it opted for it for its versatility, while the other half loved its heavy-duty design, making it difficult for babies to push down on their own.
Baby Playards – To Keep Your Baby In A Covered Space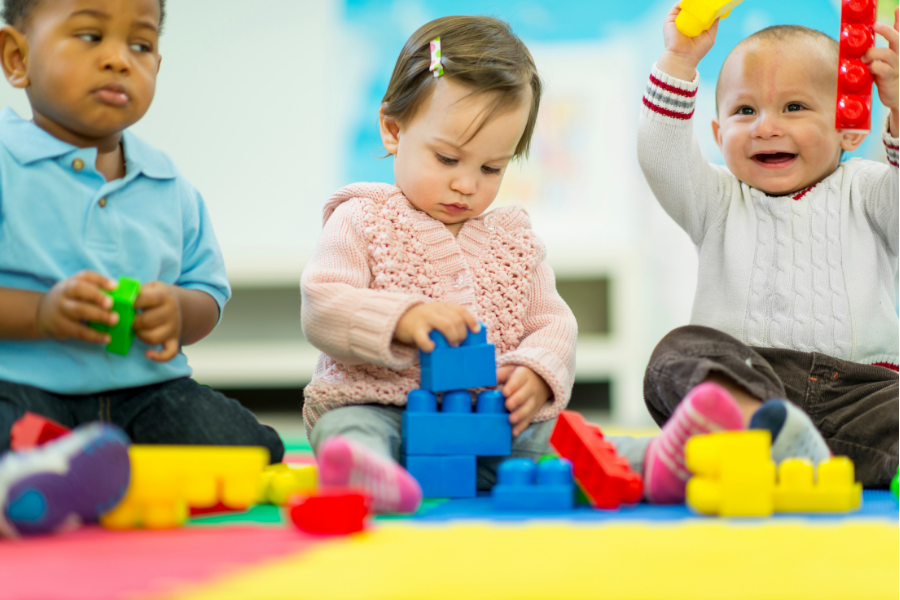 Should I buy a baby playard? This is the common question most parents have. Of course, you might have planned your home completely baby-proof. But, you cannot be around your baby at all times. This is where a playard can safeguard your baby. Read on to learn more about this accessory that is essential for your baby.
What are Baby Playards?
Baby playards were previously called playpens. They are nothing but enclosed structures. They help with keeping the baby safely contained within the enclosed structures. In turn, you can stay completely satisfied with the safety of your baby in many situations.
Why Should You Buy a Good Baby Playard?
A good baby playard will permit your baby to move around. Further, it will double as a bassinet, portable crib and even as a diaper-changing station. A good playard can give you complete peace of mind when you take your baby to a friend's house, where there are many uncovered electrical outlets for your baby to easily reach. Also, you can use this unit right from the first day to three years.
How to Choose the Best Baby Playard?
When you intend to buy the best baby playard, you will have to consider the following things:
Portability: If you have plans to carry the baby playard to different places, you should be considerate about the portability of the unit. Only then, you can easily carry and also the installation should be easy.
Add-ons: Baby playards can encompass a wide range of features that range from a built-in changing table to a canopy. So, you should think and decide in advance as to how you have planned to use the playard and what features will help your family and should accordingly choose one.
What Features Should You Consider When Buying a Baby Playard?
A baby playard with the following features will make your shopping worthy:
Bassinet: Not all baby playards come with a bassinet. But, the bassinet attachment will help your baby to sleep comfortably. Also, it is better to check whether it is possible to remove the bassinet so that your baby can play whenever he is active.
Canopy: When the baby playard has a canopy attachment, you can easily take it outdoors. You know that early morning sunlight is good for the skin of your baby. When the playard has a canopy, it will not completely let the sunlight in. But, still, your baby will get the good rays to his skin. So, a canopy attachment is an added feature if you wish to use the playard both indoors and indoors.
Hanging toys: If you go for a baby playard where your baby can sleep, it is better to check whether it has the facility to hang toys. At times, babies sleep themselves without needing the mom. At these times, they just stare at the hanging toys and play with the toys and then sleep. Even, the hanging toys will also distract your crying baby for some time.
How Much Does a Top-Rated Baby Playard Cost?
Are you looking for a high-end baby playard? It will cost you around $330. But, if you think that you can go for a cheap baby playard, you can find an affordable baby playard at around $70. On average, when you intend to buy a baby playard, the average cost will be around $200.
Final Verdict
So, the idea here is that a baby playard is a good investment undoubtedly. Consider the features and factors mentioned above and end up with the best unit for your loving baby to stay active and comfortable!
---