Top Pick Baby Playard Sheet
These are the best baby playard sheet you can buy right now:
1. Brolex Stretchy Sheet
The Brolex Stretchy Sheet is a soft mini-mattress sheet that will treat your baby's skin with royalty. It's not harsh enough to cause rashes or skin infections. This is made for standard mattresses and fits in like a glove without any end. It isn't bigger than it needs to be and washes in a machine with little fuss.
The mattress cover might be small but stretches at a ridiculous amount to fit most bed space. However, they easily snug back to shape. The mold of this sheet makes it perfect for third-party pack n' play. Its texture also leaves room for little or no stain.
This is a perfect gift idea for most expecting mothers. Many mothers who got this used it on a third-party mattress from Graco, and it seems to fit its velcro. We're also impressed with its softness and ability to keep stains at bay.
2. Pack N Play Mini-crib sheet from Kids N' Such
With a multifunctional design, the Pack n Play Mini-crib sheet can fit into multiple mattresses – foldable and convertible choices up to 5 inches deep. It comes in a pack of 2 and can be easily swapped when they get dirty. This can't prevent messes, but you can throw it into a washing machine when it occurs. The quality of the sheet doesn't degrade with each wash.
This baby playard cover is made from jersey cotton that won't scratch the baby's skin. It keeps them comfortable all night long. With a 360 degree elastic band underneath, it's sure to fit perfectly with no loose end. Going for a cheap sheet cover doesn't mean you have to sacrifice quality, and that's what this product has proven.
Many parents said the price tag is favorable for what it offers. It fits well and doesn't roughen up if their kids roll on it. It saves them the stress of continuously dressing up their bed.
3. Biloban 2-pack Portable Microfiber Crib Sheet
This baby Playard cover is made from polyester, which allows spot clean. It's designed to cover 5 inches deep and 35 ×27 inches bed sizes. The Biloban 2-pack Protable sheet comes in an elastic band which makes it easy to fit into several crib beds from other brands.
This is perfect for kids who love to roll and mess their beds. They stay glued to the bed no matter how hard your little one's rollover. This is unlikely to shrink even after 200 washes and can be cleaned in a washing machine without stress.
This sheet will fit into most standard pack n' play but doesn't seem perfect for Graco mattresses if buyer's review is anything to go by. It's soft, but it can be a disadvantage if you have kids who sweat a lot since it doesn't soak moisture.
4. America Baby Company Knitted Playard Sheet
This pack n' play sheet is made from cotton, making it less likely to itch or cause discomfort. It's made from thin layers to ensure your baby doesn't get sweaty in hot weather. The America baby Company Knitted Sheet is made from natural colors that allow it to fit into several mattresses, especially 2 – 5 inches deep.
This sheet can be dried in a washing machine several times, but only light detergents should be used. This isn't the most durable choice in the market, but it's so lightweight that you can remove stains in few minutes before tumble drying.
Most mums who have been using it for more than 12 months complain how this sheet loses its form after continuous washing in a machine. It might get snuggly after some time, making it uncomfortable for your little one to sleep in.
5. American Baby Company 2-pack Sheet
The American Baby Company 2-pack Sheet is a blanket with a t-shirt feel. Made from 100% cotton jersey and fits into a 4-inch deep pocket mattress. It's gentle on the skin and features elastic edges that allow it to snug into beds of different sizes. It's good for playard beds, pack n' play as well as cribs. It's lightweight and can be moved around. This saves you the headache of using different covers for baby sleeping arrangements when you travel.
Available in a variety of colors for boys and girls. It comes in a pack of two out of the box, and cleaning is a breeze. Most users have tried it with a Graco bassinet and a Hiccapop pack and play mattress. The outcome is that it fits well. It isn't too tight nor loose. In addition, its cotton feel complements sensitive babies.
Most parents said it fits into their bassinet, and when used in a pack n' play mattress, it didn't cause it to scrunch inward.
6. TillYou Jersey Knit Stretchy Sheet
This is a fit-all mattress cover made from 170 GSM jersey cotton knit fabric. Compared to other products within its price range, the TillYou Jersey Knit Stretchy Sheet is thicker and heavier but offers exceptional comfort that keeps babies in their crib all day long. Thanks to its design, babies can eat, play, and also take a nap on it. This is available in different color variants, making it perfect for both sexes.
The sheet is stretchy and can fit mattresses of all sizes ranging from 1 – 5 inches in thickness. This can be used in most mini cribs, pack n' play as well as a baby playpen. It's machine washable but not fit to dry in high heat to prevent damage to the sheets.
A lot of mothers were gifted this product during baby showers, but its trendy look makes them irreplaceable in the baby's crib. It has a stretchy underneath that prevents them from snuggling off.
7. Cuddly Cubs Unisex Pack and Play Sheet
The Cuddly Cubs Unisex Pack and Play Sheet is a 150+ GSM fabric made from jersey cotton knit. It's soft, lightweight, and durable to give babies long sleep. This sheet is made for 5 inches deep beds and can't easily be undone by playful babies. It's designed to fit into regular-sized beds. Furthermore, the sheet does not deform, and its hypoallergenic design minimizes skin irritation and rashes.
This lightweight sheet encases beds thanks to the elastic band around its edges. This gives the bed a complete cover. Although this is machine washable, the sheets are bound to get softer with each wash. This is why they shouldn't be subjected to harsh washing conditions in your washing machine.
Not the most popular choice, but yet a few buyers stand by it for their Graco pack. Although the sheet fabric is quite soft, it gives you a washing advantage since it doesn't take long to dry off.
8. Biloban Waterproof Mattress Cover
Not your average baby playad cover. The Biloban Waterproof Mattress Cover has a heavy-duty design that makes it resistant to messes. It's waterproof and absorbs liquids quickly without letting them get to the baby. This makes it likely to draw away urine or sweat at night to give the baby a comfortable sleep.
While its TPU layer gives it a sturdy look, it's not harsh on the baby's skin. Just the right thickness to give a healthy sleep without suffocating them. It's not noisy and doesn't restrict the baby's movement. It will cover a mattress that is 5-inches deep and doesn't lose its structure even after 200 wash.
First-time parents have come to trust the quality of this sheet. It's the only sheet that absorbs moisture and minimizes stains without shrinking.
9. America Baby Company Water-proof Sheet
Another entry from American company but this time, with extra features that have made it a best-seller among sheets. The America Baby Water-proof Sheet comes with waterproof layers that offer quilted cushions for comfort and durability. Its appearance hints that it's made to last for years and can be reused by other kids.
The chief material this is made from is polyester. This eliminates the clinking sound produced in waterproof sheets as babies move on them. This is made for 2 inches deep pocket mattresses, making it a go-to choice for small-sized 27 × 36 inches beds. This is easy to maintain as you can wash in a machine. Even after 6 months of use, this is unlikely to shrink.
This saves many new mons the stress of replacing the baby's playard cover after every short interval. This has been recommended by several experts and aces every safety test.
10. TillYou Cloudy Soft Sheets
The TillYou Cloudy Soft sheet is designed for pack n play pads that are 5 inches deep and fit into pads that measure 27 × 36 inches. It's serenaded by tight elastic bands that make it stretchy enough to fit into several baby playad beds. It also has quilted layers for added durability that allow it to last for a long time after several wash.
The sheets are machine washable, and you don't need to worry about how long it will take to dry. It's lightweight; hence, its moisture dries out quickly when tumble drying. The sheet meets every safety requirement laid out by authorities such as CPSC and CPSIA.
The reviews from users suggest that you won't have any compatibility issues with this playard cover. So far, it has been used on Graco pack n' play without snuggling off.
Baby Playard Sheet To Protect The Playard And The Baby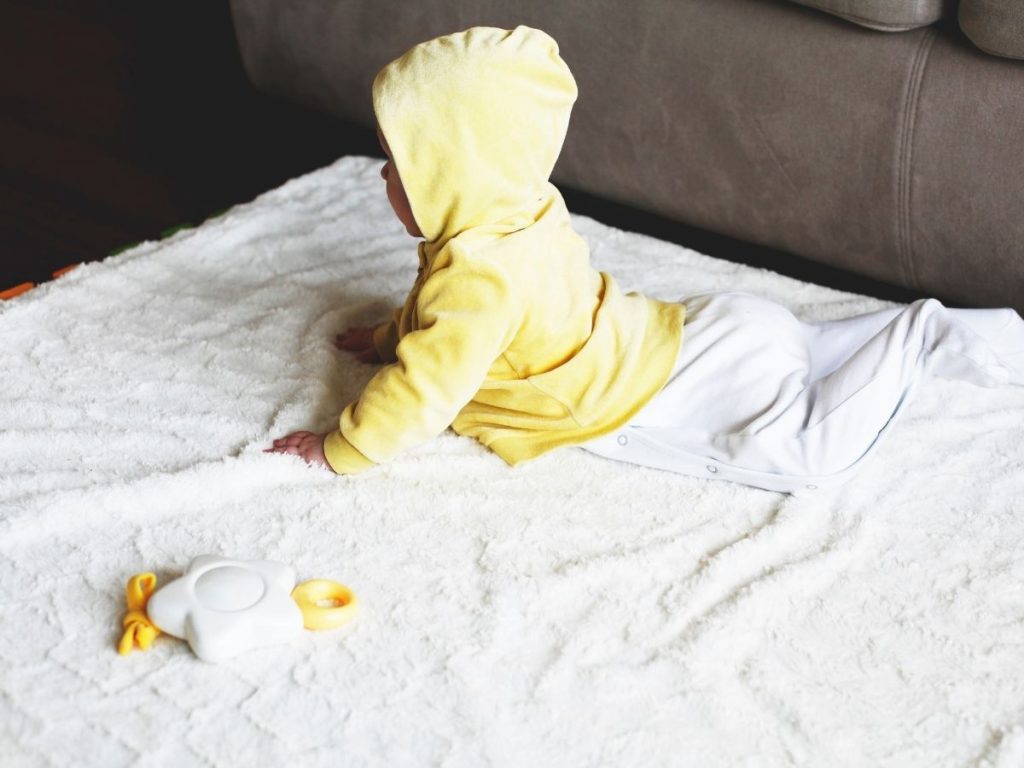 Are you wondering whether a baby playard sheet is really essential? You might think it not essential when you feel that it is meant for protecting the playard alone. But, if you think that it will provide additional comfort for your baby in the playard, you will never rethink its shopping.
What is a Baby Playard Sheet?
As the name implies, a baby playard sheet is something that you can use as a spread in your baby playard. In addition to providing the right protection to the playard from dirt and dust, it will also provide a better grip for your baby to play in the playard. At times, you will place some toys for your baby to play with when he is in the playard. In these instances, these sheets will safeguard the base of the playard from damages caused by the toys.
Why Should You Buy a Good Baby Playard Sheet?
Most baby playard sheets are washable. So, when you get a set of two or three sheets, you can use another when one is kept aside for washing. Only when you buy a good-quality playard sheet, it will withstand multiple washes. Even, some of these sheets are made using organic cotton to ensure double protection to the soft skin of your baby.
How to Buy the Best Baby Playard Sheet?
You can end up buying the best baby playard sheet only when you consider the factors discussed below:
The material of the sheet: When you have decided to buy the baby playard sheet, you should consider the material as the crucial factor. Cotton is the most common material followed by plush and quilted variants. Even, you will come across the vinyl-based sheet as well. So, consider that you choose a durable yet soft material.
Size Matters: Do you need baby playard sheets to use as the base for your playard? If so, size matters a lot. You know that it should rightly fit the playard. Even if you plan to use it just on the floor and not on the playard, size matters as it should accommodate your growing baby.
What Features Should You Consider When Buying a Baby Playard Sheet?
When buying a baby playard sheet, you should consider the following features to ensure that your shopping will turn out to be the best:
Soft and comfortable fabric: The baby playard sheet should have been made using a soft material that will not irritate the delicate skin of your baby. Nowadays, playard sheets made using organic materials are available. You can consider buying them as well to ensure the safety of your baby.
Attaches to the playard: When buying a baby playard sheet, you should check how it attaches to the playard base. It should not move when your baby twists and turns in the playard. So, there should be something that provides a snuggling fit to the sheet to the base of the playard.
Machine drying and washing: The best baby playard sheet should provide you the opportunity to machine wash and dry. You will have to frequently wash these sheets to prevent infections from the dirt and dust to your baby. So, check whether the sheet is machine-washable before you shop.
How Much Does a Top-Rated Baby Playard Sheet Cost?
You can get affordable baby playard sheets at around $10. Not just cheap baby playard sheets, you can also find high-end baby playard sheets. If this is the case, you will have to pay around $40. The average cost of a playard sheet will be around $25.
Final Verdict
In short, a baby playard sheet is undoubtedly a good investment that will safeguard both your baby playard and your baby. So, make the right shopping and reap its benefits for a long period.
---