Top Pick Baby Nap Mats
These are the best baby nap mats you can buy right now:
1. Baby Boom MVP Nap Mat
Besides the MVP Sports style, the Baby Boom MVP comes in other fancy designs like Cute Kitty, Dinosaurs, Forest Friends, and more. The quilted nap mat is made from 100% thick polyester filling. This features velcro closure tabs for closing the mat. The blanket features a plush interior that is comfortable for your sleeping child's naptime, and also for sleepovers, travel, and daycare.
Since it is easy to roll up, your child can look effortlessly after resting time. Plus, it has a carrying handle that makes it a lot easier to get back and forth to sleepovers, kindergarten, daycare, and more.
The Baby Boom MVP is a toddler lightweight soft nap mat that is highly appreciated by parents and toddlers than most mats on this list due to the high-quality substances used.
2. Baby Shark Nap Mat with Pillow and Fleece Blanket
The Baby Shark Nap Mat is a lightweight and practical nap mat ideal for toddlers. It has many features that make it ideal for resting time at home or even for preschool or daycare.
The attached blanket contains 100% plush fabric, which makes it machine washable. This gives your child a cozy and comfortable place to sleep during nap time without getting too hot or making disturbing sounds.
It's a three-piece set that includes a pillow and a fleece blanket. The mat for toddlers measures 53cm wide and 117cm long. It rolls up easily and fastens with velcro closure. Many toddlers love the look of the mat and the included blanket allows them to know about the Baby Shark characters during their nap times as well.
3. My First Memory Foam Nap Mat
Memory foam is all the rage in the adult sleep industry, and for good reason: it's comfortable! Kids can enjoy the same healthy sleep on a memory foam nap mat. If your child is learning to use the potty, choose a mat protected by a draw sheet, or opt for a mat that is easy to clean.
It is also equipped with a removable pillow that can be used depending on your child's developmental stage and preferences. It is made from polyurethane foam, that is thin and firm enough to be safe for young children, and is made from Certi-PUR certified materials. It also contains a cooling gel material, which ensures your child doesn't overheat while napping.
Although, it's not waterproof, in the case of having a spill or stain, the soft and removable cover is fully machine washable. A couple of users liked that it's easy to wash.
4. Disney Mickey's Toddler Rolled Nap Mat
The Disney Mickey Toddler mouse is in the same lineup as the Disney Minnie Mouse mat. They are only differentiated by their designs. This is also made of 100% polyester microfibers. It is very soft and comfortable for resting. It's also available in many other character designs asides from Minnie Mouse, so it's easy to select a design that your little one will enjoy.
The nap mat is machine washable according to the manufacturer's instructions and durable enough to last at least a few years of playing. When not in use, it rolls up easily and can be secured with a Velcro strap. There is also a carrying handle that allows your child to take it wherever they want.
Like many thinner mats, this is going to be comfortable on a hard floor. A couple of parents say this is ideal for 1-2 year olds but it's NOT for preschoolers.
5. Urban Infant Modern Preschool/Daycare Nap
With this set, the pillow, the blanket, and the mat roll up together and there's a handle for ease of carrying.
Another great thing about this mat is that the fleece blanket feels plush and warm without being too thick. Plus, it can be washed and dried in the machine. The cushion is removable, which makes the washing machine and drying procedure easier and helps keep the rug tidy.
Many people claim that when washed, the pillow can get lumpy. Other people claim it flakes off in the drying machine. Many users report that the fleece blanket can get soft with each use and wash. The substance has no flame retardant treatment and ensures an atmosphere that is free of chemical for the little one.
6. EVERYDAY KIDS Toddler Nap Mat
The Everyday Kids Nap Mat features a chunky comforter on top that is a bit more comfortable than many other mats. Coming in various designs, the Everyday Kids product also comes in different sizes that are a bit larger. This is therefore suitable for parents of bigger kids or those who want a nap mat that can last longer.
The soft microfiber polyester used to produce this nap mat is soft and comfortable for children. Plus, it's hypoallergenic and machine washable according to the manufacturer's instructions. Following the instructions is essential to avoid any damage or evaporation.
When not in use, it rolls up easily and secures with a Velcro strap. Plus, there are features like a title tag that allows your child to effortlessly customize their mat and a carrying handle. Many parents liked that it is easy to wash and is easy to fold. It's a bit thin on the underside so it looks best with a vinyl mat or carpet.
7. Lambs & Ivy Little Explorer Nap Mat
At 21.5 inches wide and 45 inches long, the nap mat comes at the right size for toddlers. But it's among the softest, thinnest, and lightweight mats we've reviewed. There's barely any fluff and it's very compact when you roll it up and you can carry it easily in a backpack.
The blanket only needs to be tied at one side. Therefore, it doesn't pose a height limitation when a child's feet move a bit beyond the bottom. The mat only takes little space when packed. Therefore, storage is simple, quick, and convenient. It's ideal for kids between the ages of 2 and 5.
A couple of parents say the pillow isn't removable and is thus not suitable for washing in the washing machine.
8. Disney Minnie Mouse Toddler
With 62 inches in length and 26 inches in width, the Disney Minnie Mouse is a large nap mat for toddlers. A taller child may find it difficult to roll on the mat. This is because you need to have it folded lengthwise in half before you roll it up. In addition, it can damage the cushion. On the other hand, the mat can be folded up to a compact form for travel. In addition, it has a carry handle.
The mat is available in many Disney designs. This is ideal if your toddler likes the character printed on the mat as they might be more inclined to enjoy it. We also expect it to be particularly comfortable with many children because of its soft and luxurious fabric. The 100 percent polyester construction doesn't absorb fluids as fast as other fibers. Therefore, the mat is going to endure more spills than others.
When washing this product, lint from the fleece can transfer to anything you wash. But many parents love the fact that the machine is machine washable and dryable.
9. Wildkin Original Nap Mat with Pillow
If you are looking for one of the best kids sleeping bags for a small child or preschooler, this nap mat from Wildkin is perfect. It's ideal for use for naps in daycare, school, at home, or for sleeping on your grandma's back,
It works like a sleeping bag, but it's even better. It is cozy and fun for children and practical for parents, who appreciate its convenience, quality, and durability. This nap mat is an all-in-one set with a built-in blanket and pillowcase and a removable pillow. It is not necessary to pack and transport these items separately. It easily rolls up into a small package, attaches with a Velcro closure, and has a handle that makes it easy to carry.
Kids love their comfort and fun patterns. The comfortable cotton and microfiber fabric, the cover lined with a cotton flannel fabric, the moderately padded bottom, and the pillow provide the comfort your child needs to be satisfied and sleep well.
10. Paw Patrol We're A Team Nap Mat
The Paw Patrol comes with a fleece blanket and a pillow. The included pillow is bigger than the regular ones found with this type of set. There is a handle designed for carrying it. The majority of consumers complain of its thinness. It seems to clean well. However, many users want it to be padded. Some wish it was warmer to cover the toddler better in cold weather.
This nap mat comes with a label where you can include the child's name. In addition, the mat features a window made of plastic. This has a design that looks like tags on luggage, hence protecting the labeled part. The downside however is you have to remove this card before you wash the mat.
The nice thing about the included blanket which many parents like is that it looks super cute, super soft, and quite wide. Therefore, it will wrap around the toddler easily while keeping him or her warm.
Baby Nap Mats For Enhancing The Benefits Of Baby Nap Time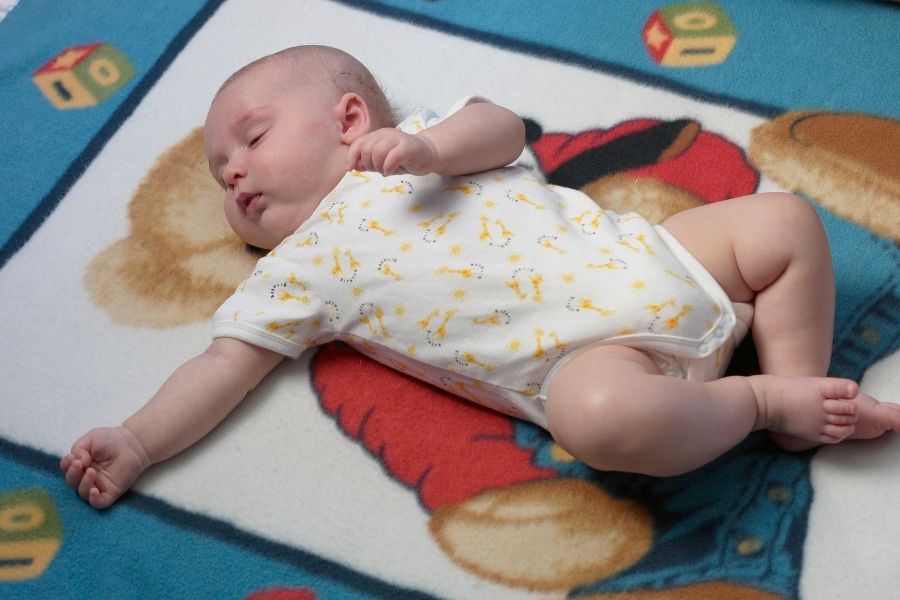 Are you wondering whether baby nap mats are essential for your baby? You should remember one thing here. Experts feel that the nap time of your baby will contribute a great share to his brain development. So, he should have comfortable nap times. Read on to learn more about these mats.
What are Baby Nap Mats?
Baby nap mats are otherwise called baby nap pads. They are designed for comfortable nap time for babies during the daytimes. Most parents leave their babies in the crib or close to them during night times. But during day times, sometimes the baby plays, while sometimes he will sleep. In both instances, these mats can help.
Why Should You Buy a Good Baby Nap Mat?
A good baby nap mat will ensure a comfortable nap time for your baby. Initially, until six months or so, babies sleep a lot during day times. When you make sure that he has the best mat for his nap time, it will help with his brain development to a great extent. Pediatricians always recommend that comfortable nap time is important for a baby.
How to Choose the Best Baby Nap Mat?
To buy the best baby nap mat, you will have to consider the following factors:
Does the mat include a pillow? Baby nap mats with a pillow will make sure that you need not have to buy a pillow separately. Also, when you choose a mat with a pillow, check whether the pillow is at a height that will be comfortable for your baby's neck.
The overall size of the baby mat: Baby nap mats that are bigger can meet the needs of your growing baby. You know that babies grow at a faster pace initially. So, the mat should be able to accommodate the baby for a long.
What Features Should You Consider When Buying a Baby Nap Mat?
Certain features can make the baby nap mat comfortable for everyday use. Here are a few of them:
Machine washable: Now all baby nap mats are machine washable. You know the importance of maintaining the mat properly to safeguard your baby from dust and dirt. So, check whether the mat is machine washable before you buy.
Easy storage: Of course, you will use the baby nap mat all through the day. But, during night times, you will have to store it properly. So, when buying a mat check whether it will be possible to easily store it, after use. Some mats are easily foldable and some are not.
Organic material: Some baby nap mats these days are made using organic material. This type of material will ensure double safety and protection to the soft skin of your baby. So, when buying a baby nap mat, it is better to go for the one made using organic material. Of course, it will cost you more. But, it will be a beneficial investment for sure.
How Much Does a Top-Rated Baby Nap Mat Cost?
Are you particular about buying a cheap baby nap mat? If so, it will cost around $10. As against affordable baby nap mat, if you are particular about buying a high-end baby nap mat, it will cost you around $40 you. The average cost of a baby nap mat will be around $25.
Final Verdict
Baby nap mats are undoubtedly a great investment for the valuable nap time of your baby. So, do not forget to consider selecting the best among the options available in the market. It is better to make sure that it will stay with your baby at least until his preschool days.
---