Top Pick Baby Luggage
These are the best baby luggage you can buy right now:
1. American Tourister Kids' Disney Hardside Luggage
The American Tourister has been making some of the industry's leading luggage since 1933, which should tell you that this choice is much more than just the company's collaboration with Disney. The eye-catching suitcase sits on four wheels that rotate 360 degrees. These make it easy to maneuver in any direction, along with a retractable handle with button closure and two handles (one on the top and one on the side).
Inside, you'll find compression straps as well as a zippered divider panel that offers ample storage within its interior. An ABS plastic exterior makes the suitcase quite durable.
It is shock-resistant and designed to last many flights even in the hands of the little ones! Users who have tried out the product say their daughters are fond of it. They report it's of the perfect size, well-made, lightweight, and is super cute.
2. JetKids by Stokke BedBox
JetKids by Stokke's BedBox travel suitcase offers added comfort when traveling with children. It is a seat case with a load capacity of up to 20 liters. It is the ideal travel companion for children aged 3 to 7. The suitcase is equipped with double 360 ​​° wheels and a shoulder strap for transport.
Thanks to the integrated mattress and the hard case as a support leg, the suitcase becomes a cot for children up to 105 cm in a few simple steps. Older children cannot lie down, but comfortably stretch their legs on the surface. It can simply be carried as hand luggage on the plane and, when not in use, fits under the front seat.
Travelers have given the luggage positive comments so far. Most say it's ideal for transporting kids around the airport in the absence of a stroller. Thanks to the large storage space in the suitcase, the child still has enough space for favorite soft toys or toys. It is equipped with shock-absorbing swivel front wheels and an adjustable multipurpose strap for transport and retraction, the fun bag is suitable for any maneuverability.
3. Sandinrayli 12" Backpack & 16" Suitcase Set
The Sandinrayli children's suitcase is a 2 x 1 as it includes a 16″ (40 x 32 x 22 cm) suitcase and a 12″ (32 x 24.5 x 13 cm) backpack, so you can use both pieces as hand luggage. Of course, the suitcase is smaller than the models we have seen before, so it has less capacity.
The suitcase has a handle adjustable in different heights and a handle. It also has 4 swivel wheels to carry it comfortably. Inside, it has a zipped divider, as well as elastic straps to prevent things from moving. It is available in many designs, in giraffe, owl, and unicorn.
Many users liked that despite its price, which is indifferent to other single products, the set includes a suitcase and backpack. Parents and other travelers are also amazed by the multidirectional turning wheels. However, the suitcase is smaller than the other models we have seen.
4. American Tourister Luggage
The Hardside Luggage is built from durable, lightweight ABS material. It features a very sleek, rigid design with spinner skate wheels, and a pull-out handle. It also has a handle you can grab from the top for ease of lifting.
It has interlocking straps to hold the kid's items in place. Then, there is a zippered divider. It is ideal for girls and boys on the go. Asides from the Minnie Mouse Red Bow, it is also available in designs such as the Mickey Mouse Pants, Scribbler MultiFace, and the Minnie Mouse Dots.
Disney fans and their parents have expressed satisfaction with the construction and quality of the luggage. Many say the Minnie Mouse luggage is well made while others say there are lots of room in the bag.
5. Boppi Tiny Trekker Kids Luggage
This small piece of hand luggage is a lightweight model that can be used as a cabin suitcase when traveling by plane. The Tiny Trekker cabin suitcase is adapted to the morphology of a child. With a Tiny Trekker suitcase, your child will be able to experience new adventures. He or she can pull it effortlessly thanks to the handle provided for this purpose. This can be positioned at two levels depending on its size. There is also a soft handle for lifting the luggage with the hand.
This children's suitcase has a capacity of 17 liters. Inside you will find two compartments: one with elastic straps and one with a zipped cover. The two wheels of this luggage are made of soft PU and each has a diameter of 60 mm. A wedge is also provided to keep the suitcase upright independently.
Most children who have received this as a gift for traveling love the design as the Boppi Tiny Trekker has an animated theme. Your child will therefore have the choice of a tiger, cat, dog, dinosaur, unicorn, or penguin when purchasing.
6. American Tourister R2D2 Star Wars Hardside Luggage
The R2D2 American Tourister Disney Wavebreaker Star Wars cabin luggage takes advantage of many Samsonite technologies (this is their second brand) in this luggage but at more affordable prices. It's a small carry-on bag, ideal for all ages and fans of the legendary Star Wars saga. It gives a very realistic impression of a robot, both in the outer shell and in the inner liner with Star Wars details.
The ABS plastic injection technique (patented by Samsonite) allows this case to have resistance but with maximum lightness and it weighs only 6.8 lbs. The closure is zippered, lockable with a 3-digit combination lock, for added security. A dotted relief has been made on its outer surface to prevent scuffs and scratches.
The luggage is widely recommended by travelers who have bought one before. It is appreciated for its great maneuverability and high quality with its 4 double swivel wheels and its double-tube retractable handle.
7. Stephen Joseph Classic Rolling Luggage
Stephen Joseph's Rolling Luggage is a piece of classic luggage that is most suitable for young girls. The suitcase is robust, durable, and can endure a lot of stress. The handle is adjustable. The case can be pulled on 2 wheels.
It is ideal for children from under a year to up to five years old. While this rainbow design is made for girls, you can also find the right designs for boys too. For example, the Shark, Sports, Camo, Green Dino, Dark Blue Monkey, and Airplane design models are male-themed luggage models.
The pieces of luggage are fun, functional, colorful, and of the right size for the kids. We discovered that those who got one for their kids or other kids rated the product highly for its maneuverability, ease of transportation, sturdiness, and lightness.
8. Lttxin Kids Rolling Luggage
Highly recommended for the little ones, this suitcase is cute in appearance, durable in construction, and effective in the end. Light in weight, the rolling luggage weighs just 2.2 kg. It is equipped with a telescopic handle at 2 different heights and light wheels to add fun. The handle is made of sturdy aluminum while the hard-sided luggage is made of PC and ABS plastics.
It has an exceptional design range perfectly adapted to children. Travelers especially like the super practical and strong handle, which is suitable for children. It has an interior mesh pocket for easy storage.
Many users are happy with the purchase as they like its lightness and its size. It's however not so big but will be enough for kids.
9. Marvel SpiderMan Collapsible Wheeled Rolling Luggage
Is your child a fan of the Spider-Man? This children's luggage is certainly made for him. Proudly representing the hero of Marvel in action, this suitcase with its soft and elegant design seduces Marvel fans with its design.
Made of durable polyester material, this is 15 inches in height, 12 inches in width, and 4.75 inches in height. It also embeds wheels that make the luggage easy to carry around. There is no lock and the lining is soft, not hard. It also offers a compartment equipped with a zipper.
The luggage has a small capacity but we don't expect more for its price. This shouldn't be a problem if there isn't a lot of stuff to carry around, though.
10. American Tourister Disney Mickey Mouse Pants
If your child is a fan of big-eared mice, this Disney-themed suitcase set should be a hit. On the design side, the very fun travel suitcases represent famous Disney characters like Donald, Mickey, or Mimi.
In terms of its physical characteristics, the spinner luggage is a big model that measures 21 inches in length. Without content, the suitcase weighs 6.1 lbs and is equipped with 4 wheels but is not equipped with a combination lock. Made of ABS (noble material of plastic thermoforming), the suitcase has a rigid shell and closes with a zipper.
Disney fans love the luggage set and parents generally like the model, especially its very attractive design which is suitable for children.
What are Baby Luggage?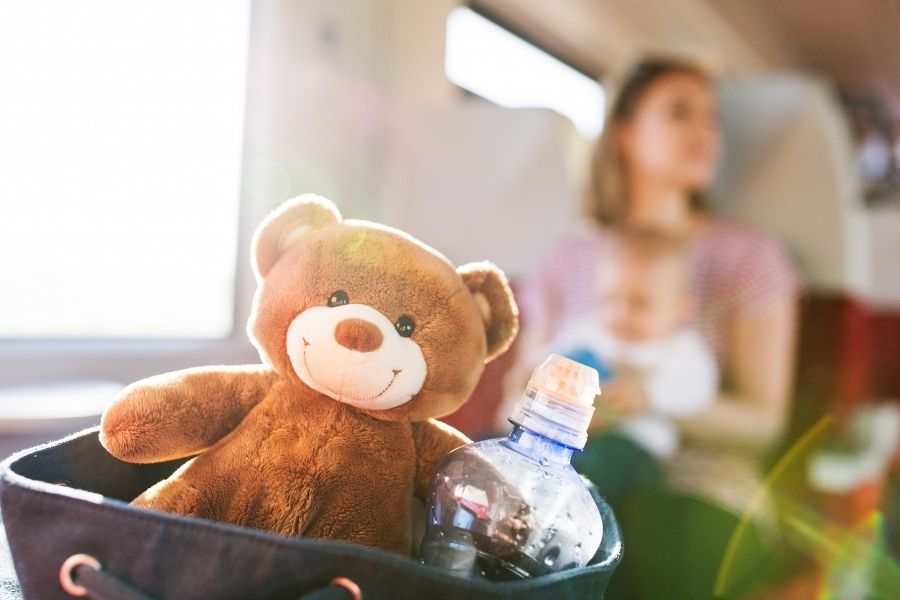 The baby luggage serves the same function as those for adults. The difference is that they are adapted to the characteristics of children in terms of height, weight, and design. They also tend to be more resistant to deal with many of the blows that children give them. This luggage can be flexible or rigid, made either in polyester or polyurethane materials.
Why Should You Buy Good Baby Luggage?
A trip with children requires a lot of planning. In addition to carrying clothes or shoes, children also need toys, food or cream, among other things. To avoid chaos, families must equip themselves properly and find a piece of good luggage. Here, we will explain everything you need to know about children's luggage.
How to Choose the Best Baby Luggage?
Today there are a large number of models and variations of children's luggage. We can differentiate them into two groups: according to the casters and according to the materials. Below you will find each type of luggage and its characteristics:
Luggage with four wheels: It is easier to carry a piece of larger and heavier luggage if it has four wheels located at the bottom.
Luggage with two wheels: These are used to carry less weight and are lighter because they must be tilted to be transported.
Hard suitcases: These are more impact-resistant and more durable, but less flexible.
Semi-rigid suitcases: Hard, but with fabric covering, which combines strength and flexibility.
Soft suitcases: Usually made of fabric or leather, which is lighter in weight but less durable, and is more easily damaged.
Travel backpacks: These are designed for shorter trips. They have less capacity so that children can carry them on their backs more easily.
What Features Should You Consider When Buying a Baby Luggage?
Now that you know a little more about the world of children's luggage, it's time to start looking for the best one for your child and your trip. For this, it is necessary to take into account a few features before choosing the suitcase that will last and withstand all the agitation of your children:
The size: The suitcase should be in the right dimensions for the child. It must be light so that it can be lifted, dragged, or pushed.
Space: Get yourself a practical suitcase with separate storage spaces like mesh, pockets, or compartments. You can store your underwear, shoes, or toiletry bag there. You can even use them to separate dirty stuff from unused stuff.
Closures: When traveling, whether, with a child's suitcase or any other suitcase, it is essential to have secure and solid closures. This is especially important when traveling by plane or in situations where luggage goes in a trunk or hold. The easiest closure for the little ones is, without a doubt, the zipper. It is very easy for them to open and close their suitcase, but it is not the safest. We, therefore, recommend the use of a padlock.
Casters: Usually, there are suitcases with four or two wheels, but there are also suitcases with three wheels. Ensure that they are well secured, that they can move slightly and turn in several directions.
How Much Does a Top-Rated Baby Luggage Cost?
Fortunately, unlike those made for adults, affordable baby luggage within a price range of $30 to $60 are the most found on the market. These are not necessarily cheap baby luggage but are generally simply designed for their functional use. Otherwise, there are high-end models with movie or kid celebrity themes, hard, resistant materials, and/or rollers that cost more than $100.
Final Verdict
Children's luggage are the same as those for adults, but the best models for kids are adapted to the size and characteristics of the children. So they tend to be stronger, smaller, and with attractive designs to make your little ones want to carry them around.
---