Top Pick Baby Carrier Accessories
These are the best baby carrier accessories you can buy right now:
1. Ergobaby TPONPNL Teething Pad
Babies love to suckle the shoulder straps of the Ergobaby Carrier. That's why the brand has developed these 100% organic cotton protectors – gentle on the gums and shoulder straps of your baby carrier and, of course, washable.
It is the perfect accessory for baby teething. They are positioned on the shoulder straps of the pouch, compatible with all Ergobaby carriers, and made from 100% organic cotton. The pieces are of the right softness so that the cheeks can rub on without scratching. They are adaptable to all the suspenders of Ergobaby carriers. They are specially made to be bitten (or sucked).
Putting them on and off is very simple and all the clips are made of plastic. Many comment that they could wash them whenever necessary and they dry quickly due to their small size. In an emergency, you can remove them from the shoulder strap and use them to clean small regurgitation.
2. Ergobaby WCW2NL Baby Carrier Winter Weather Cover
When babies are carried on the body with the ERGOBaby Carrier, they enjoy body contact but must be protected from wind and moisture in the cold season. The WinterCover 2 in 1 from ERGObaby is supposed to do just that. It is attached to the baby carrier with snap fasteners in a flash so that the babies are quickly dry even in the event of a surprising downpour.
Babies are protected from bad weather in two ways. Inside, the soft fleece lining keeps them nice and warm, while the waterproof polyester cover protects against wind and moisture on the outside. Small pockets have been incorporated for the feet and the large hood protects the head.
Thanks to the practical push buttons, putting on and taking off is very quick, according to moms who have purchased it online. Just putting on the stretcher with cover requires a little practice. The workmanship is good and the protective cover can easily be washed in the washing machine at 30 degrees.
3. Lupantte Universal Stroller Organizer
This stroller organizer is many moms' best organizer. For those who use a stroller, it can be difficult fitting stuffs such as Yeti tumblers, baby wipes, diapers, snacks, drinks, favorite teddy, bottles, and pacifiers in a single plastic bag. So, this is a good assistant for those who want to use a stroller and stay organized.
The stroller organizer has a very large space in the middle compartment. There's a phone bag made of a net, a detachable wristlet pocket, and then two cup holders that are well insulated.
The perfect organizer for on-the-walk moms, this can carry the baby's diapers, your iPhone, toys and snacks, your baby jogger, a BOB stroller, and a bugaboo. Many parents have left their reviews for the product. A lot of them attest that it has cup holders, a cell phone holder, and can accommodate keys and credit cards.
4. Mila Millie Premium Drool and Teething Cotton Pad
The Mila Millie product is a reversible teething cotton pad that fits most Ergobaby baby carriers. Made for the ERGObaby 4 Position 360 Carrier, you can also use it for other carriers, car seats, and stroller straps such as the Lillebaby, Babybjorn, Jeep, Chicco, Infantino, Evenflo, Beco, Tula, Boba, and more.
It's a perfect product for all parents and their babies. It's a wonderful gift for the baby shower. It's made of 100 percent reversible, soft, woven, and thick cotton that offers comfort, absorbency, and ultimate protection. It's made for drooling and teething babies.
Many parents liked that the product is easy to wash in the machine. However, you should only wash them in cold water. You can put it off and on in a snap.
5. Bright Starts 24 Lots of Links Rings Toys
These 24 sensory and colorful rings are perfect for tying baby's favorite toys almost anywhere, which will prevent the disappointment of losing their favorite toy or blanket. These textured rings are also sensory toys. In addition to serving as toy ties, you can also use these rings to develop your child's touch or make a cute necklace.
From 1 month, put 1 ring in his hand, he will be able to hold it easily. From 3 months, show him the different textures of the rings. From 10-12 months show him the colors by naming them. From 18-24 months, train your motor skills by putting them in each other. For older children, you can use them as a collar activity.
According to parents, it's a unisex toy that can be used by both genders. The suggested age for play is from birth to up to 2 years. A lot of users like the bright colors of the rings. They say it's easy to clean and lasts many uses.
6. Cozy Cover Premium Infant Car Seat Cover
The Cozy Cover is a premium infant cover for the car seat. It's filled with polar fleece. Sold millions of times online, it's guaranteed to keep your baby warm while traveling, protecting the young ones from harsh weather like cold, wind, ice, and rain.
It's available in five colors that will suit your style. It keeps the baby protected, warm, and cozy. The fleece outer shell has the optimal weather resistance that shields and insulates the child. It's made for babies from birth up to 12 months.
A lot of users say it truly keeps the baby warm, is easy to use, and highly recommend the Cozy Cover. The design of the item is such that you can have easy and quick access to your baby.
7. Ergobaby Easy Snug Infant Insert
Ergobaby has readjusted the reducer cushion in its redesign of the Cool Air Mesh cushion. This is the essential accessory to use with your baby carrier from the birth of your child. The Cool Air Mesh model is aimed in particular at active parents. Made of mesh, the Easy Snug cushion allows your baby to be comfortably seated in all circumstances.
The main characteristics of this newborn cushion are the width of the seat, comfortable and ergonomic, which allows the newborn to have the position of the legs raised in "M". It's recognized as a hip-friendly product by the International Institute of Hip Dysplasia. The removable booster cushion keeps the baby in a seated position and places him higher, "within reach of kisses".
It has a padded backrest and padded edges that promote an adapted posture. Meanwhile, the back rounded "C". 2 positions of the "press" buttons for the upper tabs are provided for good support of the head and the neck of your baby. Many moms say this can be used with their Ergobaby 360s and other Ergobaby Original Carriers. Others say it is big enough and easy to install.
8. Skip Hop Farmstand Baby Stroller Toy
Separated into two halves, the Toy Stroller Farmstand is easily graspable by little hands and can open or close with velcro. Like a real avocado, this stroller toy is decorated with many textured details that will entertain the baby throughout his walk
When he opens it, your little one will discover inside this avocado a little surprise: a rattle with small balls inside. Equipped with a ring, this stroller toy can be easily attached to most strollers available on the market.
The large Farmstand Avocado pram guarantees hours of fun. It is ideal for on-the-go, as it easily attaches to strollers, child seats, beds, or playpens. The hanging toy provides fun and variety for your child.
Although some parents wish the toy could be machine washed, many like that newborns and older kids can use it. Many say it's super cute and bigger than they expected.
9. Mombella 8101 Mimi Mushroom Pacifier
Designed for newborns up to 7 months, it meets the sucking needs for this stage of the baby. By sucking on it, the baby calms down as he pulls the nipples, and deals with the discomfort generated by the teeth when they begin to come out.
It is easy for the baby to hold when sucking. It is easy to put in the mouth and better than the pacifier since the pacifier does not need hand intervention and the baby is not able to decide when to use it and when not to use it. Sufficient oral practice leads to better oral habits, helps with better development of the structure of the mouth, and also the future ability to speak.
Specially designed to cover the little hand inside, this item prevents the baby from sucking on his fingers. It also makes it harder to detach. The product also comes with a clip to make sure to keep the product clean. For these reasons, most parents who have gotten this for their children say the teething toy is easy to hold and clean.
10. Lamaze Freddie The Firefly
Freddie the firefly amuses babies and parents alike with its funny design and encourages them to play together. A colorful, soft knitted body, squeaky and crackling wings made of different fabrics as well as two small mirrors stimulate the touch, sight, and hearing as well as the motor skills of your baby. In addition, there are bite elements and rattling rings to explore, which at the same time make teething easier while playing. The bright colors and patterns of "Freddie" help your baby to recognize outlines and shapes.
The funny firefly from Lamaze offers fun even for the little ones from 0 years of age. Thanks to the clip ring, Freddie can be attached almost anywhere, making it ideal for traveling. The materials used meet the strictest safety standards.
Comments from moms and others who have purchased this show that, in general, it is important to families with babies. It is easy to clean and has a high fun factor. A lot of them, therefore, recommend "Freddie" to others.
Baby Carrier Accessories to Make Baby Carriers More Friendly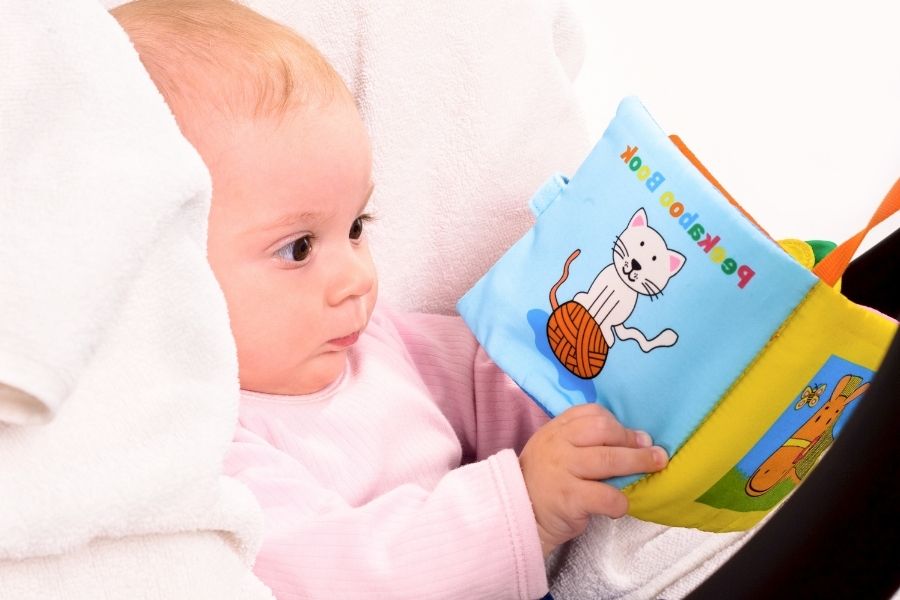 The right baby carrier accessories can make your baby carrier even friendlier to you and your baby. You know that car accessories bring a lot of comfort to you. In the same way, accessories for baby carriers can bring many uses and benefits to you. Read on to learn more about the options available to make your baby carrying even more enjoyable and fun-filled.
What Are Baby Carrier Accessories?
Baby carrier accessories are supplies that can bring more comfort and usefulness when you use your baby carrier. Of course, you might be using the right baby carrier. But, with the right accessories, you can enhance the facilities and usefulness of the baby carrier.
Why Should You Buy a Good Baby Carrier?
A good baby carrier accessory can make using the baby carrier comfortable either for you or your baby or even for both. For instance, when you take the case of an accessory called a teething pad for a baby carrier, it will suit the teething urge of your baby. In turn, you can make sure that he will stay comfortable. In the same way, when you take the case of another accessory called waist belt extension strap, it will help when a heavier person wants to carry your baby. So, different carriers can bring different benefits. A good accessory will make baby carrier use even more worthy.
How To Choose The Best Baby Carrier Accessory?
The best baby carrier accessory choice should be completely based on your personal preference. So, here are certain things you will have to do to make sure that you will end up with the best baby carrier comfort:
Compare different accessories: Before you choose any baby carrier accessory, you should do one thing. You should first visit an online site that deals with accessories and should compare the options available. Initially, you will not have any idea about the accessories available. When you visit such an online store, you will get some idea. Based on the knowledge you gain, you can shortlist the accessories that will be useful and accordingly choose one or two.
Is it really essential? Once you have decided on the best baby carrier accessory, you should rethink whether you will use the accessory or not before you buy it. This will save you not just money but also your precious time shopping for the right accessory for your baby carrier.
What Features Should You Consider When Buying A Baby Carrier Accessory?
The features of the best baby carrier accessory rely on the accessory that you intend to shop for:
Quick-drying teething bib: If you have planned to buy a teething bib as a baby carrier accessory, you should make sure that it is quick-drying. Only then, your baby will stay comfortable. Otherwise, he can start crying when he feels the wetness in his neck region.
Compatibility: When it comes to buying a baby carrier accessory, you should first check whether the accessory will be compatible with the specific model of baby carrier you use. Some accessories are specific to some models or brands of baby carriers alone, while some fit all. To make sure that you make the right selection do not forget to check the compatibility before shopping.
How Much Does A Top-Rated Baby Carrier Accessory Cost?
Again, the cost of a top-rated baby carrier accessory will rely on the type of accessory you buy. For instance, you can find high-cost variants at around $75. Also, you can find cheap baby carrier accessories at around $8. When it comes to affordable baby carrier accessories, you should not overlook the quality. The average cost of a baby carrier accessory will be around $40.
Final Verdict
Baby carrier accessories are available in plenty. Your idea should be to find a useful and long-lasting accessory for both your comfort and your baby's comfort.
---