Top Pick Baby Backpack And Frame Carriers
These are the best baby backpack and frame carriers you can buy right now:
1. ClevrPlus Cross Country Hiking Child Carrier
Featuring multiple pockets, padded shoulder straps, and water bottle holders, this ClevrPlus cross country hiking child barrier is made for carrying kids outdoor and can withstand frequent daily use. The backpack is made from 600d oxford cloth – this is twice the quality of baby loungers and heavier as well.
You will find external features such as a pocket and water bottle holder for storing small items needed during hiking. This backpack also has an adjustable system to make your little one comfortable on the go. Don't let its sturdy nature scare you off. The metal frames are collapsible and can be stored in a bag. Hence, there's no question about its portability.
This allowed hikers to bring their kids to join in the fun. The padded shoulder strap won't make the wearer's shoulder sore and the storage compartment allowed parents to carry diapers wipes, snacks, and drinking water.
2. ClevrPlus Cayonero Camping Infant Backpack
Another entry from ClevrPlus and has a lot in common with the former. The ClevrPlus Cayonero camping infant backpack has a 5-point harness adjustable system that provides a tight grip on the child. It also comes with a removable sunshade. This protects the kid from scorching sun rays and weather elements such as raindrops
There are two metal stands attached to both sides. This gives the canopy its erect form but can be collapsed and folded for easy storage. Additionally, ClevrPlus made provision for leg support by including padding around the legs. This way, there's no circulation deprivation. You will also find storage compartments scattered around the backpack. This will house your diapers and water bottles.
A lot of buyers were torn between going for the cross country or this Cayonero. Well, parents opted for this because it's less bulky and inexpensive as well. It offers premium quality at a regular price
3. ClevrPlus Deluxe Adjustable Child Carrier
At this point, you might have already gotten a hint that ClevrPlus has the largest catalog of infant backpack carriers. The ClevrPlus Deluxe adjustable child carrier has so much in common with the Cayonero. It can withstand harsh water elements thanks to its no-nonsense 600d oxford fabric. You will also find a padded shoulder strap, leg support, and metal frames here.
Also, the removable sun block found in the Cayonero is present here as well. This design is lightweight but can hold children of up to 35 lbs. Lastly, there's an additional storage bag that comes with this. This allows you to store everything you will need for your adventure.
This baby carrier allows your kid to watch all the fun from eye level. The feature that appealed to parents was the external storage bag and the sunshade which offers protection in the woods.
4. Premium Hiking Carrier Bag from Luvdbaby
This backpack was designed to not only make your child comfortable but also protect your back. The ergonomic design of this backpack ensures your shoulders don't get sore from carrying your baby for hours. It is also adjustable to give the baby an unobtrusive view of the world.
The premium hiking carrier bag from Luvdbaby has every technical bit that guarantees your baby's safety. It doesn't matter what location you find yourself in, the mesh hood will protect your little one from intense sun shades, rain, and snowdrops. Also, the mesh hood is detachable when the need arises. Due to its sturdy design, the backpack can be worn by both moms and dads.
Recent buyers noticed that the technical bit that went into the design of this product minimizes back strain from carrying babies for hours. Also, the adjustable stirrups attached prevents the baby's feet from dangling in the woods.
5. ClevrPlus Cayonero Camping for Infants
The least popular choice in the ClevrPlus lineup but it's enough for you if what you need is a simple baby carrier with a sturdy buildup to hold babies in place during camping. There's a padded seat with a 5-point harness adjustment system to make your little one comfortable.
The shoulder straps are durable and unlikely to snap off from excessive tension. Several technical bits ensure the baby's weight doesn't tire the carrier out. Like in other ClevrPlus carriers, the ClevrPlus Cayonero camping for infants also has several storage compartments. The total weight of the carrier is 6.5 lbs but can support babies of up to 45 lbs.
Many parents recommended this because of the numerous pockets and sleeves. It also has diaper pads so moms can attend to emergencies on the go.
6. ClevrPlus Adjustable Outdoor Deluxe
This features the trademark design of ClevrPlus carriers – an external storage compartment, multiple pockets, and a 600d oxford cloth. This is however the lightest in their collection in terms of weight. It only weighs 5.2 pounds but can hold babies of 33 pounds. Hence, this is the perfect carrier for babies within 6 to 48 months.
The ClevrPlus Adjustable outdoor deluxe is supported by a 5-point harness system. There's a discrete storage unit below the baby seat. This creates enough room to store baby toys and snacks. Also, there's a sunblock and a rain shade to serve as a canopy during light pour. You can choose from any of its given color options – grey, red, orange, blue, and green.
Users liked that it's portable and the sunshade is detachable as well. This gives the kid a wide field of view during perfect weather.
7. Osprey Poco Child Carrier
This has a double halo design with front-facing arms that allow you to hold your baby in place. It's not only designed for the comfort of the baby but also that of the adult carrying the bag. In addition to pockets, you will also find cord attachments for keeping toys and other small items.
Aside from serving as a child carrier, it can be used as baggage for keeping clothes indoor since it has a lot of storage room. The drool pads are detachable and can be washed in a machine. Overall, it's durable and unlikely to wear out quickly.
A lot of users loved that most part of the Osprey Poco child carrier is detachable. This makes it easier for them to wash separately in. a washing machine.
8. Osprey Poco Starry Black Child Carrier
This is similar to the previous Osprey poco model mentioned here. It's made from nylon and has adjustable straps for adjusting the sitting setting of the baby. At 16 pounds, this is 3x heavier than the ClevrPlus deluxe but the bulky build of the Osprey Poco Starry black child carrier means it can support babies of up to 48.5 pounds.
The exterior of this backpack is made of mesh and there's an adjustable stirrup attached to the bottom of the bag. This gives leg support and prevent the baby's leg from dancing around. There are mesh pockets for storing snacks as well.
The backpack puts on a lot of weight, combined with a heavy baby, it might be too bulky for moms to move around. The advantage of its bulky build is that it doesn't get easily damaged.
9. Ergobaby 360 All-position carrier for newborns
This is the best premium baby backpack and frame carriers designed for newborns. This is not a carrier bag for hiking. Rather, it's designed for short walks around the city. The carrier is made from cotton and can be carried in different positions – in front and as a backpack.
This is lightweight and made from naturally sourced cotton that comforts a baby's fragile skin. There are adjustable buckles that makes it perfect for wearers of all sizes. Lastly, the waist belt buckles babies in place and also provide lumbar support for the wearer.
Most parents that got this did so because of its universal design. Its adjustment system makes it possible for anyone to wear – petite, average, or plus-size women.
10. ClevrPlus Urban Explorer Child Carrier for Hiking
The ClevrPlus Urban Explorer Child Carrier for Hiking is a low-priced baby hiking bag designed for parents on a budget. It's lightweight and designed for kids between 9 to 48 months. The urban explorer is made from nylon rather than the much-durable oxford fabric.
This baby backpack and frame carrier has the perfect blend of durability and functionality. It comes equipped with sunshade, padded shoulder straps, an extra removable backpack, and small side pockets for storing water bottles. It also has a metal stand that's collapsible when it needs to be stored.
Some parents perceived the ClevrPlus Cayonero and Cross Country to be too expensive. The Urban explorer offers them all the juicy features of the premium models for spare change.
Baby Backpack And Frame Carriers For Comfortable Hiking With Your Baby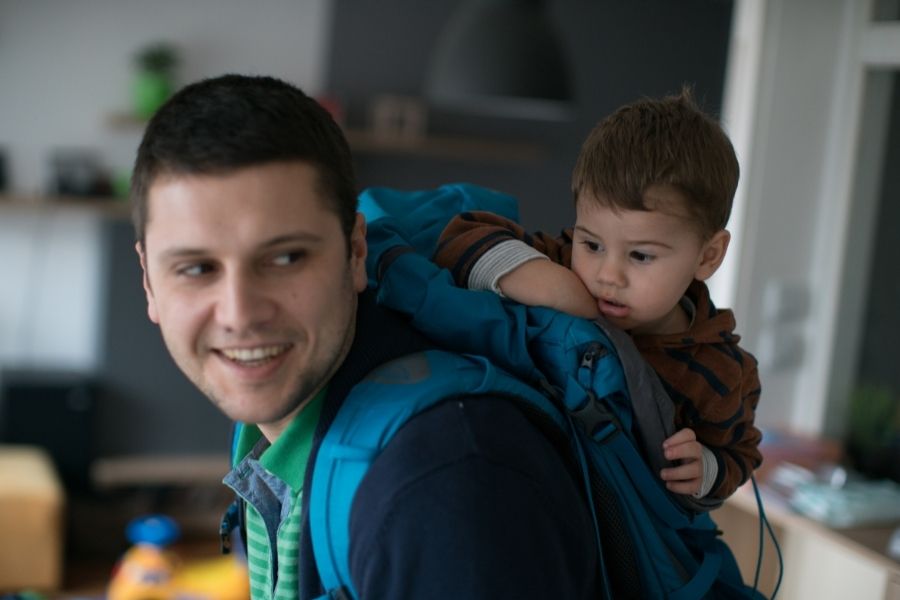 Are you a frequent hiker? Do you look for ways to take your baby hiking? Then, a baby backpack and frame carrier can help you both. What are these carriers all about? Read on to learn more:
What Is A Baby Backpack and Frame Carrier?
Baby backpack and frame carriers are generally designed to keep your baby slightly away from your body. You might be aware that most carriers are designed to keep the baby close to you. But, if you are a person frequently hiking, and need to keep yourself cool when hiking by carrying your baby away from your body, baby backpack and frame carriers can come in handy.
Why Should You Buy A Good Baby Backpack and Frame Carrier?
A good baby backpack and frame carrier will bring you complete peace of mind when you are hiking. As the baby will stay slightly away from your body, you and your baby can stay comfortable even when you sweat. As long as your baby is secured in the harness properly, you can get the complete satisfaction that your baby is safe on your back. Above all, it will bring you comfort as you will carry the baby as if you are carrying a backpack with this type of carrier.
How to Choose The Best Baby Backpack and Frame Carrier?
When buying the best baby backpack and frame carrier, you will have to consider the following factors:
Torso length fit: When buying the best baby backpack and frame carrier, you should make sure that it has a torso length fit. When the carrier has a proper length pack, it will place the shoulders and waist in the appropriate places. In turn, there will be even distribution of the carrier to keep you comfortable when carrying the baby.
Fitting shoulder straps: Baby backpack and frame carriers are similar to the backpacks that you carry when hiking. You know the importance of finding the backpack with rightly fitting shoulder straps. In the same way, you should ensure that the frame carrier has fitting shoulder straps. Also, check whether the shoulder straps are properly cushioned for comfortable carrying.
What Features Should You Consider When Buying A Baby Backpack and Frame Carrier?
When you buy a baby backpack and frame carrier, you will have to consider the following features:
Adjustable and padded head support: Some baby backpack and frame carrier do not have padded head support. But, if the carrier has both adjustable and padded head support, it will be comfortable for the baby even when he sleeps.
Adjustable seat height: When the baby backpack and frame carrier contain a seat with the facility to adjust the height, it will be possible to use it even when your baby grows. So, check for this feature to make sure that you can use the carrier for a long.
Easy storage: You will not use the baby backpack and frame carrier at all times. So, it is better to check whether the carrier comes with an easily foldable storage feature. This feature will ensure that you can use the carrier only when you are starting hiking. Otherwise, you can store it safely without consuming space.
Aluminum and lightweight frame: The best baby backpack and frame carrier should not weigh too much. If it weighs too much, it will be hard for you to hike with your baby sitting on the carrier. So, it would be a good idea to check whether it is made using lightweight aluminum material.
How Much Does A Top-Rated Baby Backpack and Frame Carrier Cost?
A high-end baby backpack and frame carrier will cost you around $150. But, are you worried that you cannot pay this much and need an affordable baby backpack and frame carrier? If so, you can find a cheap baby backpack and frame carrier at around $80. In short, the average cost will be around $110.
Final Verdict
Baby backpack and frame carriers are generally designed for frequently hiking parents. But, it will fit others looking for a carrier for comfortably carrying their babies on the back.
---